It is HERE! 100! I am so excited I can barely type this! The 100th episode of Woman Crush Wednesday! All of the previous 99 honorees have been special, unique and talented chefs, and today's WCW recipient is no different. Clare Smyth is so well respected and has worked with big names such as Gordon Ramsey and Heston Blumenthal. But she is making her own mark in the culinary world. She has been honored as best female chef several times including this year. Originally from Northern Ireland, Clare Smyth, owns the award winning London restaurant Core located in Notting Hill. I happened to pass there today and am so proud to dedicate at day to celebrate all Clare's achievements including her popular restaurant.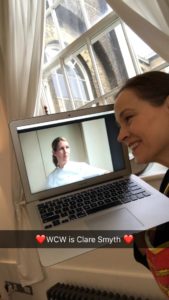 Because Clare Smyth is a 3 Michelin Star chef, it can seem a daunting task to tackle one of her recipes. But Clare is passionate about fresh, seasonal ingredients. Although I am sure she has many complicated and intricate recipes in her arsenal, she is a champion of British food, and today's recipe is very much along those lines. I will be re-creating Clare's Spiced Duck Breast with Creamed Savoy cabbage and Roasted Apple live on my Snapchat account (username blissbakery). And from the looks of things, I have a feeling my husband is going to love his dinner tonight!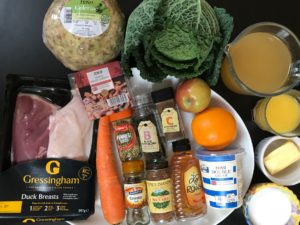 Ingredients:
2 x x 150g/5oz duck breasts
1 Braeburn apple, quartered and core removed
25g/1oz butter, plus a knob of butter
1 tsp fennel seeds
1 tsp coriander seeds
½ tsp ground nutmeg
½ tsp ground cinnamon
½ tsp orange zest
1 tsp honey
25ml/1fl oz orange juice
175ml/6fl oz duck stock
salt and freshly ground black pepper
For the Savoy cabbage:
50g/2oz smoked bacon lardons
30g/1oz carrot, diced
30g/1oz celeriac, diced
½ Savoy cabbage, thinly sliced
salt and freshly ground black pepper
250ml/9fl oz double cream
Instructions:
For the duck, preheat the oven to 210C/425F/Gas 7.

Score the skin of the duck breasts in a criss-cross pattern.

Place the duck breasts in an ovenproof frying pan, skin-side down, and cook for 4-5 minutes, or until the fat is rendered. Add the apple to the pan.

When the duck skin is crisp and golden-brown, turn the duck breasts over and cook the other side for 1-2 minutes. Baste the duck with a knob of butter, then roast in the oven for 2-3 minutes (for medium), or until cooked to your liking.

Heat the fennel and coriander seeds in a dry frying pan until aromatic. Grind the seeds in a pestle and mortar. Add the nutmeg, cinnamon and orange zest. Stir in the honey and enough orange juice to give the glaze a good consistency.

Remove the duck breasts from the oven and brush the spice mixture over the duck breasts with a pastry brush. Baste the duck with its roasting juices and leave to rest for a few minutes.

Heat a frying pan until hot, add the duck stock and cook until the volume of liquid has reduced by half, then add the 25g/1oz of butter and whisk until well combined. Season with salt and freshly ground black pepper.

For the creamed Savoy cabbage, heat a lidded frying pan until hot and fry the bacon lardons, carrot and celeriac with the lid on for 4-5 minutes.

Add the cabbage and season, to taste, with salt and freshly ground black pepper.Cover with the lid and continue to cook for 3-4 minutes, or until the cabbage is tender. Add the cream and cook for 1-2 minutes, or until the cream has thickened.

To serve, spoon the cabbage onto serving plates and top with the roasted apples. Slice the duck breasts and place on top.
Can I just say that this dish was one of Hubby's favorites! I got started on the cooking tutorial a bit later than usual which meant I had no natural light to photograph the final result. The photos don't do it justice.  But it was so flavorful and while it does have butter and cream it isn't heavy tasting at all. Hubby likes his duck pink so he was thrilled with his dinner and devoured it. Cabbage is not always the first veg people reach for but this method of cooking it really added a smoky dimension that I love! And the apples really finish off the dish with a hint of sweetness. Quite simply, this is a wonderful autumnal meal!
And maybe one day I will get to taste Clare's cooking in person. I do have a birthday coming up, and if I keep making this duck dish for Hubby, I might be able to twist his arm for a celebration at Core. I love the ethos of Clare's restaurant and the respect with which she treats her staff. In a recent article in The Guardian she revealed that unlike some notorious chefs, she doesn't use shouting and intimidation to lead her team. Instead she is more relaxed and if someone needs guidance and coaching they get it in a more gentle way. She had to go through punishing work days when she started in the kitchen and confirms things were very testosterone. But Clare made it through and is so confident. While she admits the culinary world is still dominate by males, she says things won't change if we do nothing.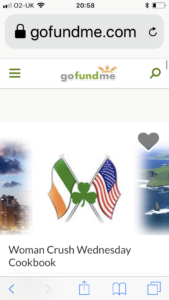 I know my little corner of cyberspace is only a whisper. But that is better than silence. And the fact that I have honored 100 female chefs, with more to come, is meaningful to me and those who have been kind enough to support it. And to take this one step further, today I launched a Go Fund me Campaign for a Woman Crush Wednesday Cookbook. All 100 WCW recipients will be included along with their recipes. And all the proceeds will go to benefit the Women's Chefs and Restaurateurs Scholarship Fund. Helping future female chefs and bringing awareness to the gender imbalance in the culinary world!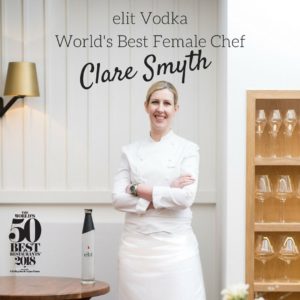 Thank you Clare for you inspiration. Your hard work, creativity and gentle nature are worthy of all the accolades you have received and will surely continue to receive!
core LOVE,
YDP