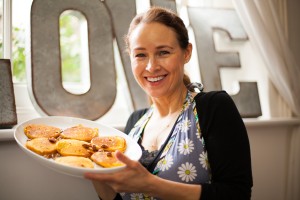 As I have shared here before, Thanksgiving is my favorite holiday.  And it is getting closer my friends!  So to get in the mood, I am pulling out every pumpkin recipe in my arsenal.
I normally make a big brunch for my Hubby and myself on the weekend.  Truth be told, I don't have to wait until autumn to make these pumpkin pancakes.  They are so delicious and nutritious that I make them all year long.  They are the one flour containing pancake recipe that doesn't leave you with the "too full tummy" feeling after you've devoured them.
If you can find tinned/canned pure pumpkin you are in luck.  However, some stores on this side of the pond don't carry it.  So you could always use fresh pumpkin, roasted and then pureed.  Or substitute sweet potatoes just as easily.
You'll find that these are so moreish that you will want to make up a larger batch and then freeze some of the pancakes so you can have them throughout the week.  With some crushed pecans and a drizzle of maple syrup I can't think of a better way to start the day!  And with the totally cool hack (handy kitchen tip) you can make them even quicker by using a turkey baster. Yep, that's right, just to get you in the mood for basting your turkey in a little over a month.  I mean, why should you only use that kitchen gadget once a year?!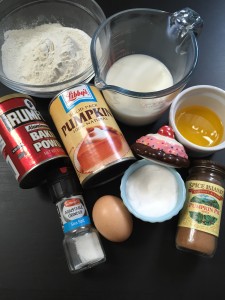 Pumpkin Pancakes
Ingredients
1 1/4 cups all-purpose flour (190 g)
2 tablespoons sugar
2 teaspoons baking powder
1/2 teaspoon salt
1 and 1/4 teaspoons pumpkin pie spice (if you can't find it in the spice section of the grocery store you can combine ground 1/2 tsp each of cinnamon and ginger with 1/8 tsp each of ground nutmeg and cloves)
1 cup/8 oz whole milk (or you can substitute with soy/almond milk  if you are dairy intolerant)
6 tablespoons canned pumpkin puree (100g)
2 tablespoons melted butter
1 egg
Sift and whisk dry ingredients together in a large bowl.  In a separate bowl, stir together wet ingredients.  Once combined, fold wet mixture into dry ingredients.  Heat a large pan over medium high heat and melt a bit of butter.  Using a turkey baster squeeze up about a 1/4 cup of the batter and squirt into discs into the pan . Cook for about 2-3  minutes, until the center starts to bubble and the sides start to get firm, then flip.  Cook for an additional 2 minutes or until pancake is heated through.  Repeat with the rest of the batter. Makes approximately  10.  Serve with crushed pecans and maple syrup.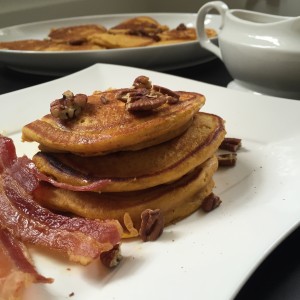 Though I don't have anything against going to a fab brunch restaurant, by the time you get in your car, drive, park and then wait to be seated and served, you could have seriously had a smack down breakie in the comfort of your own home.  And since I have some not so great memories of going to a restaurant with my mom for a 'not breakfast', I kinda opt for doing the cooking myself.
The story goes that she had to meet a friend, another nefarious one like her rainbow friends that had a strange name.  His name was Bob Scheme.  And she brought my brother and me with her to the restaurant.  As per usual she had no money.  So she told us kids that we had to just sit there and be quiet.  And the only time she said we were allowed to talk was when the waitress arrived to take our order.  We were instructed to say "thanks anyway but we are not hungry".   The truth is, we were starving!   I'm still not sure what business transaction (or scheme) went down with her friend.  But I still remember the sound of my tummy grumbling and the smell of the food coming from the restaurant kitchen.  I thought to myself, how lucky those people were who worked as chefs, as they probably got to taste some of the food that went out to the customers.  You know, quality control.  And that might have been the 'a-ha' moment in my soul, even if I didn't recognize it at the time, that I would end up in the culinary industry.  Never having to be without food again and certainly never having to say, "no thanks I'm a not hungry" if in fact I was.
So I hope a few of my little stories give you an insight into why Thanksgiving is so important to me.  But the truth is every day is thanksgiving for me. And for one I am grateful you are here sharing all these YDP moments with me!  Now go ahead and make some of these amazing pumpkin pancakes!  You will be thanking me!  And today my friends, Hubby did a bit of filming for the Yankee Doodle Paddy Youtube Channel.  So before long you too can see these Weekend Wonders being demoed just for you.
Full of appreciation,
YDP
P.S here is a you tube cooking tutorial for the pumpkin pancakes. The recipe is straight forward but if you want to see some bad singing and dancing you might want to check it out! LOL!