For New Year's Eve last year I shared a post about the importance of Lasting Words. This year I wanted to share a  post on lasting images. Because sometimes they are the things permanently etched into our mind's eye. An  Instagram app conveniently creates a collage of our top liked posts.  Here is the one from my Yankee Doodle Paddy account, which is food only: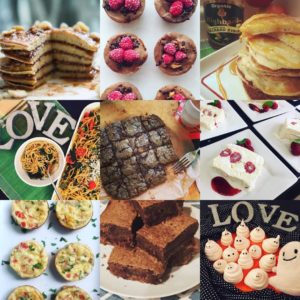 And below is another from my blissbakery account which is all about family, travel, my doggie Stella and yes food too!
While these are some beautiful and memorable images, there are others not represented here that will forever stay etched in my mind. These are the lasting memories from 2016 that will have a profound impact on my soul forever for various reasons.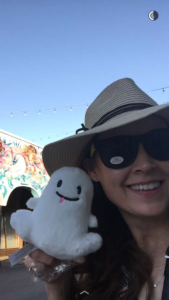 Feb: For someone so reluctant to get on board with social media, this was a visual/physical reminder of the power of it all. #snappy gifted to me by Snapchat HQ in Venice Beach, California.
May: My daughter, and mommy to my two granddaughters, graduated from USC with a masters in Social Work. Superwoman!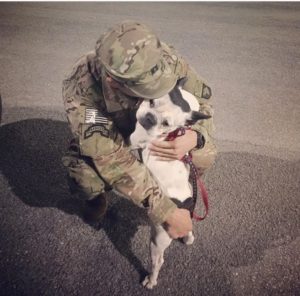 May:  My son's deployment was heartbreaking for all of us. This photo is an image that is powerful because we humans can share our feelings through words, but for man's best friend, doggie Carl Winslow, he shows it all on that face!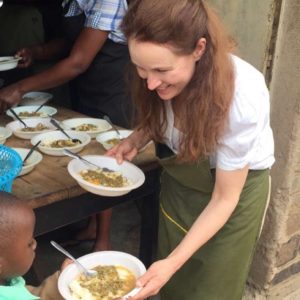 June: This image is so powerful as I was serving food to the 600 children of St. James primary school in Dandora, Africa. And one child rubbed my arm after receiving their lunch. The head chef Julia said they were only "verifying" or checking my skin to see was it really that color. I LOVED being there and will cherish this photo as a reminder.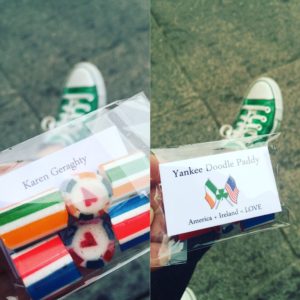 August: I finally got a business card!  But not any card, this one has tutti fruity candy in Yankee Doodle & Paddy colors!  I was really proud of this creation especially because of the LOVE inside. That red heart will always be a reminder to people of my purpose, a lasting image indeed!
November: This was taken in Iceland, in the hotel lobby.  2016 was a wonderful year of travel adventures for us.  I could have chosen any of a myriad of pics to reflect that.  But this one is so memorable as it shows Hubby's undying support of the snapchat community.  I was doing a #tellthetruththursday episode, and not only did he join in but he also let me put a filter crown on him!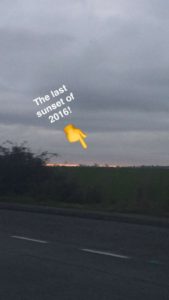 Dec: to quote from my Instagram where I posted this pic, "A year to remember in more ways than one. Yet it has gone out in a most inauspicious way. I've photographed the last sunset of the year in the past but haven't ever posted on Instagram. This pic sure doesn't look worthy and no amount of filtering would jazz it up. But it's still important to recognise lasting images of our lives these past 12 months. And the thick layer of fog hovering above the bright orange sliver of sky is as it should be! Because our eye will always be attracted to the light! 🌥Hope you all have a nice New Year's Eve and if you can, try to look for the light! 🕯"
And last but not least is a compilation of Sunday Spotlight Snap Sista pics of the recipients.   I have posted several times on here little "recaps" as I refer to them. But each Sunday episode, I give the honorees all my LOVE and it stays with me forever. And to have them all together in one heart shaped collage is a dream come true.  Especially in light of my lack of tech skills. But I did it, all by myself!  Since tomorrow is Sunday AND New Year's Day I won't be doing a spotlight segment.  I'll spending it with my Hubby and doggie Stella in Bath, England.
However,  this visual representation of my eternal memories of these awesome people from all over the globe will mark the day.  I made three hearts because I wanted to make sure you could see all the amazing Snap Sistas who have brought me so much joy this past year. But if you still can't see it that well and want to know more about them, here is a link, and here, and here and here, to the four recaps I have done so you can read more about them. Oh and here is a grid layout of photos that might be more visually user friendly.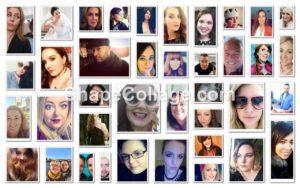 So until next time, I hope you all have a very Happy New Year. Thanks for reading and let me know what are your lasting images of 2016!
LOVING and remembering,
YDP