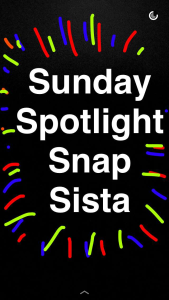 The Sunday Spotlight Snap Sista has become one of the most popular installments on my snapchat account (username: blissbakery). I started it as a way to shower someone from Snapchat Land with a little love, and also to help the rest of us learn a bit more about another snapper. And rather than call them by their own name, I refer to them as a Snap Sista. Like a Bosom Buddy, Pen Pal or Facebook Friend, which by the way can be a woman or a man!
Because of the day that is in it today, Easter Sunday, I won't be doing an episode. Therefore I have decided to take this time to do a little recap.  It has been my utter pleasure to dedicate a Sunday afternoon to make someone out there feel special. These are people I have been watching on Snapchat and they have brought so much fun into my life. So only fair I return the favor! There have been 9 weeks (installments) so far and each one has been a sheer joy to do. I incorporate special music hand picked for each recipient along with a special gift (usually foodie related) that the honoree receives. Then the rest of us get a gift too, which is a quote inspired by the Sunday Spotlight Snap Sista!
Holly Shortall (@hollywooddublin): Holly's gift was a pair of Glam Kitchen Gloves (with a lashing of leopard print, her fav).  Holly is a world famous fashion illustrator and popular social media personality. I absolutely love this woman and call her a friend!  She is the reason I am on Snapchat and I owe her a great debt no doubt!  She has done several commissioned works for me (including this moving card) and is incredibly talented. Holly always has a funny outlook on life, whether it be about fashion, makeup or current events.  She is Irish and lives in Dublin. Besides her art, she also works for a marketing and media company (@newslangie) and is doing on camera work as well…'litch looking gorge." A caring philanthropist, she has spent time in the refugee camp in Calais.  The quote for all of us inspired by Holly, "Our lives begin to end the day we become silent on things that matter".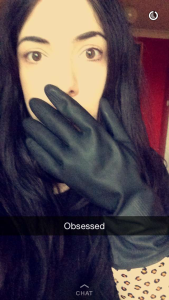 Miram O'Sullivan (@bakemystyle): Miriam's gift was a set of Valentine's themed cupcake cases. Miriam is food/fashion blogger originally from Kerry, Ireland but living in London. She is one of the most fun people to watch on Snapchat, so cheerful and engaging. She is stunning with her bright ginger hair and wears equally bright assorted lip colors. I had the ultimate pleasure of finally meeting her a couple of weeks ago on a Foodie Fieldtrip Friday!  I always look forward to her upbeat snaps.  She brings a bit of sunshine wherever she goes! And occasionally we get to see her adorbs bearded hubby Dave!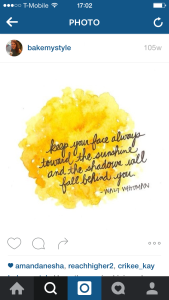 Kelly Ging (@KellyLouCakes): Kelly's gift was a package of rubber erasers in the shape of baked goods. Not that she would need them as I suspect she doesn't make many mistakes. This lady is a force to be reckoned with!  Kelly is the owner and head baker of Kelly Lou's Cakes and Cafe in Portlaoise, Ireland.  I was able to meet her when I did a Foodie Fieldtrip Friday out to her place. I ate an amazing Rocky Road Cupcake there too! But the biggest treat of all was meeting Kelly Lou herself. And her smile is even bigger in person! Truly one of the nicest people that ever walked this earth! Hence this quote below inspired by her ethos, which could do all of us some good!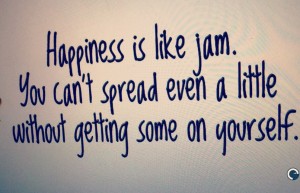 Paul Broughhall (@paulieblogger): Paul's gift was a package of marshmallow Peeps. Why you might ask? Well Paul is not only a blogger and children's author, but he is the creator of the "Artistic Chicks" and it was only fitting he got one of America's most iconic Easter goodies.! The Artistic Chicks have painted portraits of numerous celebrities and have brought joy to the social media world and beyond. I have never met Paul personally, but his snaps are all about music and art and the stories he creates out of them. I have been told he is quite tall, but if this is the case, he is a gently giant. He is the most lovely and pure soul I have seen. His quote sums it up perfectly:  The nicest thing you can do for anyone in a day is to make them a little bit happier than they were before they met you!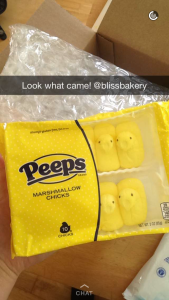 Katrina Kelly (@KatrinaK2Hair): Katrina's gift was a large Chocolate Bar wrapped to look like a Million Dollar Bill. Back in January I met Katrina in person. She is so beautiful with her radiant blue eyes.  I met her at her fav coffee place called Treat, just around the corner from one of her shops. I was struck by her beauty, but even more gorgeous is her soul on the inside. A successful business woman with two beauty salons in Dublin, she just launched a make up line called PUSH and she also does makeup/hair master classes. But her #1 job is mommy to her two gorge kids! And this future bride is getting married this summer! Congrats Hun and Matt is one lucky guy!  Katrina is positivity personified! This quote was one I submitted to a contest she was running. I won some PUSH makeup, but even better, I've won a lifelong friend!
Jen Morris (@toodollymakeup): Jen's gift was a set of lip balms in cute cupcake pots. This girl will eventually rule the world it would appear. She is a super popular blogger, snap chatter and Instagram Queen. She has thousands of loyal followers and she is still as down to earth as the day she left her family home in Clonmel for the big time in Dublin. But she is so popular because she doesn't mind showing you her bare no makeup look, which is as important as the Glam Jen! She is also as student getting her degree in business. Jen is so generous with her skills and often does makeup tutorials for Snapchat. How she does perfect eyeliner with one hand while holding her camera phone with the other is beyond me!  Not only is the makeup on fleek, but so is she! Love ya Jen!  I'm still practicing and one day I'll make you proud!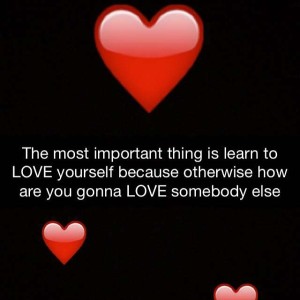 Tracy Benjamin (@tshutterbean): Tracy's gift was a salt and pepper shaker set with the logo "Keep Calm and Carry On" Tracy is a San Fran girl.  Hence her snaps reflect that. Along with her son Cooper, husband and a cat named Pinot, Tracy's style is introverted, thoughtful and awesome. She snaps some of the most beautiful images I have ever seen. Whether it be food, or rain water on a leaf. This girl has the eye and shares it all with us! Tracy's quote:  Mother's hold their children's hands for just a little while, their hearts forever. Perfect for the day as it was Mother's Day in Ireland the day she was chosen. And as a mom herself (though in America Mother's Day isn't celebrate until May) I thought she could appreciate the sentiment behind this Irish proverb.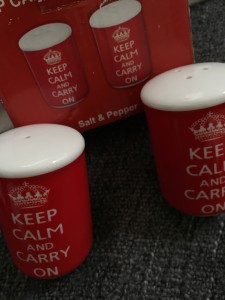 Laura Cunningham (@cunninghamlaura):  Laura's gift was a mug personalized with pics of her cat (#markthecat). I figured since she loves him so much she can have him with her while she is indulging in a cuppa tea at work!  He really is a cute cat! And a bit of a rascal.  I first started to watch her snaps around Christmas when #markthecat would climb the tree and remove the ornaments! Oops!  Laura is an editor with Confetti Magazine as well as the creator of her online gifts store called Hippenings. Laura is always on the 'best of' list for snappers and is part of the popular group of snappers called Bridies. Though I have yet to meet her, I feel like I know her. She shares raw uncensored chat about life in general, as well as beautiful images such as a recent ski trip. Utterly dreamy! Her inspired quote is actually from her Instagram account: What would you do if you weren't afraid?!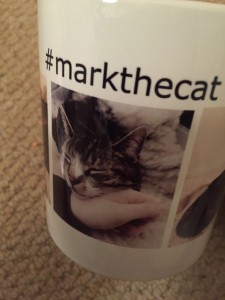 Maria Ryan (@mariaryan2014): Maria's gift was Coco Pops Cereal Flavored Lip Balm. Say what? Well you would had to have seen her story for this to make sense. But let's say she took an early morning trip to the store for a giant box of her fav Coco Pops Cereal. And after three bowls shared the rest with the neighborhood birds and cats!  It was classic!  Now the perfect gift would have been the actor Colin Farrell, her Hollywood crush.  This is the girl who I said represented Quality Time from the Five Love Languages book. And it is the truth!  She is the only blogger I know that actually looks at the camera and says, " how are all of you today?" and checks in with Snapchat each morning and evening. She is a super special person.  In fact she is a play therapist working with autistic children and those suffering from various challenges. I had the pleasure of meeting her for a cuppa back in January and it was lovely!    And no one on Snapchat gives as good a tour as Maria. We were covered for sure on Paddy's Day as she drove around Dublin taking in all the historic sites lit up Green! And filmed it all for Snapchat!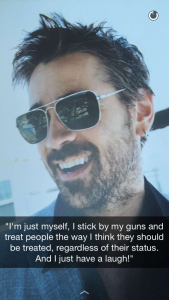 Hope you have enjoyed our little SSSS recap. I'll be back again next Sunday spreading the LOVE and shining a Spotlight on a hand picked and deserved Snap Sista!  Until then… Happy Easter to one and all!
Lots of love to you and my Snap Sistas,
YDP
P.S. Since this post went up, I have done another Sunday Spotlight Snap Sista Recap of honorees 10-19! So click here if you'd like to see more fabulousness!