Though I haven't met Guest Blogger #4 in person, I feel like I have. Because I sit with her on the floor of her kitchen every day while we wear our dressing gown (aka house coat, aka bathrobe). Only Sue's is a chic leopard print, and mine is a dingy white one!  But I have really enjoyed getting to know Sue through our Snapchat friendship. I truly admire her honesty.   She even has a blog and Instagram account named @honestmammy ! But it is her yearly unwavering dedication to the Darkness into Light charity walk (which benefits the Irish Pieta House)that endeared me to her for eternity.  She is an example of how to take our deepest pain and use it for our highest purpose. And no doubt she is able to do that because of LOVE!
Family Love
I was a huge Sex and the City fan and a Carrie quote that has always stayed in my head is … I am someone who is looking for love, ridiculous, inconvenient, consuming can't live without each other love…..
I have been blessed to find such love five times in my life.  Firstly with my husband and then with the four wonderful tiny humans we created.
I met my best friend, my soul mate, my husband 24 yrs ago this year (St. Patrick's day). We have our ups and downs but we have fun, we laugh together, and we keep each other sane.  And believe me in this house there are times that's needed.  I developed post natal depression after the birth of our 3rd child and when my life was falling apart it was John who helped me pick up the pieces and stick them back together.  He is my safe place and I love him.
We have four wonderful children and each of them are unique in their own special way.  We have 1 daughter and 3 sons so it's a busy house, it's a loud house!  There can be tears and tantrums but there's always love and laughter.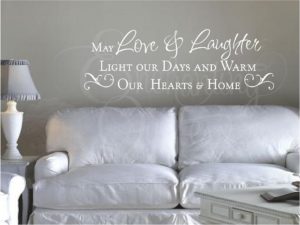 Sometimes I think being a parent is the hardest job in the world.  The days can be endless, it can be lonely, and shock horror it can be boring (yes I said that).  But then a tiny person will climb up and wrap their arms around you, a small hand will slip into mine and squeeze it. One of them will ask for a hug and my heart just explodes.  When they are sad, scared, anxious, nervous or upset I want to wrap them in cotton wool and make whatever is bothering them go away.
When my daughter was a few weeks old someone told me to cherish every minute because it goes by in the blink of an eye..in a haze of feeds, dirty nappies and sleepless nights I laughed.  As I write this that baby girl has just turned 21 and I wonder… did I cherish enough?   Do I listen to them enough?  Do I give each of them enough time?  Good old mammy guilt.   But the one thing I can say is that I know I LOVE enough!
They are my family…they are my safe place and I love them.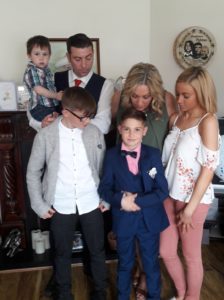 I've included a family photo.   I'm telling Eoghan to stop messing, stand up and smile. It's not a picture perfect Kodak moment but I love this photo because it's OUR perfect and I wouldn't change it for the world.
Much love,
Sue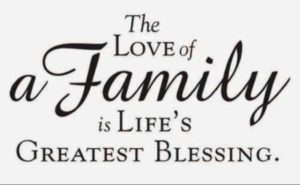 This love story floored me! Because Sue is a very funny and sometimes sarcastic person. She always has me laughing. But she is such a deep soul and that passion and commitment to her family is palpable! I just love this lady! She is beautiful inside and out! Oh and in true witty style, she hosts a weekly series on Snapchat called #mancrushmonday.  No doubt her hubby John is her #1 but she does post and invite others to join her in a cheeky bit of fun to make the Mondays not so boring! Her Snapchat username is @sue31xx and you'll do your funny bone a favor to sign on to her account!
Thanks Sue for not only sharing your LOVE story but for your truth in a world of smoke and mirrors. And thanks for all the support you've shown me. One day I hope I'll be sitting with you in person as you have your Coke and I have a cuppa.  Maybe we will even ditch the dressing gowns!
Laughs and LOVE,
YDP