Long time no cook my friends!  I know, between traveling in the USA, the beginning of Lent,  and hosting the Guest Blogger Month of LOVE, I haven't been on to share a recipe in a while. However today all that is about to change.  My fav day of the week on the blog and my fav Snapchat episode will collide once again for a Woman Crush Wednesday installment!  I will do a live cooking tutorial on Snapchat (username blissbakery) and share a LOVE story for a fabulous female chef!  Today's lucky lady and the 83rd chef to get this honor is Prue Leith!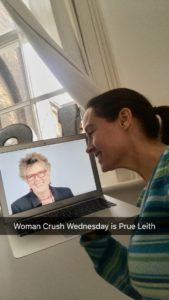 The first time I ever heard the name Leith's was when I was a student at the Ballymaloe Cookery School. One of my friends there mentioned she almost attended the famous London culinary school started by today's WCW Prue Leith.  However, being that my friend is Irish she decided to stick closer to home. Cut to years later and here I am honoring the woman who is not only the founder of her namesake cookery school, but also a writer, a restauranteur, television personality and all around FAB chef. And side note, a couple of my WCW chefs have attended Prue's school such as Lorraine Pascale, Gizzie Erskine, and Diana Henry.  So how about I crack on with one of the recipes from the cookery school then….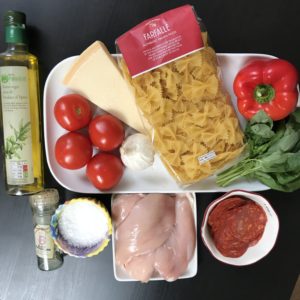 Ingredients:
3 boneless, skinless chicken breasts
3 tablespoons olive oil
1 clove of garlic, crushed
1 tablespoon of salt
400g bow-tie pasta (farfalle)
100g chorizo, diced
1 red pepper, deseeded and diced
4 small tomatoes, quartered
salt and freshly ground pepper
4 sprigs of basil, shredded
4 tablespoons grated Parmesan cheese
4 sprigs of basil, to garnish
Instructions:
Cut the chicken into bite sized pieces and place in a bowl. Pour over the olive oil and stir in the garlic. Leave to marinate while preparing the other ingredients.
Bring a large saucepan of water to the boil. Add the salt, then cook the pasta until al dente.
Meanwhile, sauté the chorizo and red pepper over medium heat until just starting to brown about 5 minute. Add the chicken, garlic and oil. Brown lightly.
Stir in the tomatoes and cook for a further 5 minutes, or until the chicken is cooked through and the tomatoes have started to break down.
Drain the pasta, return to the pan and stir in the sauce and shredded basil.
Pile into warmed serving dishes. Sprinkle with Parmesan and garnish with the basil sprigs.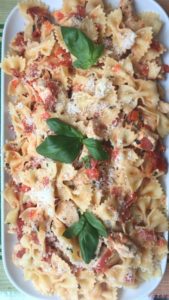 While a very simple dish to put together, the flavor combination is fabulous.  I love it and I specifically chose this recipe as I know Hubby will love it too. It is also a dish that can be adapted if one might want to include other bits and pieces like broccoli or toasted pine nuts.
Prue, who was born in South Africa, started her restaurant during a time when British food wasn't considered very good. But she created a menu around fresh food and became very successful. So much so that she eventually started her famous school in 1975.  While she sold her interest in the London school she opened up another chef's academy in South Africa. Even at the age of 78, she never stops and is now on the telly as one of the stars of the well known show The Great British Bake Off.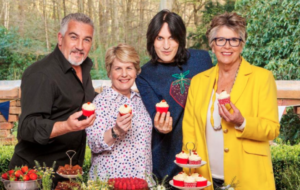 Prue Leith is such a success story and an amazing inspiration for women in the culinary world. In fact she is so beloved by the British she was even honored by the Royal Family on two occasions with a CBE and an OBE!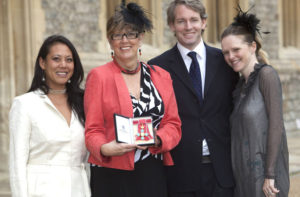 So thank you Prue Leith for all you have done for the culinary world and for women. Your amazing contribution to various philanthropic endeavors is amazing too! You are literally a Woman Crush EVERYDAY in my book!
True Prue LOVE,
YDP