My love affair with salads has been firmly accounted for on this blog. A couple of years ago I even devoted a whole week titled "Salad Scentral" with daily recipe posts to get the New Year started off on a healthy note. Well I have a couple of newbies to add to your rotation. And in a quick post,  I will share the recipes, photos, and pleas for you to please make these two beauts at home! Your lunchbox will be very happy this week if you do!
Tuna, Chickpea & Red Pepper Lettuce Boats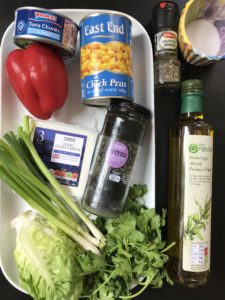 Ingredients:
1 can/tin of line caught tuna (drained and flaked)
1 can/tin of chick peas/garbanzo beans (drained and rinsed)
1 Red Bell Pepper, seeded and chopped into small chunks
1 Handful of black olives diced
3 spring onions finely sliced
1/2 cup Hard Goats cheese grated  (or you can use crumbled feta cheese)
1 Handful of chopped fresh herbs (coriander/cilantro or parsley or combination)
2 Heads of Baby Gem Lettuce Rinsed and leaves separated (use the larger outer leaves)
2 Tbsp Freshly squeezed lemon juice
2 Tbsp Olive oil
Salt and Freshly ground Pepper to taste
*You can add some diced cucumber too if you'd like
Instructions:
Mix all the ingredients except the baby gem lettuce together in a bowl. Add more lemon juice and olive oil if needed. Fill the baby gem lettuce leaves ( boats) with the salad. Or alternatively, you can chop the lettuce into pieces and toss with salad and serve straight from the bowl to plates.
I love the freshness and the flavors of this salad. While I have served it from a large bowl as a traditional salad would be served, I prefer the lettuce boats. They make a fun nibble with some drinks when entertaining. Or handy when you pack your lunch in the morning and need to eat on the go. No fork necessary!
*******************************************************************************************
Ever since a friend of mine said cauliflower was the most pointless veg, I have made it my mission to incorporate it into recipes whenever I can to dispute that claim. I love cauliflower cooked or raw. I've shared recipes on here for Cauliflower Gratin, so nice and cheesy. And my Raw Cauliflower Salad with pomegranate seeds is addictive! But my fav way to eat cauliflower is to roast it. Yes it can be bland, so using spices super charges this super healthy veg to a flavor rocket bursting with each bite! Oh and for the record I have yet to make cauliflower pizza!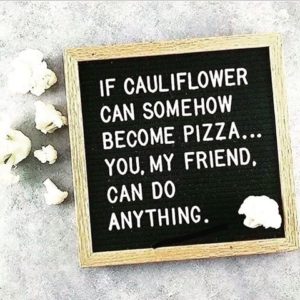 Warm Salad of Roasted Aubergine & Spiced Cauliflower
350 g (12 oz)  Baby Aubergines (Eggplant) sliced into discs
1 Orange Bell Pepper seeded and roughly cut into triangular pieces
1 clove of garlic (grated on a microplane or chopped finely)
1 Handful of nuts (I used a combination of shelled pistachios and cashews)
1 Handful of Raisins
Olive Oil
Salt and Pepper
1 head Cauliflower, rinsed and the florets removed (NOTE! I don't advocate food waste. So with the unused cauliflower you can make cauliflower rice OR you can simply chop the remaining cauliflower,  steam it, then puree it and add it to mashed potato to create potat-iflower puree).
1 Tbsp Cumin Seeds
1 Tbsp Ground Coriander
1 tsp Red Pepper Flakes
1 Tbsp Smoked Paprika
1 Bag of Organic Mixed leaf salad (the one I got also had grated beetroot added to it as well)
Instructions:
Preheat oven to 400F/210c.
In a bowl, toss the cauliflower florets in enough oil to coat, but not drenched. Sprinkle in the cumin seeds, ground coriander, red pepper flakes and smoked paprika and a bit of salt and pepper. Toss well to coat all. Place on a roasting tray and put in the oven to roast until tender and golden, even a bit charred (approx 30 mins). When done, remove set aside.
Place the aubergine/eggplant discs in a colander and sprinkle a generous bit of salt on the discs. Let sit in the colander in the sink for 30 mins to "degorge" (release their liquid). Then with a paper towel, pat the aubergine dry on both sides and put in a medium-sized bowl along with the orange pepper and the grated garlic. Toss with olive oil (enough to coat but not drenched) and some freshly ground pepper. Put on a baking tray and place in the preheated oven to roast for about 25 mins or until the veg is tender and slightly charred. Remove from the oven and set aside.
To assemble the salad, place the mixed leaves on a platter. Scatter the roasted cauliflower and the roasted aubergine and peppers on top of the leaves. Then scatter the raisins and nuts on top. You can serve immediately while the veg is still warm or it can be served cold. If you want, you can add a bit of vinaigrette dressing, but I find that the roasted veg adds enough flavor and moisture so the extra dressing isn't necessary.
Hubby really loves this salad. It is so filling and since he isn't normally a "salad guy" this is one he will eat. What I love about this salad is that it lasts for a couple of days. So long as you don't douse it with your vinaigrette dressing. Most salads are only good on day one. But this one keeps getting better as the flavors mature.
There you have it, a couple of salad recipes for you to enjoy for these last days of summer and beyond. Because I believe salads should be eaten ALL year long, not just when the weather is hot and sunny.  So, please, I urge you to eat more salads! I promise you, you won't regret it!
Veggie LOVE,
YDP