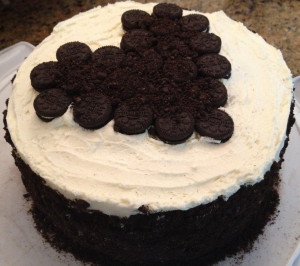 Today is the 33rd birthday of my first born, my daughter, Heather Ann.  This day forever changed my life.
I think becoming a parent is the most precious honor that could be bestowed on a human being.  In the olden days people might have had children as it was simply the thing to do.  No questions asked, everyone did it etc., etc.  I CHOSE to become a mommy.  It was my calling, my vocation, and also my healing.  It has brought me joy and yes at times pain.  But it is the single most rewarding thing I have accomplished in my fifty years on this earth!
As I have shared a bit before, I was abused and neglected as a child.  Being a parent didn't bring joy to my mother, I don't even know if she loved us kids.  But once she and my father got divorced things went from bad to worse.  She moved us to California, as far away from him as possible.  She became a drug addict who also dealt drugs to support her habit.  And though she didn't want me, she needed me.  One of the ways was that (unbeknownst to me at the time) the money I made acting in TV commercials went into her pocket.  As well, even as a small child, I looked after the family, the cleaning, the cooking.  That is why becoming a mom at a young age wasn't the least bit daunting for me.  I had been doing it already.  The irony, she was actually quite intelligent believe it or not.  And from what I was told, she won a scholarship to college.  But she didn't go because in those days, most women got married and had children.  Even if they weren't suited for it, as she wasn't.
When I decided to become a mother at the tender young age of seventeen,  it was a natural and conscious desire, but also a subconscious need.  I realize now looking back that in a way I was able to heal through being a young mom by pouring my love and attention into my children.  I wasn't what current pop culture seems to glorify of the  "Sixteen and Pregnant" variety.  I finished school, was married and had a career.  So starting a family filled that next and most crucial chapter.  But I didn't want to repeat the sins of the mother, and the opposite of dysfunctional can also be dysfunctional.  So I read every book I could get my hands on that had to do with pregnancy, child development, and parenting.  I took classes and attended lectures on the topic.  I knew I wanted to break the proverbial cycle of abuse.  And I did prove to myself and others that it is possible to make a new way!  A good, happy and healthy way.
Of course, it wasn't always easy.  My then husband was gone a lot.   In essence I was a single mom before the divorce.  And there were some that didn't always have the most respect for a young mom.  In fact many thought I was the nanny, not the mommy.  Some wrongly assumed I was pregnant when I got married but in fact I wasn't.  It was actually six months after the wedding that I got pregnant.
But because I was so young, I guess you could say I was able to relive my childhood.  I was growing up with my kids.   Even now I have the best memories of those times that my kids and I would literally go everywhere and do everything together.  People called us the "Three Musketeers".  And though we are now living spread out around the globe, the times when we are able to be together are amazing and precious.  These days I love seeing the two of them navigate their adult sibling relationship and helping each other out when needed, it is very touching.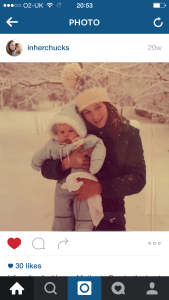 This past mother's day Heather posted this pic of us (taken when we lived in New York) on her Instagram and wrote the most beautiful note.  "Happy Mother's Day to the best mom in the whole entire world!  Thank you for everything you are and for everything you have done.  I am beyond blessed to have you in my life."
Wow, okay, throat burning, tears in the eyes response for sure!  The thing is, I am blessed to have her in my life.  I have learned as much from her as she has from me.  My guess is most parents actually learn loads from their kids.  But they don't like to admit it because of a fear of showing weakness.  Like "I'm the parent, I'm supposed to know it all" mentality.
I am grateful for all she is and all she has done.   In my daughter's 33 years she has indeed made the world a better place.  She has worked as a social worker serving the most difficult communities with various disabilities.  She is currently getting her masters at U.S.C. (my son's and my alma mater, yeah).  She is unbelievably smart, talented, hard working, creative, funny and beautiful.  She has a wonderful husband and together they have given me truly the best gift I have ever received, which is the gift of being a grandma (or "Amma" as they call me).  Since both my grandmas passed away before I was born, I didn't know what to expect.  But I am blown away by of the amount of love I have for them.  And I am awe at what a wonderful mommy she is!  This photo (by Paper Tiger)  was taken this summer just after Hope was born joining big sister Harper…now I have three H's to love!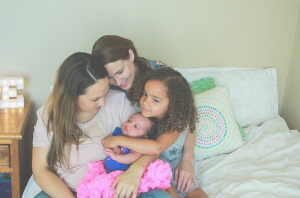 So to honor Heather on her birthday, here is a recipe of a fav of hers,  a Cookies and Cream Cake.  I baked a multiplied version of the recipe for my daughter and son in law's wedding (a mini three tier cake and 150 cupcakes).  As you can see from the pic at the top of the page,  it is laden with Oreo Cookies!  The color scheme for their wedding was black and white so it was perf.  And this pic of her as a seven year old in the black and white dress reminds me of this cake too!  All black and white and fluffy!  It was taken at the Miss Universe Pageant in Los Angeles where she was in a group of "little sisters" to the contestants.  And funny enough, she was paired with Miss Ireland!  So she was one of the original Yankee Doodle Paddy Peeps!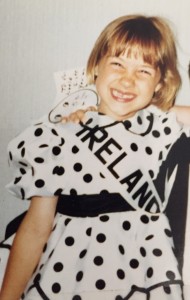 Ingredients:
½ cup (4 oz) unsalted butter, room temp
1 cup (8oz) whole milk
2 tsp. vanilla extract
2 ¼ cups all purpose flour
1 Tbsp baking powder
½ tsp. salt
1 2/3 cups granulated sugar
3 large egg whites, room temp
1 cup OREO chocolate sandwich cookies (about 10) lightly crushed
Preparation:
Preheat oven to 350 F/180 C degrees. Prepare baking tins by greasing/flouring 2 round cake tins  or if making cupcakes, insert paper liners into cupcake pan.
In an electric mixer fitted with the paddle attachment, cream together the butter, sugar and vanilla until light and fluffy.
In a separate bowl sift together flour, baking powder and salt.
Slowly add egg whites to butter mixture, mixing well between each addition. Stop the bowl and scrape down the sides from time to time. Alternate adding the dry ingredients and the milk to the butter mixture, beginning and ending with the dry. Mix until only a few streaks of flour remain. Stir in the crushed cookies until batter is evenly blended.
Fill the baking tins or cupcake liners. Bake for about 15 min for cupcakes and 25 mins for cake or until a toothpick inserted in the center comes out clean. Cool on a wire rack. For the cupcakes let cool in the pan for 5 minutes then remove to wire rack
For the frosting: This is enough for the cupcakes but you will need more to ice a whole cake
Ingredients:
2 sticks (226 g) unsalted butter, firm but not cold
1/8 tsp salt
3 ½ cups (350g) confectioners sugar, sifted
½ tsp vanilla
½ tsp milk
finely crushed Oreo cookie crumbs
In a bowl of an electric mixer fitted with the flat paddle attachment, beat the butter and salt on medium until light and fluffy, about 2 minutes. Reduce the speed to low, gradually add the confectioners sugar and beat until incorporated. Add the vanilla and milk and beat until smooth and creamy. Do not overmix or the frosting will incorporate too much air. It should be creamy and dense, like ice cream. Add additional milk, 1 tsp at a time if frosting does not have a spreadable consistency.  Spread frosting on top of cupcakes and then sprinkle with crushed cookie crumbs.**To have enough frosting to ice a whole cake, double the batch (for a 2 layer cake, and  spread frosting in middle and outside)
In keeping with the black and white/cookies and cream cake theme, I'll let a line from the Michael Jackson song "Black or White" sum this whole thing up in a nutshell..
"…Now I Believe In Miracles
And A Miracle
Has Happened Tonight…"
…well at 10:45 at night, on that night of 29th of September, 1982, the miracle of a 9 pound baby Heather being welcomed into my grateful arms!
I love you Hun!
Mom (aka YDP)