No, the title of this post isn't indicative of the weather report for London guys, but likely it is for Los Angeles….it's always hot and sunny in L.A.!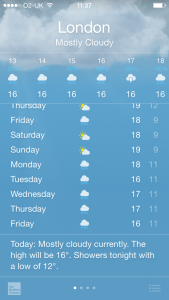 Last night with hubby away, my pretty Pit Stella and I went over to our local for some gastro pub grub for dinner (I love that dogs are allowed in pubs over here).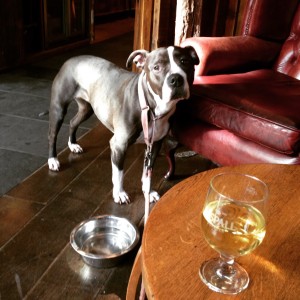 We sat with a lovely couple. The guy was English and the girl was Brazilian. We were commiserating about the high cost of housing over here in London and then of course got onto the subject of the weather! Aw it made me feel like I was back home in Ireland. That is defo the number one topic of convo isn't it? But honestly, it is a great leveler. No matter your age, ethnicity or bank account the weather makes us even!
So when I got talking about how the weather in Los Angeles is literally the same 24/7…365… hot and sunny…blah blah.. the guy puts his hands over the girl's ears. Like EAR MUFFS! Movie reference here…"Old School" and you can youtube it yourself at your own risk it if you need to see what I am talking about. But he did that because she, being from Brazil, misses the sunny weather.
What I then endeavored to do was explain the myriad of reasons why constant good weather is actually not a good thing. No, I'm not nuts. Just hear me out. First of all, when you have no seasons but the same weather over and over, day after day, you lose track of time. Literally, an entire decade can pass and you're like, "What the..?" Where as living in a place with seasons to punctuate your memory is much more vivid. Trust me, everyone who lived through the winter of 2010/2011 in Ireland remembers exactly where they were. I myself had to walk to and from work through the snow. Luckily for me I had no incidences, which is strange considering how clumsy I am. I still feel sorry for the one guy who slipped on the icy footpath here.  I wonder where he is today? Things that make you go hmmm…
Back to the story, another reason why constant good weather isn't a good thing is no one wants to watch the weather report. Over here, people do pay attention to the weather report, on tele, on the radio and even now on their smart phones. This is because it is so changeable. But the news stations in L.A. got smart. They hired former Playboy Playmate Bunnies to give the weather report. Then people (uh mostly guys) would indeed tune in. Maybe not to see how their wardrobe choices for the following day would be affected. But to see how "Suzy Storm" or "Haily Hurricane" looked. Oh yea they actually changed their names to give them a hint of an expert meteorologist sound. P.S. I couldn't give the actual names of these people without clearance, but these aren't far off!
And finally, nice weather is great when you are on your hols (that's short for holidays my American friends). Perfect for laying on the beach and drinking your Margarita with the cute little umbrella in it (thinking about your pals back at home laughing knowing they're using real umbrellas in the rainy Irish weather). But day in and day out running errands, walking the dog, etc, etc, you are in a constant state of hot and sweaty! You get sunburned simply from going from your car inside to the grocery store! Plus it is harder to get energized for work when all you want to do is jump into a swimming pool!
But one good thing (and sure, I may be giving out, but there are some good things) about the nice weather in L.A. is that you can eat much healthier. Since you are in shorts 365 you do want to feel good, and with smoothies and salads readily available anywhere you do slip into that mode without effort. However, in this part of the world you're not thinking about a lovely salad when you are cold and damp come January. All you want is a Shepherd's Pie and an Apple Crumble!
So before we get to that juncture, let's enjoy this healthy recipe for Turkey Lettuce Cups. And if you are in L.A., well you can have this all year long! It is lovely for lunch, or a mild evening dinner. And served with a quick and light version of fried rice on the side you're good to go! It's also great for those of us that might have limited cooking utilities. For instance, one of my former cookery students just emailed to say they have no oven in their new university accommodations. There's only a hob (stove top) to cook with and because of a food intolerance needs recipes asap that aren't simply boiled pasta!
Dude, this can like totally be made gluten free and it's so awesome, dairy free and paleo…OMG,  I sound like I'm back in L.A. right now. Minus the hot and sunny weather!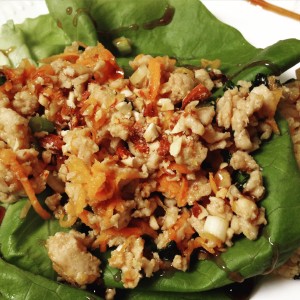 Ingredients:
1 lb (453 g) lean ground (called 'minced' over here) turkey or chicken
3 carrots (peeled and grated/shredded)
1 bunch green onions (diced)
20-30 fresh basil leaves (chopped)
1/4 c. (59 ml) soy sauce (can substitute with a Tamari gluten free sauce)
2 tablespoons brown sugar
4 tablespoons minced garlic
1/3 c. (78 ml)  olive oil
*1 tsp freshly grated ginger
Choice of lettuce for the cups:  iceberg, romaine, little gems or butter lettuce
1.Heat olive oil in skillet on medium heat and add garlic, cooking for a couple of minutes  but careful not to burn.
.2. Add meat to pan with the ginger,  half of the soy sauce and half of the brown sugar and cook for about 10 minutes until the meat is totally cooked through.
3. Once the meat is cooked and browned, add remaining brown sugar and soy sauce, chopped basil, shredded carrots, and diced green onions. Stir quickly for one minute and remove from heat (vegetables should still be a bit crunchy) and cover with a lid.
Serve by putting the cooked meat in the lettuce cups. You can jazz it up by sprinkling some crushed up peanuts or almonds. Also you can drizzle with sriracha if you want it spicy or my fav is a drizzle of pomegranate molasses for a tangy sweetness!
*Note: For those of you who are not a fan of ginger, and you know who you are, you can omit this from the recipe with no problemo.
Keep Coolio!
YDP