When I was working in Dublin as a manager of a well known gourmet fresh food store, one of the fun parts of the job was decorating the shop for various holidays.  And sometimes the company would even have a contest among all the other branches for best/most creative display.  It created some friendly and fun competition that involved the staff, and saved money on hiring outside window dressers.  The Halloween Pumpkin decorating contest was one such example.
The first year we did it, I decided not to do anything scary with the pumpkin.  Many of the customers are families with small children, and I wanted something festive but friendly.  Besides, I am a wuss when it comes to anything remotely frightening.  Thus CHEFANIE was born.  A life size pumpkin chef.  Everyone loved her.  She was festive but not frightening and she was a foodie!  Since I began my tenure at the company as a chef, I dressed her in my old chef's uniform.   She was coined "The freshest member of staff" and not surprisingly she (we) won the contest. That's me in the pic congratulating Chefanie on the good news.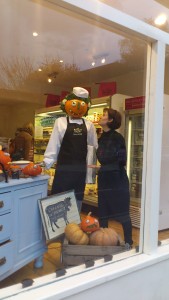 Then I moved to another shop and brought her back to life at that location.  We had loads of compliments from the local community, especially since the other businesses had such scary displays.  In fact, the local butcher nearly had the whole town having nightmares with the ghoulish and bloody pumpkin presentation.  But sadly we didn't win our company's competition that year as Chefanie couldn't be a repeat awardee.  I guess it was kind of like having leftovers.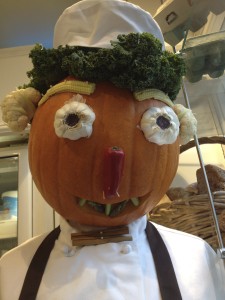 So when I went to manage yet another shop the following year, I decided to pull out all the stops.  I brought Chefanie back to life but also brought along her next of kin…or next of pump-kin to be more exact.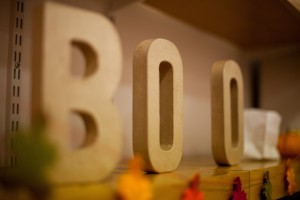 She and the fam were a massive hit.  People walking past or even driving past the shop would stop just to have a closer look and take a picture with her!  Since I spent my day off in the shop working on it I was delighted to see the warm response.  The good news is, we (they) won the contest!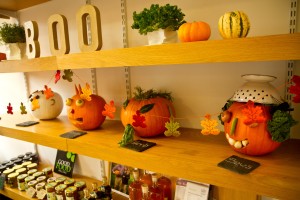 So here is a little synopis of each "character" in the gang.
Meet Chefanie, our freshest member of staff and her NEXT of pumpKIN!  You may have seen her before, but this year after a little makeover she is bursting with beautiful Kurly Kale hair, cauliflower ears, pungent pupils in her garlic bulb eyes, a nice red hot chill pepper nose, GB eyebrows (green beans folks), and although a bit long in the tooth (made with corn), she still has her proper cinnamon stick tie just to stick with tradition.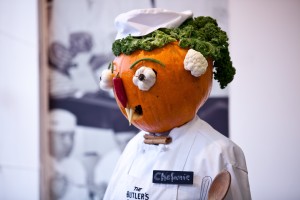 Chefanie and Co. are passionate about good quality Irish grown and reared ingredients. Food is a family affair, especially when making something as special as Beef Bourgignon. While Chefanie oversees everything, each of the other members play an important part in the lovingly slow steps of this perfectly autumnal meal.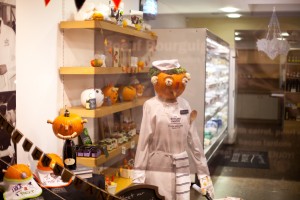 "SAMmolier", her husband (with his cork details, who often likes to rest on a magnum) has aged well and knows a thing or two about wine. Therefore he chooses the perfect French Burgundy available to marinate overnight our Wexford reared Hereford Beef.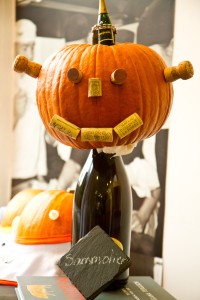 "Sous", the big sister of the brood is the image of her Mum. She likes to tie her Kurly Kale hair in Gubbeen pig tails, and with her small onion eyes, garlic teeth, sugar snap pea nose (better for smelling the sweetness of life) makes sure there is depth of flavor to the jus!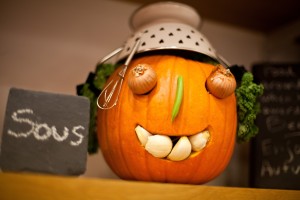 "Herb" may look like a rebel with his Rosemary mohawk, tarragon tongue, sage ears and bay leaf eyes, but don't let appearances fool you. He is the most delicate and nuanced of all Chefanie's offspring. He is so dedicated to the creation of the Beef Bourgignon that he gave up all his Thyme for the cause!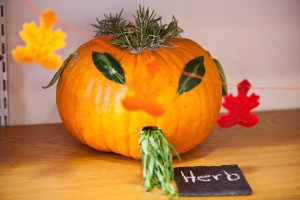 "Spice Girl" can be quite dear with her expensive taste and is known to have fiery mouth from time to time. But of all of the children she definitely has stars in her eyes (star anise that is). She has many colorful elements such as cardamon pod ears and a nutmeg nose, but her clove and pink peppercorn hair is her pride and joy!
"Rooty" rambunctiously pitches in to help with rustic hand picked veg.  He has quite an earthy personality with his parsnip eyes and radish nose but is most proud of his carrot top hair.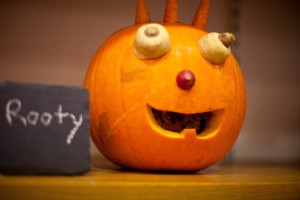 Last but certainly not least are the Twins, "Baby Button" and "Little Pearl" though they are so small, they are very important!  As you can see by their mushroom ears and pearl onion ears, they add the final touches to the delicious and classic dish.
There are so many things to talk about (for instance the three BOOs, which of course one is a BAA since there has to a black sheep in every family) regarding this festive display. But mainly that Chefanie has her 'MEAL BARROW" filled to the brim with Beef Bourgignon (which is 'peppered with Love' as her pepper mil says) to keep the customers Happy on Halloween and beyond!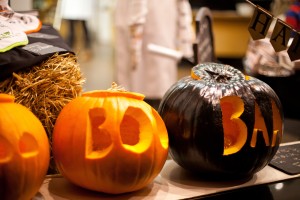 So whatever you are deciding to do with your pumpkins this year, just know that they really can have a purpose and personality. That is why someone started calling them a "Jack o Lanterns"
Love to you and your Boo,
YDP