The third now, in this weekly installment, and quite literally it was the TRI-fecta of FFF!   I took the Tube to the  F-cubed, as I like to call it, and brought along my snapchat friends videoing it all for my story.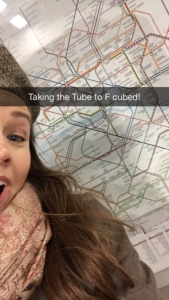 This was an all day affair.  It unfolded in stages.  And to top it off, my gorgeous Irish friend Laura, also a foodie, was in town.  So she came along for the ride….and the eat!
We started off with brunch at a well known place called Duck and Waffle.  Besides the food, which was incredible, we also had the most stunning view of London from atop the 40 story building.  I only learned about this place from one of my snapchat buddies (also from Ireland) named Miriam.  She lives and works here in London and has a beautiful blog called Bake My Style.  She did a restaurant review about Duck and Waffle and it really whet my appetite.  And I have to say the appetite did get quenched.  I, of course, ordered the Duck and Waffle (when in Rome as they say) and my friend Laura ordered the Ox Cheek Benedict.  There were so many layers of flavor in the food (forty stories worth) and needless to say we polished off everything!  The decor was also quirky and cool.  I can hardly wait to come back with Hubby to taste their dinner menu.  A great recommendation.  I think Miriam is now my go-to source for London food finds!
After a little window shopping at  Bea's of Bloomsbury near St. Paul's, we crossed the Millennium Bridge (a pedestrian bridge over the Thames River).  We had to taste the caramelized  peanuts being cooked on a little cart,  which smelled amazing on a cool autumn day.  It is astonishing how weather can play with our sense of smells and tastes and pique our cravings.
We made our way over to the famous Borough Market and spent hours perusing the stalls of cheese mongers, tea traders, sweets sellers and my fav, a gourmet corn on the cob stand.  Since hubby is from Lincoln, Nebraska (home of the Cornhusker) I was intrigued they had such a thing for sale in London.  Even though it was a gray-ish day, the array of colors of the fruit, veg, and flower stands were a sight to behold!  We were able to take in a cookery demo as well. Though because I was doing a snapchat story about the field trip I didn't post the video of the cookery demo as the chef was making a rabbit dish.  Since I have some followers that are children,  you just can't have them watch the Easter Bunny be made into a Sage and Mustard Stew!
After we shared a gorgeous peanut butter and jelly bar (yeah my peanut butter obsession is still in tact) we headed over to the wildly poplar Monmouth Coffee. The long que didn't put me off (they really are THAT good) because it gave me more of a chance to chat with Laura. We were commenting on the diversity of foods at the Market.  We both have the travel bug, but if you come to this market, you could literally travel all seven continents through your taste buds!
We sadly said our goodbyes on the tube.  She headed off to see her sister and I had to get home to feed and walk our pretty pit Stella before phase three of the FFF, which was the pinnacle of perfection of the day!
I have been keeping up with a well known female chef over here in London named Sabrina Ghayour.  She has a super successful award winning book out called Persiana.  I saw on her blog that she had a cookery demo.  I mentioned it to my hubby and he kindly got it for me as an early birthday gift.  It just so happened to fall on the same day as FFF, how perfect!  It was held at Divertimenti in South Kensington.  Hello!  Where have I been?  This place is like the UK version of Williams-Sonoma, my kitchen gadget heaven!
I was so excited to meet her and learn about her amazing Persian food.  And luckily this class incorporates the students as handy helpers, and I am totally into the participatory learning.   But our treat was that we got to feast on the food at the end of the class.  Which was one of the high points in my life as a chef.  I could feel the amount of love and care in her recipes.  To witness her in her element and be part of the creation of the meal was unforgettable!
First up, chopping onions!  That's alright since I think I was crying tears of joy.  Sabrina's food is so moreish and filled with soul.  We had a beautiful apple and pomegranate salad, Lamb Lolliops (meatballs on a stick), Smoked Aubergine dip, and a Quince and Lamb Stew with rice.  I have never cooked with quince before and it reminded me a bit of apples (which Sabrina said we could substitute if we can't find quince in the stores).  The meatballs were beyond delicious with the addition of dried apricots and toasted spices.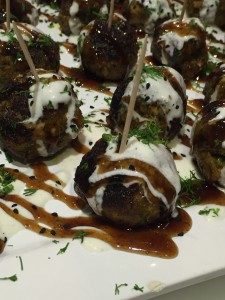 The group of twelve students, like me, were eager to get to the meal!  Though I had been eating all day, I was famished by the time we sat down. And my plate was indicative of all around the table. Totally and utterly devoured and satisfied!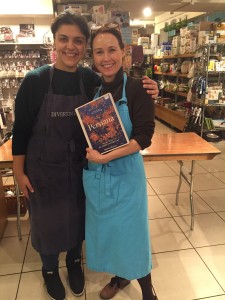 I didn't get home until after 11 pm.  Totally worth it as it was quite honestly the most incredible day ever.  I waited up for my Hubby who was returning home from a work trip this past week.  And I wasn't the only one happy to see him.  Even our pretty pit Stella was excited.  While I shared the details of my very fun Foodie Fieldtrip Friday with him as he unpacked, Stella had other plans.  She sat right on his luggage. As if to say, "Hey take me next time!"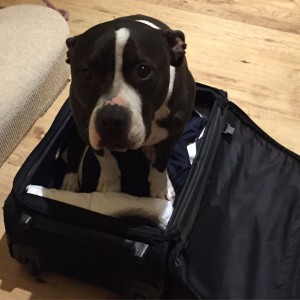 Since I not only saw a dog at the Market (poking its head out of a woman's bag), but I also saw one on the Tube, I might actually take her on the next installment of FFF!
With lots of love and a very full belly!
YDP