Did you ever notice how many things in this world come in pairs?  For instance, just looking at our own body we have two eyes which, hopefully, are helping you read this.  And of course, two ears, two hands, we even have two lungs .  Our incredible brains also have two hemispheres.  Right, now hold that thought in one of those hemispheres for a moment.
I have had a love affair with Ireland for as long as I have memories.  But it wasn't until 1995 that I stepped foot on the Emerald Isle.  And one of the first things I said was, "Someday I am going to live here".  I just knew it.  I had no idea when or how that would happen but I just knew.  It took several years, but I obtained my dual citizenship through my Galway born grandfather.  Yep, and now I have two passports, one for each of my two hands.  Yet,  I still didn't move to Ireland until 2008.
As much as my blood runs green like the Hill of Tara,  my heart still beats red, white and blue for the good old U.S of A!  And I believe the two can actually function together as do the two parts of my brain.  Like the song, It Takes Two, for me it is both that make the dream so real.
And funny enough, I'm not the only one that is a Yankee Doodle Paddy.  Of course around St. Patrick's Day many people claim a bit of Irish heritage.  And loads of non American people get all patriotic for the 4th of July.  But there are a core group that take it the next step.  That actually move to the other side of the pond.  And then some indeed go through the process to become Dual Citizens.
I don't feel as though I am forsaking one for the other.  I love them both for different reasons. And knowing there are others that share this ethos is a great comfort.  I have put together a list of ten just to prove my point.  But I also feel that there are some people that might not actually have a passport for each hand, yet still have that feeling in their heart.  I like to affectionately refer to those as YDPeeps.
Me, yours truly! Ah…no wikipedia on me!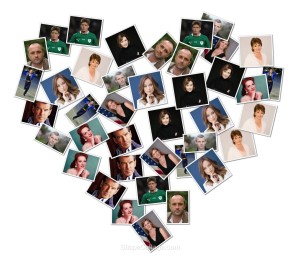 I'm loving this heart collage (thanks to hubby for the tech help) of our pretty diverse group…a dancer, an actor, a comedian, an author, a rugby player, a politician etc. but what unites us is our attachment to both places.  Some on this list were born in Ireland and now reside in the U.S. and some were born in the U.S. and now reside in Ireland.  And me, well living over in London, true there is lots of fun and excitement, but still I am homesick for my two loves!
I do appreciate though that there is the ability to have a dual national status. The U.S. doesn't do that with all countries.  But from the beginning the U.S and Ireland have fostered good relationships between each other.  A good read of this article from Irish Central seems to think the two were actually one a couple billion years ago!
Some people like to accuse America for trying to achieve world domination.  I just might think the Irish are making some pretty powerful waves, albeit ancestral ones!   This article seems to back up my claim.  So there might be more of us yet!  Let me know, are you a YDP?  Do you wish you were?  Can you think of any other YDPs that I need to add to the list?  Send me a comment and also, let me know what you love most about Ireland and/or the U.S.A.
America + Ireland = LOVE!
YDP