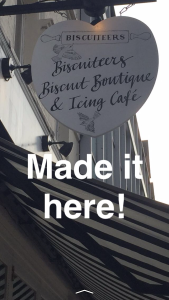 Since yesterday was a bank holiday in Ireland and many of my snapchat friends over there were feeling down today, I thought a treat was in order!  So I took them along with me on a visit to the famous London biscuit bakery Biscuiteers.  It was an all day affair doing what I love doing best:  Making people happy and making desserts!  Cookies, icing, sugar and fun are the best way to brighten up anyone's day.  And with Halloween coming up in a few days, this was just the thing to get in the festive mood!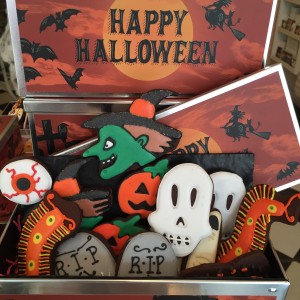 Though you can find the Biscuiteers Cookies for sale online and even at U.K. stores such as Selfridges, Fortnum & Mason, Harrods and The Conran Shop, it is far more pleasurable to go into one of their own boutiques.  They have two branches, one in Notting Hill and one on Northcote Road.  With the charmingly elegant black and white decor the colorful cookies stand out that bit more.  And there are loads of baking equipment essentials such as cookie cutters on sale for foodie enthusiasts like me.  When you pay for a class you get a 10% off discount on items purchased on the day you attend. Whoo hoo!
However, the best part of going to the boutiques is the amazing customer service.  There is such a lovely warmth about the staff and it is particularly evident when there are classes or impromptu icing cafe sessions happening.  The staff goes above and beyond to assist and instruct eager cookie decorators.  This really helps to calm the nerves, especially for those that are a bit on the perfectionist side, expecting to perfectly ice a cookie in 2 minutes flat!  But it is wonderful to see the metamorphosis from start to finish.  From a naked cookie to a beautifully decorated colorful creation!  Our teacher for the day, Michelle, was beyond patient and she just so happens to be an amazing artist herself.  She makes it all look so easy, but I know its not.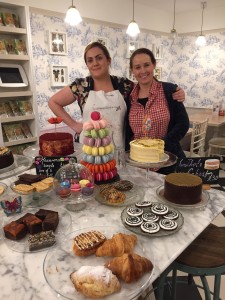 When you take a course at Biscuiteers, all of their expert artists guide you through the step by step instructions from making and baking the cookie dough, to learning the different icing techniques.  The real trick is getting the basic icing recipe down. The mixture of icing sugar, Merriwhite  (powdered egg whites), and water is beaten to the perfect consistency where it just has a bend on the end of the spatula.  Then you add the color (which can be gel or powder) and place it in the piping bag for the "line icing" which you use to make the outlines on your cookies.  It is important to hold back a little bit of the icing in the bowl.  Then you add water to that icing that's left over to create a "runny icing".  In this way you make sure you have a color match for both the line and runny icings.  You use plastic squeeze bottles as the container for the runny icing since it is easier to manage in order to" flood" the inside of the cookie.
Once you have decorated the cookies they need to be baked to help set the icing.  The oven temp is quite low (50 C) and they stay in for about one hour. You can add more detail to the cookie after this stage.  And the sky is the limit in terms of creativity.  This is such a nice stress relieving activity.  I can see why many corporates, hen parties and school outings are booking in for these sessions.
As if the fun wasn't enough, you get to take home the cookies that you have made on the day in a lovely tin case.   You just have to attach your cookies to a cushy cardboard base (with the help of a dot of icing instead of glue) and arrange inside the gorg keepsake container.  As well, the apron you have used, is now yours!  Hello!  I'm loving this!  Plus you get a gift voucher for future use.  Right,  I'm on it !
During the day long class we were treated to an unlimited supply of teas or coffees (I had the best cappuccino since I moved to London) and a slice of one of their gorgeous cakes. Yes they make cakes and chocolates as well as their famous biscuits.  I had the white chocolate passionfruit cake and it was so fresh, moist, tender and tasty!  I was in heaven!
Since there is only my husband and myself in the house and I made eighteen cookies I decided to create a contest for my snapchat followers.  They had to send me a snap of themselves doing their best impression of me (which would include one or all of the following: Bad singing, bad dancing but good recipes and possibly an American accent) and I would award the winner later in the evening.  Well it was a hard choice as there were so many great entries.  But since I had so many cookies anyway, I decided to award three winners!  Since I take snapchat along on many foodie adventures and they can't taste or smell the goodies it can almost be torturous.  So, this is a great pressie for the lucky three then!
If you've been following for a while you know that my pretty pit Stella plays a big part in all YDP activities (where allowed).  So she was quite curious about my Biscuiteers adventure. She loves a treat, and might have even eaten a bit in spite of it being in a kitty cat shape!  But I wasn't sure how dog friendly the ingredients are.  So I think when I do a follow up assessment of the course I might suggest they actually include doggie biscuits to their menu. I know there would surely be one happy customer!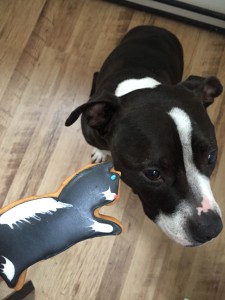 Decorated with Love,
YDP
P.S. If you are new to the blog you are very welcome!  And if you are on snapchat you might like to follow along there as well (user name:  blissbakery)