Living "abroad" with my thick American accent I stand out like a sore thumb.  I speak so differently from everyone else that people know straight away where I am from, or at least they have an idea.  Only the Irish politely hint, "Oh are you Canadian?" knowing I'm probably American.  But just in case, they don't want to offend me if I'm not.  I think that is funny because I'm surely not offended if someone thinks I'm Canadian.  Anywho!  But then I say, "I'm Irish" which really throws them off.  Well I am.  An Eire Passport carrying Paddy!  But since I was born in America and spent most of my life in the U.S. that is what comes through. Plus my use of words such as AWESOME are dead give aways.  Though I've touched on this topic before, it is just so pertinent in my life right now I couldn't help myself to bring it up again.
Besides accents, how people pronounce words has always been an intrigue of mine. Of course being in different parts of the world, people call the same things by a different name. Take for instance Zucchini (in the U.S) which is Courgette over in this part of the world.  An eggplant in America is called an aubergine over here.  But it is hilarious the way some people actually pronouce the words. That is what brings the most humor in fact. Take for example my kids' grandma (on their dad's side).  God rest her soul, but she was a hoot with the way she referred to things.  In fact, my daughter made mention of it in a blog post she did as well, which you can find here.
An example of Grandma E's unique word pronunciation was that she would call Mahi Mahi fish by the name of Maui Maui.  She would be insistent if you tried to explain to her that Maui (said once)  is a place in Hawaii and Mahi Mahi (said twice)  is the the name of a kind of fish. And then the best was how she would call Zucchini (normally pronounced Zoo Kee Ni) in her own style "Zoo Chee Nee" and she might even try to correct YOU if you said it the proper way.
Well no matter how you pronounce it, lets face it, it is a super healthy and versatile vegetable. A member of the squash family that gets a bit slighted this time of year when all the attention goes to pumpkin and  butternut squash which are in season.  But  it is still readily available in most shops, and is quite economical.  At the moment, I see loads of folks using it to make noodles to replace pasta.  It is called Courgetti and though I don't have a spiralizer (which you need to make the courgette strands) this recipe for Couregetti Bolongnese looks amazing!
Since I am usually feeling the need for protein, I opted to use my long green squash for a quick and easy chicken topping perfect for dinner, hence my "Zoo Chee Nee Chicken" title.  There are literally three ingredients in it!  No joke!  Okay well you need a bit of olive oil and salt, which most of us have on hand.  The secret ingredient in this recipe is Borsin Cheese.  If you can't find it then mix some herbs and garlic into ordinary cream cheese.  I serve this dish with a nice rice pilaf and a dressed mixed leaf salad.  But you can boil up some pasta to have with it or even some mashed or roasted potatoes.  Trust me, when you taste this chicken dish, however you say zucchini, or courgette or whatever,  you will all be pronouncing W-O-W the same!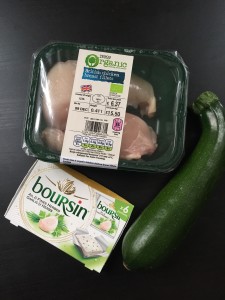 Zoo-Chee-Nee Chicken
This recipe serves 2 but you can easily double or triple depending on your need
Ingredients:
2 boneless skinless breasts of chicken (free range and organic if possible)
*48 g/3 Tbps Boursin Cheese (garlic herb flavor if possible)
1 Courgette/Zuchhini (grated and squeezed of the excess liquid)
½ Tbps Olive Oil
¼ tsp salt
Preheat oven to 200 C/400F/Gas mark 5, then prep the courgette by slicing off the ends, and grating. Then squeeze all of the liquid you can from it.
In a bowl mix the Boursin cheese, olive oil and salt, then add the grated/squeezed courgette and combine thoroughly.
Place chicken breasts between 2 pieces of parchment paper or cling film (plastic wrap). Bash with a rolling pin until it is 1 cm thick all over.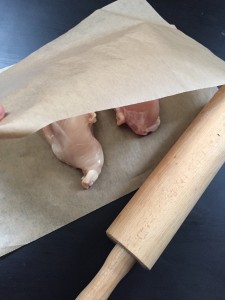 Put the courgette/cheese mixture on top of each chicken breast. Put on a tray and cook in the oven for 15 minutes until cooked through. Then pop them under a hot grill for a few minutes more until slightly golden brown bits form on top.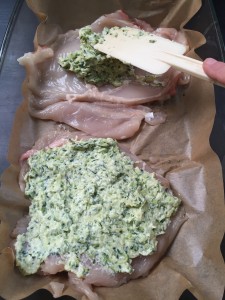 5. Serve with a nice dressed mixed leaf salad and some rice pilaf (recipe below) or potatoes.
*If you cannot find Boursin Cheese, just substitute regular cream cheese and add some dried or fresh herbs and chopped garlic to it.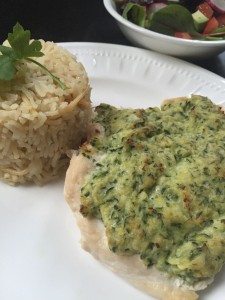 Rice Pilaf
Serves 4
Ingredients
1 tbsp vegetable oil
1 tbsp butter
1 medium yellow onion, minced
2 cloves of garlic, finely minced
2 cups of chicken broth
3/4 cup basmati rice
1/4 cup spaghetti sticks, broken into 1-1 1/2 in pieces (can use gluten free if necessary)
Salt and fresh ground pepper to taste
2 tbsp flat leaf parsley, chopped
Preparation
Heat oil and butter together in a large skillet. Add onions and cook 2-3 minutes. Add garlic and cook for one minute, stirring frequently. Season with salt and pepper. Add rice and spaghetti, stirring to combine with garlic and onions. Cook for 2-3 minutes until rice and pasta begin to lightly brown. Stir in chicken broth and bring to a boil. Once the liquid is boiling, turn heat down to simmer and cover, cooking for 15-20 minutes or until liquid is absorbed. Add a pinch of salt and pepper if needed. Fluff the cooked rice mixture and add chopped parsley.
The last time I made this my Hubby said, "This is restaurant quality" so I knew I had to give it another rotation fast!  Since there are so few recipes out there for only two people, this one is pretty handy for us.  But it is simple enough to increase the measurements if you need more. While it doesn't tick all the allergy warning boxes, it is gluten free.  And that seems to be the big one these days!
I hope that you have so much time left over tonight from not spending it in the kitchen cooking dinner, that you can ponder all the words that you've heard pronounced differently that have made you laugh.  Send me a little note in the comments section with some of your funny ones.  Remember I love having a laugh too!
Love (no matter how you say it) is LOVE!
YDP