April 8th marks the 32nd anniversary of my dad's passing. Since it falls just 4 days after his birthday (which I wrote about on here) I decided to make this Foodie Fieldtrip Friday a Fire themed one!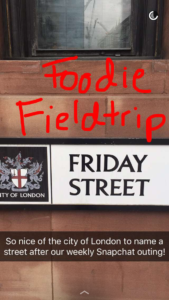 The first stop was to Brigade Bar and Bistro. This former firehouse (the oldest one in London) has been converted into a restaurant and cookery school.  The décor itself isn't firehouse themed as such.  But they have kept the gorgeous doors and moldings and created an incredible dining space.  The open kitchen is the centerpiece of the restaurant and nearby the bar is stocked to the brim with drinks of all sorts.  I love the two downstairs nooks that can be utilized for more private dinners, the chef's library room and another slightly larger room just opposite.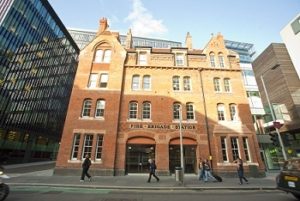 To eat I was treated to the best scrambled eggs and salmon I had ever eaten. Along with nice crusty sourdough toast and a pot of mint tea I was good to go.  But the best treat was the tour of the upstairs area, which is used for their cookery school and corporate and private events. I will go into more detail about Brigade in another post, as it is a social enterprise with loads of info to share with you.  But in a nutshell Brigade and it's partners work at providing retraining for individuals that want to better their current circumstances through the food and service sector.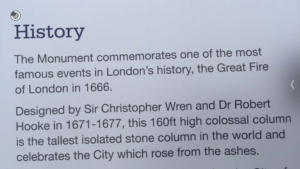 The next stop on the tour was to The Monument, which is a 311 step structure designed by Christopher Wren to commemorate those who lost their lives in The Great Fire of London of 1666.  The fire began in a bakery on Pudding Lane, just a few yards away and it raged or 4 days because of the high winds.  I climbed to the top to get a better view of London.  But just as I reached the top my phone battery died.  I decided I had to have photos and do some "snappage"  as my hubby calls it. Though the story has since expired, if you'd like to come watch future Foodie Fieldtrip Fridays my user name is: blissbakery.  And I have written blog posts on previous outings, which you can find by clicking here.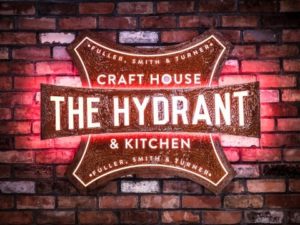 So, what does a girl do when she has no battery on her phone? Go find a place to charge it!  So down I went and checked with the admissions personnel to find out if I could come back and walk the stairs again without having to pay a second time.  The said no problem, but were perplexed why I'd want to climb it more than once anyway!  While I waited for charging to complete, I tucked in to the closest restaurant, which happened to be Hydrant. This local watering hole was buzzing with business and financial district folks getting an early start on the festivities of the weekend. I was hungry and thirsty, but only had water.  But a good look at the menu and the décor got my curiosity peaked. Though I had intended to dine at another firehouse themed restaurant a bit more posh. But I was getting pressed for time.  So I dashed back up the stairs (totally worth it for the experience, the pictures, and only 4.50) and down again.
I then took a walk to St. Paul's Cathedral (also designed by Christopher Wren) and while I didn't go inside (I've been before and it is stunning) I always love seeing it. It is so majestic and the cherry trees are in blossom right now so it is like a painting.
But I wanted to go to the National Firefighters Memorial Statue. It is just opposite St. Paul's and is a large 3 D bronze of three firemen in action. There are names inscribed all the way around of those who have lost their lives over the years battling blazes to save the lives of others. It is sobering and chilling and I started to feel quite emotional. I took out my dad's photo that I proudly carry with me and it struck me that he has no memorial or monument erected in his honor. But I suppose there is one in my heart always and forever.  A lovely woman saw me crying and came up to me and asked if I wanted a photo in front of the statue.  I wouldn't have thought of it myself,  but now I am so grateful she did that. The kindness of strangers never ceases to amaze me!
At this stage because I was delayed with the phone battery debacle and the second climb to the top of The Monument I had run out of time. The Chiltern Firehouse was only serving lunch until 3 and I wouldn't have made it in time with the commute. So I decided to eat at the Hydrant and thoroughly enjoyed my salmon with the side of rocket salad, aubergines (eggplant for my American friends) and some roasted carrots and parsnips. I was feeling very healthy indeed, and after climbing 622 steps at this point, I was feeling fit too!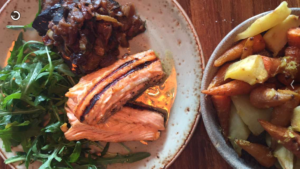 I also decided that on Monday I would go to lunch at the Chiltern to make up for it, which I did.  And that too was worth every penny.  It is in a converted firehouse in the posh area of London called Marylebone.  It is part of a hotel as well, and while I didn't look around the cool boutique vibe, I did sit front and center at the chef's bar. It overlooks the kitchen and I got a birds eye view of the salad prep right in front of me!  So of course I ordered a blood orange and beet salad.  Amazing!  It had candied pecans and radicchio as well.  I also ordered crab donuts.  Three little savory donut holes with a crab salad inside that were to die for, literally.  My liquid refreshment was in the form of an elderflower and berries spritzer, quite divine actually.
I really wanted to order a dessert, but felt I should taste a warm savory dish and went with the shrimp and grits from the starters menu.  It wasn't the prettiest but was very tasty. But it was much larger than I anticipated.  So I asked for a take away container (a nicer way to say doggie bag) so I didn't waste it.  And so I wouldn't feel guilty ordering a dessert.  But the waitress returned with my plate to tell me they ran out of doggie bags and that if I didn't want it they would throw away.  Guess what?  I ate it.  And didn't get dessert.  Not a happy camper!  I love dessert and the key lime pie sounded amazing. Oh well another time.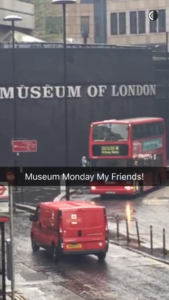 Speaking of time, I saw I had enough time to make it to the Museum of London to get a peak at the 1666 Great Fire of London exhibit as it is near the anniversary. They have loads of interactive displays, a running documentary film with reenactments and readings from diaries of people of the day, and actual recovered artifacts. They even had bits of pottery from the bakery where the fire started!  The museum itself is choc o block with many cool installments and I'd love to go spend even more time perusing the history of London through the precious art, artifacts, fashion and even pop culture items.  And I want to go back to see the Lord Mayor's carriage again too, it is so ornate and blinged out! I had a look, but honestly could have spent hours enjoying all the details of it!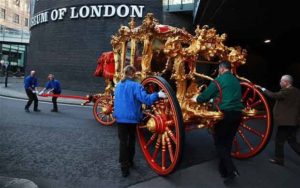 All in all it was a lovely way to honor my father.  In America we don't focus as much attention of the anniversary of a person's death.  Whereas in Ireland people have anniversary masses said, lunches or dinners after and even a visit to the graveside.  While I always remember the day I usually mark it in a private way like going to mass on my own. This was the first time I was so focused on it and certainly in a public way being on Snapchat.  I apologized for crying when I had the water works at the Firefighter Memorial, but so many people sent me messages of encouragement. I guess my tears were apropos for the loss of not only my dear dad but also all the firefighters who have served so proudly.  And that is why I love that these restaurants and monuments and memorials exist.  To remind us to pay respect for a vocation that is so integral in our societies.  A most worthy theme for a Foodie Fieldtrip!
Burning Love,
YDP