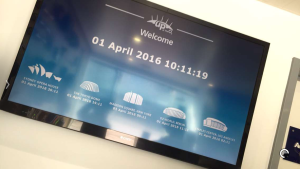 Nope, this isn't an April Fools joke my friends. This is not only a Foodie Fieldtrip Friday, but its a Fearful, Freaky and Fun one too! I've been wanting to climb the O2 since I found out it was an actual activity.  But the weather can wreak havoc on plans of scaling the largest concert hall in Europe! So with improved weather, and the discovery that there is a package you can purchase that includes a meal I was like, HELLO where can I sign up!?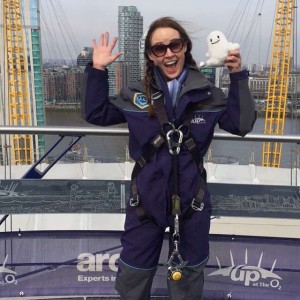 I told no one, including my Hubby, as I know he would have worried about my safety. And I surreptitiously booked and printed out my ticket without his knowing.  How did he find out? Why social media of course.  Oops not the best!   But I was going to tell him, he just saw my Instagram photo first!  Then he watched my snapchat story (though it has since expired, you are welcome to come over anytime to watch my wacky goings on at: blissbakery).  While we weren't allowed to take snaps during the ascent or descent, we were able to do so while getting prepared to go up and of course on top of the summit!  Once we got down, I was so hungry I went straight to lunch! But I had to take this pic of the next group on their way up.  It made me feel really proud of myself for doing it!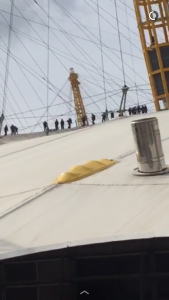 The "Up at the O2" is a great way to see the view of London and the surrounding areas, while experiencing a breathtaking trek up and down a national landmark.  Though originally started as an activity coinciding with the 2012 Olympics, it was so popular that it is still going stronger than ever. They offer original climbs, twilight climbs and sunset climbs as well as the climb and dine which I did. They also have private climbs for parties, corporate team building and they even have a climb for those in wheelchairs.  It is actually one of the most popular climbs as people with limited mobility are able to experience the thrill of rock climbing in a safe and supportive setting.
I brought along my pal #snappy (the Snapchat mascot) and snapped pics of him along the way. I loved the whole process from step one of check in, to "training" to getting suited and booted. Of course the climb itself was a massive adrenaline rush.  I was scared, but with our guide Chris I felt well looked after.  And though I was the first climber, I was strapped in and 100% safe!  It was perfect weather, sunny and a bit of a cool breeze.  But the walk up was a bit bouncy due to the material used for the fabric walkway.
Once up to the top, everyone was buzzing around, taking photos and spotting all the different famous sights in the skyline. The total time of the tour was 90 minutes including our induction training and getting fitted with our gear. I was surprised at how much upper body strength was needed on the ascent. The decent was much steeper and used more leg strength. At its highest it is 52 meters, which is 170 feet (or the equivalent of a 17 story building).
Once we were down and undressed we were able to peruse the souvenir shop and purchase professional photos of ourselves. Though I didn't get any goodies apart from a photo magnet, I think someone else had fun playing around!
Just a few last snaps before heading out to lunch, just to let Hubby know we were all safe and sound, and that we were total explorers!
Inside of the O2 there are numerous restaurants, cafes and bars. The voucher stated I was to have a two course meal at All Bar One. They were all ready and waiting for me with a personalized reserved table.  I was near the Cocktail Bar, which was quite tempting to calm the nerves after the exhilaration!
The menu I was shown was an abbreviated one from the normal restaurant menu. Which was fine, and I spotted what I wanted right away. The butternut squash burger sounded delish. But the waitress had to return to the table to tell me they were out of them. So I ordered a pasta dish. Then another server arrived to tell me that they didn't have that either. Basically my choices were becoming more narrow by the minute!  I eventually asked her to just tell me what they did have available and then I went for the salmon cakes and salad.
I have to say I wasn't that impressed with my main course.  I am not usually a harsh critic because as a chef I know how much work it takes just to get something on a plate!  But I have to be honest here and say that the salmon cakes were just so so and the cole slaw was way too mayonnaise-y.  The salad was the best thing on here and it was pretty much all vinegar. The service wasn't that great either, not a single person came back to check on how things were. It wasn't that busy in there with lunch customers, but maybe they were busy getting ready for a dinner rush.  Nevertheless each table, no matter the time of day or number of patrons, should be just as important.  Oh well.  However, the good news is that I am a dessert person.  So the Churros came and saved the day!!!  I rearranged them on my plate so that they all looked liked hearts, my fav! And I left a happy camper!
All in all it was a fantastic Foodie Fieldtrip Friday.  It was definitely a highlight of my time in London so far.  It was not only fun but also terrifying.  I'd like to make up a new word and say it was a terriFUNing day! And I would recommend it to anyone.  Even if you can't climb the O2, just do something that scares you and stretches your safe zone a bit. You will end up feeling proud of yourself having gained new knowledge of your bravery and what you can actually accomplish!
I churro love you!
YDP
ps. I dedicate this post to two of the most amazing Irish women who inspire me. Though I haven't known either for very long, they show bravery everyday of their lives. I hope to meet each of them in person one day. Until then I'm glad my wacky adventures bring a smile to their faces! Lots of love to my snap sistas @lilomaria and @emilyrowleyy !