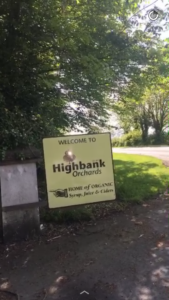 Okay so maybe my visit to Highbank Orchards in Kilkenny, Ireland was this past Tuesday, but still it WAS a Foodie Fieldtrip!  And since I am posting this today, on a Friday, I figured unless the Blogger Police come looking for me, I am okay with sorting it in this category.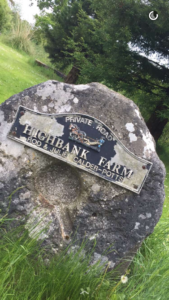 I must say I've loved all of my Foodie Fieldtrip Fridays, but my visit to Julie and Rod Calder-Potts was beyond special.  I have been wanting to go ever since they first invited me back in 2014.  But working 7 days a week while we lived in Dublin made it a bit hard!  But when I saw them at the Ballymaloe Lit Fest last weekend the subject came up again about going to see them and this time I jumped at the chance.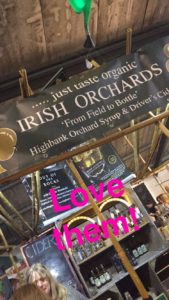 One of my favorite foodie products EVER is the Highbank Orchard Syrup.  Made only from organic apples, this liquid gold is the nectar of the gods.  It is delicious on sweet things such as pancakes, french toast and ice-cream, but equally fab with savory dishes such as cheese or pork.  When I managed a gourmet fresh foods store in Dublin, Highbank was one of the Irish artisan products we stocked.  I've been told I was number one in the company with sales of Highbank.  I really believe in what Highbank does (farming organically) and I LOVE the taste of their products. So it was natural that I would share my enthusiasm with customers (along with some delish tasters too).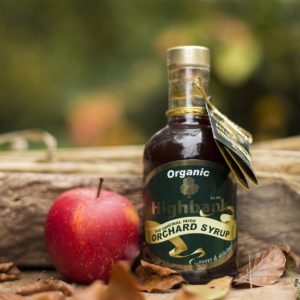 Their range goes beyond the syrup, apple juice and ciders (with and without alcohol).
 They now have a range of spirits that will knock your socks off they are so good. Their Organic Apple Vodka is sublime, their Organic Apple Crystal Gin is subtle, the Organic Orchard Liqueur Brandy is rich, and the whiskey like taste of Organic Orchard Spirit is complex.  Soon there will be a Port added to their family of spirits, which are all made onsite in their new distillery.  I'm hoping it will be named Orchard Magic as it's filled with surprise flavor elements.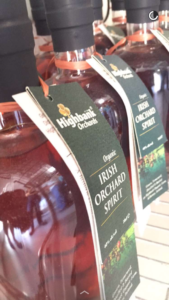 When I arrived at the farm, the sun was shining and the orchard fields were blooming with colors.  Rod took us (an American family had stopped by per chance at the same time) on a tour of the farm on a tractor driven tram.  We saw the epicenter of the production and learned how the apples are picked and then processed in order to make the juice (which through alchemy is changed into the syrup, cider, juice and spirits).  We made our way past the mini lake and pond and saw the stunning trees that Rod has planted for special family milestones such as the birth of their grown children.  One of which was a stunning American redwood tree!
Then we were treated to view the inside of the new distillery, which is so shiny, and a lovely aroma permeated the air when Rod opened the door.  The tasting took place in the Farm Shop which was filled to the brim with products, mementos and all things apple. There is so much history here as the farm has been in existence since the 1600s and as Rod and Julie shared, their family first planted apple trees in 1969.  The land's rich soil has grown hops (which were used by Guinness), strawberries and even Christmas trees. What fun for folks to go to the farm and choose their own tree to be cut during holiday season.   I could have listened to the tales, and tasted their wares all day long!  Luckily I wasn't driving, because a couple tastes of 40 proof beverages makes one a bit giddy and not safe for the roads.
Of course the best times to visit are during May when the trees are blooming and of course  harvest season in the autumn months.   But any time one can enjoy the fruits of their labor. The property has been used for events such as Slow Food and corporate outings.  As well it would make a great Hens (Bachelorette Party) get away as Kilkenny Castle and town is very nearby.  Plus with the beautiful cottage onsite (two bed/two bath/kitchen) which can be rented out, it is even a great little holiday for a small family. The vast orchards, the beautiful fields of organic oats (which are used by Flahavan's Porridge), and of course the rope swing under the giant oak tree, all make Highbank a slice of heaven on earth!
If you're anything like me, you'll never want to leave! I had a ball as you can see from my face on the rope swing!
Thank you so very much Julie and Rod for your hospitality!  I have so much respect for you!  You're making the world not only tastier with your delicious organic creations, but also healthier with your farming ethos!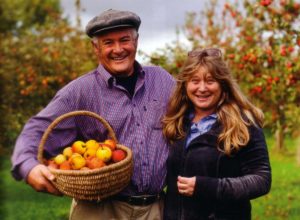 A is for Apple, H is for Highbank, and L is for Love!
I LOVE HIGHBANK APPLES!
YDP