For this week's installment of Foodie Fieldtrip Friday, I had a partner in crime with me. One of my Snapchat friends, the well known mommy/scientist/blogger Catherine of Passports and Adventures. She was in London for a blogging conference and came a little early to join me on my adventures. But the itinerary was a total surprise to her!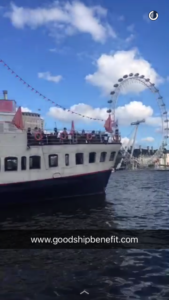 Through my Snap Sista Melanie Morris I met her buddy Mark Rogers who is the head of marketing for Benefit Cosmetic's Ireland. They had told me about the "Good Ship Benefit" this cool place to eat, drink, hang out and celebrate all things Benefit. Though I'm a Foodie not a Beauty blogger, lots of folks that watch my snap stories are indeed in the beauty business. So I thought it would be fun for them, and Catherine and I would learn about a whole new world.
The Good Ship Benefit is docked on the River Thames just opposite the London Eye and near the Embankment Underground Station. It was easy to spot as we walked up to it as it is decorated with loads of bright pink. Thank goodness we had a sunny day too as it just added to the charm. There are several places on board to dine.  The Hoola is a casual menu offered on the outdoor decks of the aft or stern part of the boat. But there are also several other lovely places inside, the Lashitude dining room with a choice of the fine dining menu, or the Hoola menu.  Even a bottomless brunch or high tea in the Brow Lounge would be a blast.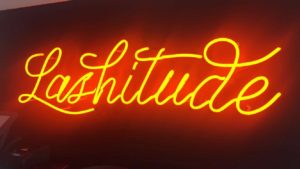 Catherine and I decided to eat inside the Lashitude Dining room with a gorgeous window table. What a great view looking over the river to the London Eye! We had a delicious lunch and fabulous conversation. I ordered a Cajun Chicken Burger with a salad and fries. So delicious, with a sweet and soft brioche  bun. The sauce had spice but not too hot. Catherine ordered a steak sandwich and hers too came with salad and fries. We just drank water, but the fancy cocktails served in the pink ceramic heads were awesome! I just loved all the decorative touches on board!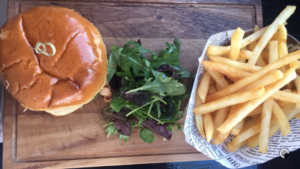 One of the nicest touches of all was the personal one. We were both given little goodie bags filled with mascara, lotion, sunscreen, bronzer and Pore Finishing Gel. In fact the lovely Monique, one of the Benefit experts, took us on a tour into the Pore Vault. It's another space they use for private parties and corporate functions. There is a bar, and very cool chairs, and a wonderful vibe. . We also had a peek in the salon where you can get your brows shaped or have a full makeup application. And all products sold on board are 10% off the high street stores.
We said our goodbyes after our 3 hour lunch and tour, which sped by like 3 minutes. And while we hated to leave, I have a feeling we will be back again someday!  The Good Ship Benefit is docked there until the end of August and is opened from 11-11 seven days per week. But we had some delish adventures waiting for us at Spitalfields in East London!
The World Gelato Festival 2016 is a traveling celebration of the beloved Italian ice cream known as Gelato. This touring competition and exhibition of Gelato is only in London for this weekend.  But will culminate with the finale in Florence, Italy in September when the new best gelato will be crowned.
We wanted to partake of the right to vote in the esteemed contest, so we purchased a card which allowed us tastings of 8 different delicious contenders.  Sounds fun, but halfway through we realized we were in over our heads.  The "tasters" were actually quite generous and since I hate waste, I did my best to finish each one. OMG!  But really, they were all amazing. Though a couple of my favs were the Strawberry Mint Gelato that Catherine chose and kindly shared with me.  From that first gelateria I opted for their Chocolate Peanut Caramel Gelato which was to die for. Though I've always felt that gelato is best when it is perfectly creamy and absent of chunks.  However, the peanuts were lovely.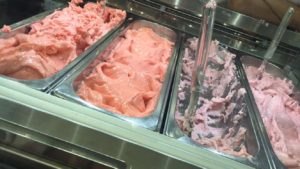 There is also an important aspect to gelato that I discovered when tasting eight, one right after the other. That is that the consistency and temperature is so important. Too cold and ice crystals begin to form and it loses its creaminess.  It becomes more like ice-cream and is stiff.  Too soft and it is more liquified and messy.  As well, some flavors can be too rich such as the last contender's selection of chocolate-y gelato.  I love chocolate, but these were over the top with the dark chocolate with cinnamon or vanilla. Which oddly enough you couldn't really taste as the chocolate was so overpowering.
With our final vote cast and a full belly we ventured on home. Catherine had a big day ahead and I had to get home to Hubby.  But it was a Foodie Fieldtrip Friday that won't be forgotten. Food + Beauty!  I think this one will be renamed Feauty Fieldtrip Friday!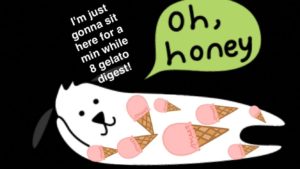 Lashings of Love,
YDP