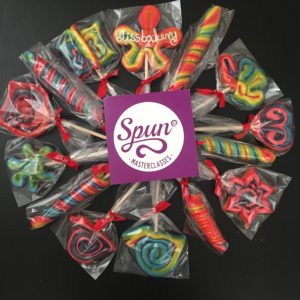 From my very first Foodie Fieldtrip Friday back in October of 2015 until now I have experienced some pretty amazing things.  I have tasted great food and learned wonderful culinary secrets.  I've ventured through different countries including America, Ireland, Kenya, Turkey, Denmark, and England.  I even climbed to the top of the O2 Arena in London!   It would be quite hard for me to say which adventure has been the best so far as I have found great joy in each.  But judging by the popular response on my snapchat account (username: blissbakery) for this past Friday's outing to Spun for a masterclass in the art of making Lollipop candy, it was THEIR fav.
I  accidentally found Spun months ago when I was in the East End of London. I was on my way to meet someone at Spitalfields nearby.   I only had a minute to pop my head in but have been wanting to go back ever since.  I am so glad I finally did and not only was it informative, it was a sensory explosion!  From the smells and tastes to the colors bursting all around in the shop it is well worth a trip for anyone, even if you don't have time to take a class. They have all of their handiwork in the shop to purchase. They also do custom orders, handmade candy faces or special candy for corporate events or weddings favors. They are franchised and now have five locations, but you might see them at a pop up or a festival somewhere. They have this cool Candy Floss cart (called Cotton Candy in America) and a wall of pick and mix sweets with darling bags just waiting to be filled.
My masterclass with the expert candy confectioner Pawel was booked in for one and a half hours and cost me 60 British Sterling Pounds.  It was well worth every bit!  I was greeted with a smile and escorted to the back area to pack my personal belonging in a locker and wash my hands. Then I was given an apron and offered a Proseco and snacks.  I opted for a still water as it was quite hot and I hadn't eaten lunch. Plus I wanted to get straight to the candy making!  And after I completed some Health and Safety forms we did just that.
Pawel had the candy mix already cooking, and it looked like a big cauldron boiling away. Spun candy is vegetarian, gluten and gelatine free, and they use natural flavors and colors. It is a mixture of four parts sugar, one part glucose, and one part water. Then I was able to choose the flavoring!  Since I wanted to do rainbow colors, I decided to go with a Tutti Fruitti flavor. When it was added to the pot it started to steam and bubble like a magic trick. Pawel then poured the liquid mixture onto a slab of cool marble so we could add the colors.  Once it was broken up into the different colors we put it on an adjacent table that was heated from below. I had to put on the protective gloves as the candy was still quite hot, which is necessary in order to mold it into different shapes.  I got a little taste of the candy when it was warm and still a bit chewy.  Wow so delicious!!  But we had to work fast to make the shapes because the candy mixture starts to harden quickly.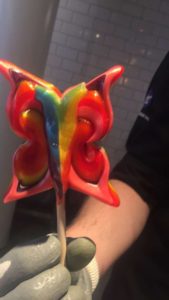 Pawel the genius candyman showed me how to make traditional circular lolly pops.  Because I chose a rainbow color pattern, each lolly looked different. We also made twirly pops, butterflies, snails, flowers, cats, starfish and my request, hearts.  It is my fav shape so I was delighted!  Then Pawel personalized a few, some for gifts and some for me.  While he worked away I explored the shop front and drooled over the various candy on offer, as well as fudge, honeycomb and my fav popcorn!  I also chatted with other folks who were doing different master classes who were equally impressed.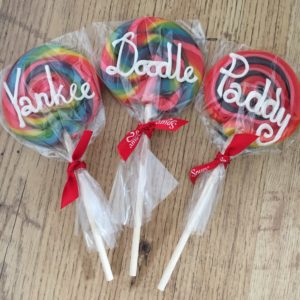 What started in 2013 in Covent Garden has now grown outside the UK to the Middle East and a new one in Miami. I am so in love with what they do, the artistry involved and the quality of the product.  I also think the customer service is fantastic.  It would be a great activity for parties such as a Company Team Bonding, a Wedding Hen or Children's Birthday.  I realize these days some people don't want to eat sugar, but all things in moderation is my motto.  Spun is a treat, and if you are going to splurge why not go with the best?  And there is great value at Spun as well.  I still cannot believe how much candy I got for what I paid.  Hence I am doing a free give away competition on my Snapchat. My way to share the LOVE.
I really enjoy exploring new places and sharing the excitement with others. I also want to support businesses that are doing things right and deserve the unsponsored publicity.  I would definitely go back to Spun again in a heartbeat!  And I wish them continued success in the future.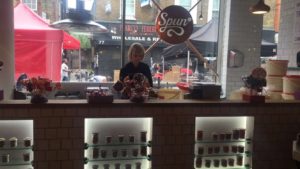 Spun LOVE,
YDP