Even though I am a foodie, I am a drinkie too.  If that is even a word.  I was late to the game of drinking alcohol of any description. Of course for obvious reasons because I spent my early years pregnant or nursing babies.  Which was fine, I never felt like I missed out on the partying I saw going on around me.  I was a happy designated driver.  That continued on even after the kids weren't so little anymore as I never really had a taste for alcohol.  Then my dear friend Quincy Jones changed that. When I was going through my divorce there were some very dark days indeed which I've shared on here. Quincy was a great support and on one occasion in particular surprised me.
I was about to get into a bubble bath with the candles lit and my favorite Tony Bennett CD playing.  Quincy called on the phone to check on me.  When I set the scene of my night he said, "Sounds like something is missing".  The next thing I knew, the doorbell rang.  It was Quincy's driver who handed me a bottle of red wine.  But not any red wine.  This was a super fancy bottle of Chateau Mouton Rothschild.  Even though I didn't drink at the time I said, well if Quincy went through the trouble of having this hand delivered, I guess I'll pop it open.  Ever since then I tease him that he is a corrupter.  I don't drink red wine everyday but I have learned to appreciate it.  And I have even ventured onto trying other spirits.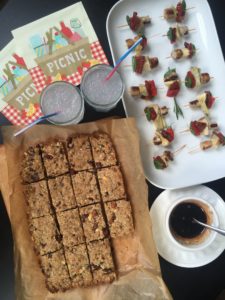 I haven't done many drinks recipes on here, but today I am sharing a lovely recipe for a Slushy G&T that I made for this week's Snapchat Takeover of CookReel's account.  I actually made a few things for a culinary creation "picnic".  First off I baked some healthy flapjacks, a version of the Megawatt Breakfast Bars with a few tweaks.  Then I put together a tasty and simple, Salad on a Stick.  But it was the Liquid Libations that made the theme of the day so fun.
Since I mentioned on my last post that CookReel have asked me to do a weekly spot in their line up, my unique Yankee Doodle Paddy offering each episode will be a culinary creation and a gastronomic expedition. I put together a little healthy sweet and savory picnic and Hubby and our doggie Stella and I headed over to the Royal Greenwich Observatory.  At the top of the hill in Greenwich Park this historic treasure was commissioned by King Charles II in 1675.  British astronomers worked tirelessly to move time keeping beyond sun dials to what we now use as modern time keeping.  Hence, Greenwich Mean Time (GMT) is where most of our clocks are set. What does GMT have to do with food?  Well, as a chef, ingredients are most important.  But timing is also key.  And how lucky are we that we live so close to the very spot where time starts!  Only a boat ride away along the River Thames. So we had our G&T at GMT!
Slushy G&T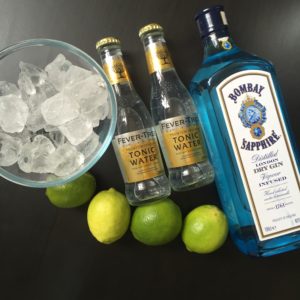 Ingredients:
1 cup gin (chilled)
2 cups ice
3 cups tonic water (chilled)
¼ cup freshly squeezed lime juice
Place everything in a blender. When it's nice and slushy pour into a glass and garnish with a lime or lemon.
Salad on a Stick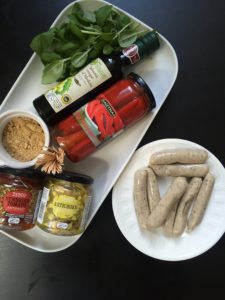 Ingredients:
12 oz Cooked Italian Style Poultry Sausages, cut into 1 in pieces (or you can substitute mini mozz cheese balls for vegetarians)
½ cup lightly packed basil leaves
1 jar of sundried tomatoes, cut into 1 in pieces
1 jar of roasted peppers, drained and cut into 1 in pieces
1 jar artichoke hearts, drained and quartered
24 skewers or cocktail toothpicks
1 cup Balsamic vinegar
2 Tbsp brown sugar
Heat a nonstick skillet and cook the sausages until done.
Thread 1 small or a ½ of a large basil leaf onto a wooden skewer. Add a piece of roasted pepper, sundried tomato, artichoke, and ending with the sausage. The skewer will stand up on the sausage end. Continue to finish all the skewers using remaining ingredients. Serve with the balsamic reduction sauce.
To make the balsamic reduction: Combine 1 cup of balsamic vinegar and 2 Tbsps brown sugar in a small pan over medium high heat and bring up to a bubbling boil. Reduce heat to medium and cook until the liquid has reduced by half and is thick and syrupy, about 10 minutes.
The Salad on a stick is very adaptable and one could substitute mini mozzarella cheese balls for the sausages if wanting to stay all veggie. As well, a lovely pesto sauce would be nice drizzled on them as an alternative to the balsamic reduction.  And the flapjacks are so easy to tweak depending on what ingredients are available. Since we were going to be spending dinner with Quincy Jones who happens to be in London, I wanted to bring him a sugar free treat. So the flapjacks were perfect!  The last time I saw him in Los Angeles a few months back I brought him my famous poppy seed cake, his fav, along with a bottle of red wine.  Little did I know he had given up sweets and alcohol!  So he called me a corrupter when I walked in the door!  He got me back!  We're even. So tonight no corruption just LOVE!
Whether you are a corrupter or not, there is something in this simple picnic menu for you to enjoy.  You can go whole hog and have it all, or if you are a vegan non alcohol drinking health nut, you can just enjoy the flapjacks!  And you can do it in whatever time zone you happen to live.
Uncorruptable LOVE,
YDP