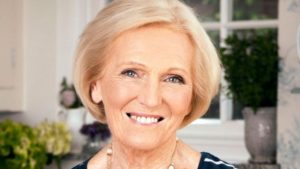 While today's Woman Crush Wednesday chef needs no introduction in the U.K or Ireland as she is one of the most beloved women in the culinary world here, for those of you elsewhere let me tell you about the Queen of Baking.  Mary Berry is a remarkably 81 years young. Married with grown children she is an accomplished Le Cordon Bleu graduate and has written over seventy cookery books. With numerous televisions shows under her belt, the one for which she is adored by millions is the popular Great British Bake Off.  Just back on television again after a summer hiatus, this is the reality television competition (which debuted in 2010) that all others try to emulate. Like Mary herself, it is pure class.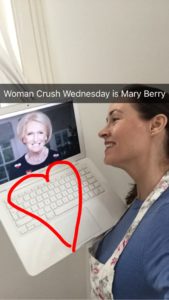 I had the pleasure of seeing her live at the BBC Good Food Show here in London.  It was on tour last November and my Hubby bought me a ticket for my birthday. It also happened to coincide with one of my Foodie Fieldtrip Friday outings.  She and her partner on GGBO (Paul Hollywood) demonstrated a lovely meal.  And I was able to eat it after the demo at the restaurant there. I thought about making that gorgeous chicken with shallots and asparagus she shared at the Olympia Theater that day, but then again, one of her all time fav recipes is a famous dessert that I just know you're gonna love.  I have never made her version ( though I have made a similar one before) so I am very eager to taste the Mary Berry Banoffi Pie from her book Baking Bible.
Banoffi Pie
Ingredients
FOR THE BASE
65g (2 ½ oz) butter
175g (6 oz) ginger biscuits, crushed (about 17)
FOR THE FILLING
100g (4 oz) butter
100g (4 oz) light muscovado sugar
2 x 397g (14 oz) cans condensed milk
FOR THE TOPPING
300ml (1/2 pint) double cream
1 large banana
a little lemon juice
a little grated milk or plain chocolate
Instructions
FOR THE BASE:  melt the butter in a small pan then remove from the heat and stir in the crushed biscuits. Mix well, then spread the mixture over the base and sides of a 23cm (9 inch) loose-bottomed fluted flan tin, pressing the mixture with a metal spoon to make it firm.
FOR THE FILLING: measure the butter and light muscovado sugar into a roomy non-stick pan. Heat gently until the sugar had dissolved, add the condensed milk and stir with a flat ended wooden spatula, stirring continuously and evenly for about 5 minutes or until the mixture is a golden toffee colour and thick – watch like a hawk as it burns easily. Turn into the prepared crumb crust case and leave to cool and set.
FOR THE TOPPING: whip the double cream until it just holds its shape and spread evenly over the cold toffee mixture. Slice the banana and coat in a little lemon juice to prevent the bananas discolouring. Pile the bananas on to the middle of the cream and dust the whole pie with grated chocolate. Lift on to a flat plate and remove the ring. Serve very chilled.
While this is a very simple recipe, it doesn't deter from the wow factor.  It seems to be a dessert almost anyone would love (apart from people who are dairy free, though they could make substitutions). And the good news is no oven is required!  So with the warm London weather this pie is going to go down a treat in the house.  I suspect it might be eaten up in one night!   Which is best because of the delicate nature of the bananas browning.  However, with the squeeze of lemon over the bananas it will hopefully keep until tomorrow, that is if we have self control!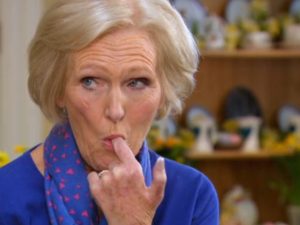 Mary has received so many well deserved honors such as the CBE (Commander of the Order of the British Empire), degrees and freedoms from many universities and cities.  And she's even featured on top of the list of best dressed for over 50s!  She does look smart and gorgeous always!  But I have a couple of key reasons why she is so special to me.  First of all she is a Kitchen Aid Mixer devotee as am I.  As well she is very involved in charities especially the  Child Bereavement U.K.  One of her sons died at age 19 from a car accident. Mary has shown great strength through so many challenges in life including a debilitating illness as a young girl.  But her warmth and positivity has gotten her far in her career and into the hearts of her fans.   I wish her many more years to come.  Since her mother lived to be 105 we shall look forward to at least 70 more cookery books!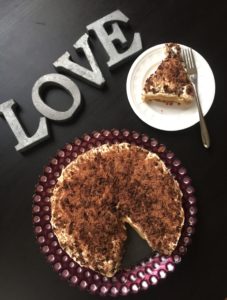 Thank you Mary Berry for your inspiring life, in and out of the kitchen!
Sweet LOVE,
YDP