This week was a "specialdition" of Foodie Fieldtrip Friday.  It was a Friday the 13th (which I think is lucky) and my birthday.  Hubby gave me a ticket to the BBC Good Food Show at the Olympia here in London. I mean what do you give a girl who doesn't have everything and doesn't want everything?  You give her what she is passionate about, and for me that is FOOD!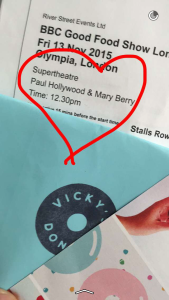 So I took the tube to "F cubed" (that's FFF for Foodie Fieldtrip Friday) and was bowled over when I walked into the Olympia and saw the vast array of food stalls, restaurant kiosks and food theaters showcasing top chefs doing demonstrations.  The "Super Theater" was set aside for the A list celebuchefs, and Hubby booked me in to see Mary Berry and Paul Hollywood demo together.  Inside there were thousands of seats waiting for the eager fans to sit on the edge of every word the chefs uttered. They asked for two volunteers from the audience and while I didn't get chosen, it was actually a good thing. I was capturing the whole experience for snapchat and don't think I could have managed both things simultaneously!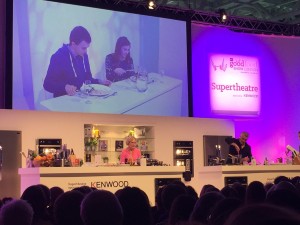 The Great British Bake Off, one of the U.K's top shows, just recently completed their sixth and most successful season.  As hosts of the show, Mary and Paul are institutions in the culinary world with numerous top selling books between them.   In the short time they were on stage, they each demonstrated one dish and doled out competing kitchen tips while they seamlessly sautéed and whipped away.  Mary made a lovely Chicken, Shallot and Asparagus main course and Paul baked a gorgeous Chocolate and Cherry Roulade. They had the audience in stitches of laughter with their cute banter as they argued about how to separate eggs and whether the roulade should be rolled away or towards. They reminded me of an old married couple!
After the the superstar demo I couldn't help myself and wandered up towards the stage. The MC for the event, Andy Friedlander, was still on stage and I introduced myself.  He was so kind and took a photo with me.  I look like a goof ball but I was so excited!  He told me that he usually works in sporting events, but he is involved with the BBC Good Food Show every year.  He did a great job as a mediator between Paul and Mary, savory and sweet.  He kept everything tied up together nice and neat.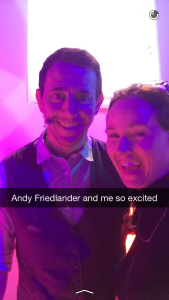 I spent the rest of the afternoon poking around and enjoying all the food tastings, entering give away competitions, and having lunch (the same food prepared in the demonstration). Mary's chicken was incredible, so moist and subtly flavored. The shallots added a nice sweetness and there was a bit of tang with a touch of lemon and creme fraiche. And Paul's roulade was the perfect little birthday treat as I adore chocolate and the cherries were a delicious addition.
I bought a few goodies while I was there, some gourmet popcorn, some artisan crisps and an amazing pack of flowering teas.  Not only are they beautifully tasting but they look beautiful as well!  I also received a big goodie bag, and I felt like it was my birthday party favor.  I mean it really was a foodie freebie giveaway galore.  I could have stayed all weekend and not seen it all.   I never actually stopped by the booze booths. There were numerous Gin, Wine, Craft Beer and Whiskey displays, all on tasting. They even had a Cocktail Class where you could learn how to become a mixologist.
My favorite area was a place for people to write down their kitchen tips and display them on a clothesline for all to read.  It made me realize even more that food and cooking are communal.  Even if we aren't sharing our kitchens with others while we prepare our dinners each night, we can certainly share our helpful hints. And of course I had to share mine!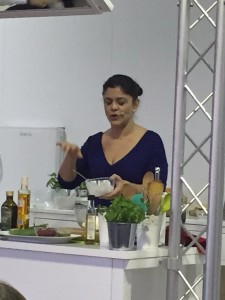 Though I had to dash out as I had my birthday dinner with Hubby,  I got to peak at Sabrina Gayhour's cooking demo on one of the various stages.  She was making my all time fav nibble, her Lamb Lollipops.  She was one of our Woman Crush Wednesday recipients and I was gutted I couldn't stay for her entire presentation and say hello to her afterwards.  But it made me realize that I wanted to share her recipe with you as it was one of the recipes I learned while taking her cooking class a couple of weeks ago.  It is super easy, yet the flavors are very complex.  And hands down, they are so darn good I am still dreaming about them!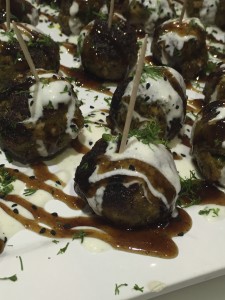 Lamb Lollipops
Serves 4
3 heaped tsp cumin seeds
500g minced lamb
100g dried cranberries
2 large eggs
1 medium onion, minced in a food processor or very finely chopped
2 garlic cloves, crushed
1 heaped tsp ground turmeric
1 small (20g) packet of flat-leaf parsley, finely chopped – stalks and all
2 heaped tsp salt
A generous amount of black pepper
Vegetable oil for frying
For the yoghurt
250g thick Greek yoghurt
Finely grated zest of 2 unwaxed oranges
Juice of ½ an orange
2 heaped tsp ground coriander
2 tbsp olive oil
Generous seasoning of salt and pepper to taste
1 small packet (20g) of fresh mint, leaves picked and roughly chopped
To serve
Sumac
Tortilla wraps
1 In a preheated pan over a medium/high heat, dry-fry the cumin seeds to waken up/intensify their flavour; this will take a few minutes, but be careful not to burn the seeds– just toast them lightly.
2 Preheat a large frying pan over a medium heat (or high if using electric).
3 In a large mixing bowl, add together all the kofta ingredients along with the toasted cumin seeds, then really work the mixture thoroughly using your hands, pummelling and working the meat mixture through, making sure the ingredients are evenly combined.
4 Drizzle some oil into your frying pan – just enough to coat the base of the pan.
5 Make your koftas by taking a small amount of the mixed meat mixture – about the size of a ping-pong ball – and then roll each one into a ball. Then roll and flatten the ball in the palm of your hand into slightly elongated shapes and fry them for about 6-7 minutes on each side, until nicely browned and cooked through.
6 Mix the ingredients for the yoghurt together.
7 Season the koftas with sumac before serving in a wrap with the yoghurt drizzled over them.
It may be hard to believe, but even though I ate my way through the Olympia, I was still able to eat dinner.  Sometimes you've gotta do what you gotta do.  But all for a good cause!  Seriously though, the dinner at the Portland restaurant was amazingly delish. We had a couple of little nibbles (pumpkin cakes they were called) and then went straight for our main courses.  Hubby had venison with celeriac  and I had cod with spring onions. We shared the most amazing side dish of broccoli that had been sautéed with almonds. I could have eaten that as a main dish it was that good!  We were too full for dessert, but our server (a sweet lady from Ireland) brought out a little box with some tasty treats: Two lemon macrons and two pieces of brown butter cake.
While I feel like I am continuing to digest my fantabulous foodie fieldtrip from yesterday, I will no doubt still chew on some nuggets of wisdom from the day.  Mary Berry was especially inspiring to see.  Even at 80 years old she whizzes around the kitchen with vim, vigor and vitality.  She loves what she does and it shows. You can tell she puts that love into her cooking.  She is beautiful inside and out.  And she isn't afraid to speak her mind.  I particularly loved when referring to her departed mom she said, "She went to heaven at 105" rather than saying she died, or passed away.  I mean what a lovely way to remember her mom with such confidence and reverence, and also not worrying about offending anyone by using a Godly term!
I am looking forward to the next year of the BBC Good Food Show, but until then we will have quite a few more Foodie Fieldtrip Fridays, so thanks for coming along!
Filled to the Brim with Love,
YDP
P.S. Though the snapchat story (video I took on the day) has already expired, as they do within 24 hours, you are welcome to follow along anytime.  My user name is blissbakery (all one word) and I do cooking tutorials and little visits around London.  As well, my doggie Stella pops up here and there as well.  The only thing is that the photographs from snapchat, which I often use on my blog posts, aren't the best quality.  So apologies in advance.  But if you have read ABC of YDP you will already know that!