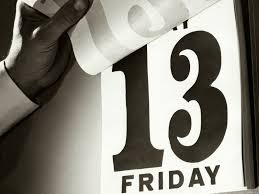 Triskaidekaphobia (or fear of the number 13) is an actual phobia.  It is so legit in fact that some airplanes do not have a 13th row, hotels do not include a 13th floor, horse racing tracks don't have a number 13 stall. etc, etc.  In 2013,  Ireland (a country known for being a bit superstitious) changed the vehicle registration plates to start with 131 or 132 instead of 13.  There are theories as to when this all started, but it usually goes back to Biblical times and Judas, the betrayer, being the thirteenth person at the Last Supper.
To be even more specific, scientists have given a fear of Friday the 13th yet another distinction, paraskevidekatriaphobia! Some people stay in bed all day for safety because they believe the day to be bad luck. But since I was born on a Friday the 13th I like to believe it's a day of good luck! Today I am celebrating my 51st birthday. That makes this the 8th time I have had my birthday fall on a Friday the 13th. Eight is another of my lucky numbers. I say that like I am some kind of gambino, which I am not.  It is so funny how people get all worked up over a number or a day.  It is only because we have a calendar that says it is so.  But nevertheless, I love this day and I love my birthday.
I am actually quite like a little girl all excited and giggly around this day.  My Hubby likes to tease me that I have a birthday week (or even a birthday month) with various plans leading up to and following the big day:  Lunches, brunches, FaceTime sessions, cards to open etc. Since I never had actual birthday celebrations as a child, maybe I am making up for it.  But I do enjoy it as it only comes once per year.  And since I lost my parents at a young age, I realize now more than ever that every year is precious!
Some people like to go all out on certain birthdays, especially the 16th, 18th, 21st, 30th, 40th etc. Of those, I suppose there were two that were significant celebrations.  I had a big party for my 21st  (it was the first actual party I ever had in fact).   Though on my 21st, which in America is a big deal as it is when you are able to legally drink alcohol, I didn't even have a sip of booze.  I had an infant, whom I was breastfeeding, and a toddler to look after as well.  I didn't really start drinking any alcohol until I was well into my 30s by the way!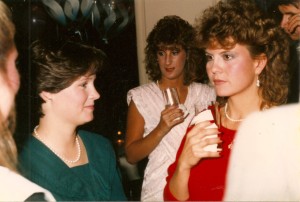 My 50th year was like a "birthday tour" which I've savored for quite a while.  My friends in Ireland went all out for me and I had many celebratory events that made me feel very special. Then my Hubby organized a trip for all my family to meet up in Austin, TX.  He rented a house from Air b&b and we cooked together, hiked together, rode bikes together and went on the most awesome food tour together!  It was all so special and I'll never forget it!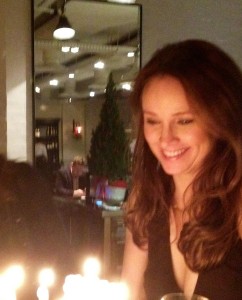 Since then, this past year I have experienced so many life changes and transitions.  Most significant was moving away from Ireland, my soul home, to London.  It has been quite the paradigm shift!  But it really is a cool city and is growing on me more everyday! I've been back to America several times to visit with family.   I have spent wonderful times with my daughter, son in law and granddaughter (we are besties as she calls us) in their new home in Washington State.  I was able to witness the birth of my second granddaughter when I was with them all summer.  It was so emotional and a true privilege to be a part of the miracle of life.  While Hubby and I usually do loads of travel together, this year our move has been a journey of its own.  But we did go to Czech Republic in June when he was on a jury of a film festival.  As well, in August, we went to Monet's Garden in Giverny, France (where the impetus to begin this blog was spurned within me).  And there is one more trip we will be taking soon which I am excited to share with you.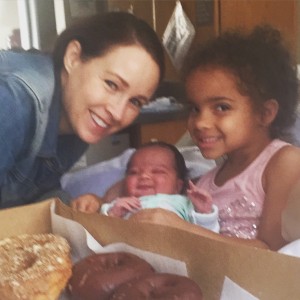 Birthdays are a time to reflect on the past and also to look to the future. What does the time beyond my 51st birthday look like?  Well I have some things up my sleeve, but no matter what we plan, we have to leave room for God to surprise us!  And I also think that I am going to start a new campaign slogan, "51 is the new 21" haha!  I don't care one bit about "age-ism" and am happy to share with anyone my chronological achievement.  I feel grateful to have gotten this far and am excited about what lies ahead.  I don't clamor for "yesteryears" or complain about the increase in creases on my face.  I just say NO to BO (tox) and love the body I'm in (or meat suit as I call it).  It is all an incredible blessing!  And so I want to thank you for sharing it with me!
Love, always and forever,
YDP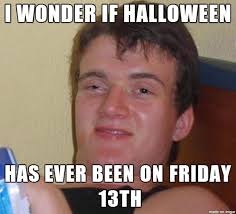 P.S. I had to include this image above as it reminds me of the time someone close to me (who shall remain anonymous) asked me if their birthday (which is on the 6th of July) ever fell on a Friday the 13th. I'll leave it at that!