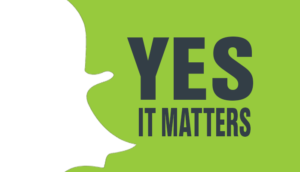 There seems to be a paradigm shift happening at the moment.  Whenever these events occur people feel a bit lost and anxious, questioning if things will all work out okay. While this particular incident may not seem like much in the scheme of life, it does make a difference to some: As in 100 million. Yes that is the amount of daily active users of this thing we call Snapchat. And YES Snapchat matters!  What was once thought of as a domain for kids wanting to be silly without getting caught has been embraced by everyone including a more mature population.  Snapchat is now important to brands and big business.   It has also become a life line to many stay at home moms and mobility impaired folks that find it is a way to connect to the outside world while they are more stationary.  The "chat" aspect of Snapchat is so important, and unlike Facebook, Twitter and Instagram, many in Snapland have literally made and sustained lasting friendships through the app's friendly and accessible abilities. It is the one social media platform that is getting people engaged!
Now it can be tricky to navigate in the beginning, even for tech savvy people.  But once someone gets the hang of it, it often becomes second nature and an easier way to vlog than filming and editing loads of video. With the wealth of diversity available one could get cooking tutorials, makeup tips, workout routines and fashion advice all before lunchtime. Not to mention some good chuckles, pretty scenery, nice music, some cute kids and pets without ever leaving the comfort of the couch!
But recently Instagram has entered this milieu with its own version of stories. It had introduced video ability a few years ago, but they were only a maximum of 15 seconds in length. Then they increased that this past year to up to 60 seconds. Now, with the new stories option (which literally has the exact same elements as Snapchat) people are left wondering, what to do?  Make stories on both Instagram and Snapchat?  Ditch Snapchat totally for Instagram to stick to all one platform?  I haven't tried it myself, but have watched a couple of stories on it and heard people on Snapchat talk about their digital dilemma.
As you probably know I am not on Facebook.  I have written about my reasons on here before.  I have considered joining and even asked those watching my Snapchat account to share their opinions about taking the FB leap. Interestingly enough, the consensus was right down the middle. Both sides were very strong in their opinion. So I haven't done anything yet. I joined Twitter because of my Woman Crush Wednesday series as a way to let the chefs know I am honoring them.  I am marginally active on it. I am a talker and it is hard for me to only type 140 characters.  Instagram is nice to look at but it is hardly instant anymore. I swear sometimes I feel I am the only person left on there who actually uses their own phone to take the photos. I try to stick to the Insta of Instagram, but it has become so manufactured with photo shop and filters that it seems to be one big glossy billboard ad.  And the number of followers is literally a joke.  A person can buy followers, which is ludicrous because they may have 40,000 followers (which looks quite impressive) yet only have 100 likes on a post.
So that leads me to why Snapchat Matters.  It is instant, live and raw.  Because the stories expire in 24 hours there is a sense of urgency to watch someone's feed.  The main aspect that highlights why it matters is the engagement factor.  People aren't passively watching. There is interaction as folks comment back and forth like you were having a conversation right in your living room.  People feel you can trust a bit more of the content you are receiving.  With trust comes relationship building.  And more mature people feel they can "play" in this realm without the competitiveness in Instagram (to be super glossy) or Twitter (to be a clever wordsmith).  Just by being oneself, warts and all, you can have a voice that resonates and reaches others who support you.  I can think of several other "mature" women like myself who have found vast success using Snapchat for their own business or personal goal journeys.
Geraldine McConnell (puppetlady-1) is a County Mayo, Ireland children's entertainment star. She travels all along the Western Coast performing for kids' parties, weddings and at hotel venues. While she is active on other social media platforms, Snapchat is a way to show her characters (the puppets) and the music in the show as it is happening. And with the 24 hour story expiration, loads of mummies get on board to watch with their kids. It is a great way to showcase her talents and gives families a glimpse into what they might get if they book her in for their own party. As well, she shows the lovely surroundings, whether posh ballrooms or rugged coastline, and makes the viewer feel a part of the action. And there is also the bit of Ger that I love to see, the fun loving family lass, as she is a mom to four gorgeous girls. You just want to be her BFF when you see those beautiful blue eyes of hers sparkle off the screen!
Claire Molloy (sweetlivingk) from County Kilkenny in Ireland is the owner of Sweet Living Kilkenny a custom design chocolate bar company. Claire checks in with Snapchat to update everyone on the latest promotion or design she has going.  Her luxury Irish milk chocolate bars come in custom and personalized wrappers.  Orders for bespoke chocolate bars used as wedding favors or corporate functions are super popular.  Though she uses all social media channels, Snapchat is a way to hear Claire's voice, see her beautiful face and through that more intimate familiarity her business has grown. As well, when folks are watching the famous Irish Snapper Marissa Carter open a package live on Snapchat only to reveal a stack of custom make Sweet Living Kilkenny chocolate bars, it makes an impact indeed! Just a little added text with Claire's Snapchat username on Marissa's Snapchat story and voila, lots more folks signing on to see what this chocolate sensation in Kilkenny is all about!
Melanie Morris (melanierjmorris) was already the social media darling of Ireland.  With awards for best Twitter account under her belt, the Chief Editor of Ireland's most popular Women's publication, Image Magazine, took on Snapchat with full force.  Melanie's snaps aren't just a peek into the behind the scenes of photo shoots and beauty product launches; she also shares her home life too. Which for us dog lovers includes the super cute Flumpy.  She is the perfect example of how Snapchat allows the glimpse beyond the clever tweets or glossy 2 D Insta photo, but includes the shared human experience. When Melanie has her monthly meet up with other Schnauzer owners on their hikes in the Dublin mountains she takes Snapchat with her. And that invitation into her world fosters warmth with her followers not as easily accessed with other social media.
Jennifer Byrne (jenser01) is quite literally superwoman. A single working mom of teenage boys this lady from Leixlip in County Kildare, Ireland is a powerhouse. She is in training for her first body building competition!  Not only is she documenting it on her blog Jen's Gym Life but also shares her progress on all her social media platforms. But it is through sharing her journey on Snapchat that she has nurtured a following that is right behind her cheering her all the way. She is very down to earth and admits her fears, but always has a positive way to over come them. And that inspiration, along with daily motivation has endeared herself with everyone.  I honestly don't think that would have been possible without Snapchat.  Everyone checks in for weather updates from her while she's doing her outdoor cardio training. And of course, we all await her firm but upbeat urging to "get out, get active and get fit" coming through the screen live.  It makes much more of an impact than just another photo from the gym.
Until this paradigm shift dust settles, I for one am going to keep on keeping on with Snapchat. As I have shared before on the ABC of YDP technology isn't my thing.  I have forced myself this past year to use it to the best of my ability.  For a 51 year old lady, I am pretty proud of myself for doing so.  I went so far as to admit on here How Snapchat Saved My Life!  Yet if I have learned one thing at all, it is that nothing stays the same. Just when you think you have it figured out they do an update, or a new app is created that is the "must have" item.  No matter what, I thank Snapchat for providing this ability to connect and share.  Many have built followings, businesses, loyalty and most importantly friendships. And that is why I believe Snapchat Matters!
LOVE matters,
YDP
P.S. I included the Snapchat user name of all the lovely ladies I've mentioned here in parenthesis next to their names.  However, I realized I didn't share my own Snapchat user name (blissbakery). So there you are!