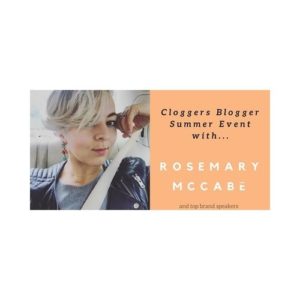 Since Yankee Doodle Paddy began I haven't written too much about blogging itself.  If I've veered off the foodie topic or stories from my own life (the main thrusts of the blog), it is often about social media. Well, one particular social media and that is Snapchat.
However, I had one of the most wonderful experiences last Sunday at the Cloggers Bloggers Summer Event and I really wanted to share with you my impressions. The first thing that comes to mind is that it is indeed a circle of friends.  I sensed that even before I walked into the conference room of the Clarion Hotel in Cork.  It is through Snapchat actually that I have gotten to know many of the ladies in attendance, and most certainly one of the organizers of the event itself.  Marie B Murphy, The Beautmum, and I had connected through snaps and have built a mutual admiration for one another.  I met her "partner in crime" co-coordinator Richeael Fletcher when I arrived and I could see these two are a powerhouse team!  But all their hard work most definitely paid off!  The day was a smashing success.
Having flown in from London to Cork just that morning to attend, I had to get sorted into the hotel room and drop my luggage as I was staying the night.  Then I brought my little sweet treat cards (like business cards but with candy inside) and made my way into the #cloggersbloggers home for the day.  Women from all around County Cork gathered for a day of bonding, learning, eating and shopping!  There were various vendors (makeup, beauty, clothing, jewelry) set up around the perimeter of the room.   We learned about Nimue skin care from  the gorgeous Niamh and got insight into social media and branding from the smart and stunning Naomi Sirmans.  Last but not least, our keynote 'main course of honesty' by social influencer and journalist Rosemary MacCabe was incredible. Love her! After lunch we enjoyed a fashion show by various Cork boutiques and a makeup tutorial from Inglot.  While some of the mommies had to leave as the full day's events were still going on, I witnessed many hugs and kisses.  Especially for the ladies like Joanne Coughlan who won best dressed and others who won raffle prizes.  No one seemed miffed, only totally supportive.
So the take away for me from my first Cloggers gathering is one of admiration for the wonderful way they bolster each other.  It is a time and place for Irish Bloggers from the Cork region to socialize face to face and not in a virtual world.  If only for a day.  However I know first hand some of these bloggers actually meet up on a regular basis.  Pam Kuss , Eimear Hutchinson and Cliona O'Conner meet not just to socialize, though plenty of that goes on!  But with 8 kids between them (and another to come soon) they also get business done.  Yes, they take turns, one looking after the kids, while the other two photograph each other in various fashion. They have found a way to bond, have fun and still keep content going on their blogs.  A brilliant example of team work and camaraderie in the blogging field which has suffered some negativity of late.  But these three women are utterly lovely, positive and so welcoming.  I adore them!
Beauty blogging would be the predominate area for the Cloggers it would appear, so of course our gorgeous and generous goodie bags on the day reflected that.   Here are some pics of all the awesome "swag" as it is called!
However there were a couple yummy foodie treats to make this chef's blood sugar sing!  We received a bag of Proper Popcorn in Vanilla Coconut flavor, my favorite, which I devoured nearly immediately!  Only today I was able to make the Bake it Easy Cookie Mix also in our  goodies bag.
 This was so simple to put together!  Literaly melt then cool 80 g butter.  Mix with 1 Tbsp honey and 1 egg. Then stir through with the dry ingredients from the plastic tub.  Pop onto a baking tray and in a little over 12 minutes later your house will smell like a bakery. The cookies taste amazing too.  Because I am a professional baker I don't usually go for prepackaged mixes.  But this felt very homey.  I especially loved the coconut inside (my fav treat these days) as the little flecks complimented the chewy strawberry bits.  I know my Hubby is gonna scoff these!  I love the fact that this is a family owned company started by a lovely County Kerry woman named Maria.  So kind of her to gift one to each of the attendees.  Many happy bellies this past week I am sure!
Whilst I am far from a beauty blogger, and don't stray often from my routine, I was delighted to see there were Dermalogica products in the goodie bag, which is the brand I actually use. And I am looking forward to giving all the lotions and potions a go.  Mostly I am looking forward to forging relationships with these amazing ladies.  A true circle of friends!  As the saying goes "Make new friends but keep the old. One is silver and the other gold."  We all have something to learn from one another.  Those who we've known for "donkey's years" as the Irish say,as well as broadening our scope to learn different things from exposure to new people.  Each has its important place in life.  Thanks @Cloggers_2015 for EVERYTHING!
Circle of LOVE,
YDP
P.S. While I don't own a full length mirror at home, I took this opportunity to snap a pic in my hotel room at the Clairon Cork. I didn't win any best dressed awards, but it was nice to get dressed up in something other than a chef's uniform. I got to be a bit girly, which at 51 years old is still fun!