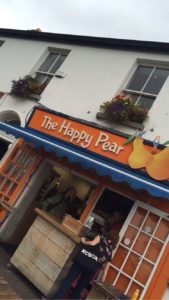 How fortuitous that I am here in Dublin for a quick visit and it coincides with a Foodie Fieldtrip Friday!  I have been wanting to go to The Happy Pear for ages.  When we lived in Dublin full time it was hard to go anywhere as I worked nearly 7 days per week.  But I did get to peak my head inside their lovely cafe a couple years ago when I was nearby for work.  I only got a take away coffee, but I've always wanted to go back for a proper sit down meal. Then about a year ago, The Happy Pear owners, twins Stephen and Dave Flynn, were on our flight from London to Dublin. It was inevitable I make this day all about these fellas and the amazing team they have working with them.
I took Snapchat with me (if you'd like to see it my username is blissbakery and it is available to view for 24 hours).  I went early as they've been known to have lines down the block!  It is such a popular place to go for a healthy meal or a quick clean take away. And their coffee has a reputation for being the best in Ireland!  It was 9:30am when I arrived and I ordered the Pimped Up Porridge. It was the most beautiful bowl of porridge I have ever seen. It had fruit, compote, coconut yoghurt, granola and seeds sprinkled on top.  I also ordered an almond milk cappuccino which was so lovely with the heart shaped foam on top!  I took my tray upstairs to the main dining area for a leisurely breakfast.  Not only is the food delicious, but the ambiance is very relaxed and at the same time inspiring with all sorts of cool quotes around the place.
I literally couldn't finish my porridge it was so big so I got a take away container for the rest of it. I don't like waste and I'm already eager to have the rest tomorrow!  Then I toured around the health food store adjacent to the cafe.  This was actually the original part of the business. But over the past 12 years it has grown into a national brand.  All the staff were so friendly in spite of being busy with restocking or serving customers.  Chris was particularly helpful.  He wondered if I had anticipated meeting "the lads" Dave and Stephen.  Because my adventures are a surprise not only to those watching on Snapchat but also the foodie establishments I wouldn't have asked for special treatment.  Apparently the guys are usually there on the weekends to greet customers.  But I was enjoying exploring all the nooks and crannies as it has expanded so much and I had the pleasure of having nice great conversation with one of the other customers.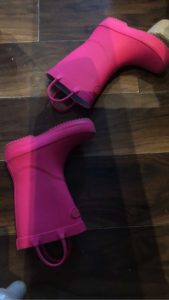 A beautiful woman with a pretty little girl were sitting next to me and I asked if they would mind my bag while I went to get the take away container.  When I returned I chatted to her about the local swimming area and she was kind enough to offer to loan me her wetsuit and togs (that's bathing suit for my non Irish friends).  She said she lived across the road.  While I appreciated her kindness it was already raining and getting windy.  But we continued to chat about a variety of things.  Her daughter, named Izzy,  had kicked off her Wellies (rubber boots) and made herself at home.  Only later did I find out that it nearly is her home.  Her dad is Dave, one of the twins!  His wife was so kind and welcoming but never let on who she was. As well I was helped by the nicest woman when I arrived upstairs to eat, and apparently she is the twins' mom!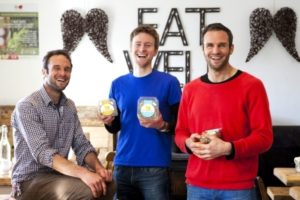 It really is a family affair.  With the Dave and Stephen running the shop and their younger brother in charge of the organic farm nearby, they have all benefitted from the healthy life style.  I felt very at home there myself as this is the kind of place you'd find on every street corner in Los Angeles where I lived for many years.  Wheatgrass shots, yoga on the beach and tank tops and shorts for all kinds of weather is what these guys are like.  But their energetic and positive outlook has a higher purpose. They really want people to get healthy!  And their mission has now gone across the Irish Sea to Jamie Oliver's Food Tube!
I watch the guys on Snapchat and really enjoy their energy, their recipes and seeing a gorgeous glimpse of Ireland each morning at sunrise when the go for their swim in the Irish Sea.  Though I opted against the kind offer to borrow the swimming suit, I did end up taking some lunch to go.  A giant Buddha bowl and a vegan Twix bar too. So not only was my morning sorted but my midday lunch and evening sweet treat all situated as well!
I do hope to go back again as there were so many delicious choices. And I received lovely messages from other snappers watching that recommended things like the veggie burger. It really is a fab place to have healthy food in a loving family environment. On top of all that, the very nice Chris shared some of the Happy Pear Bars with me. So I will have to bring them back to London and Hubby and I can have a tasting. He is a master bar connoisseur!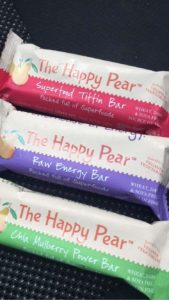 Until then, I hope if you are ever in Ireland that you make your way to the stunning seaside town of Greystones just 40 minutes south of Dublin. You will love the scenery and want to set up camp at The Happy Pear.  Sure, you might even become part of the family!  They are always recruiting new team members and their morning sea dips are growing in numbers. So the next time I watch the Sunrise Snaps I might see YOU!!!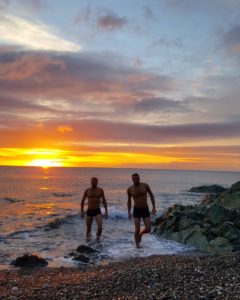 Happy LOVE,
YDP