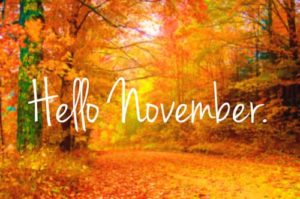 November 1st!  Wow, where did the year go?  While most people are dealing with a sugar hangover today from all the trick or treat candy, some are already pulling out the Christmas decorations.  Lucky for me, November is a special month to savor and punctuate the calendar.  It is a month long break after Halloween before the Christmas chaos to reflect and remember.  November 11th is Veteran's Day and with my family being a military one it is dear to me.  Also November 13th is my birthday and I'll be 52 this year!  And my absolute favorite day of the whole year is Thanksgiving Day.  A holiday all about food, fun, family, friends, feasting and being THANKFUL!  Anything that has to do with gratitude is up my alley!
So today, I decided to post some appreciation for a few special people who also happen to be on Snapchat. They have inspired me in many ways, but particularly with their wonderful blogs.  Specifically, each of these bloggers has at least one story that literally made me stop, think and FEEL. These stories are open, vulnerable and honest. With so many folks in the blogosphere worried about what they post and its affects on "their brand" it is refreshing that these talented writers can use this medium for what it is intended. Not advertising (though I know for some this is a business) but to use this platform to make a difference in the world. We all have a story, and by sharing ours it will encourage others to share as well. That in turn creates an environment of Human Beings not Human Doings! Just click on each writers name to read these post on a wide range of topics which I believe will blow your mind and touch your heart!
So there you have it, five awesome blog posts that have touched my heart and inspired me in a myriad of ways.  The quote "The pen is mightier than the sword" is so true in many circumstances.  In the blogging world, I believe the keyboard too has the power to hurt or heal.  And the later is what I hope to do on Yankee Doodle Paddy as these awesome writers are doing in their virtual corners as well.  I LOVE them all and hope you give these bloggers a little love too in this month of thankfulness!
With LOVE and appreciation,
YDP