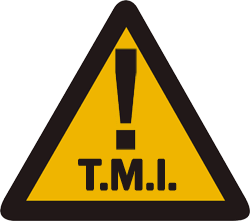 When people hear TMI they might think of the acronym "Too Much Information".  It is true some people share TMI, telling near strangers things better left unsaid.  But I have some TMI for you and it is info you need in your life!  Especially if you are on Instgram.  My version  of the acronym is called:  Tuesday, My Instagrams.  I'm talking about the Instagrammers on my feed that I like to follow!
I have been running a Snapchallenge for the month of November called #30daysofgratitude which I mentioned on here before. There will be many ways in which this will manifest itself in my life.  I already shared on here my appreciation for some awesome bloggers' posts. Today I want to share some LOVE for another group from the virtual world, on the social media phenom called  Instagram.  I only joined a couple of years ago at the urging of my daughter.  She said that it would be easier if I joined so I could see pics of my granddaughter instead of my daughter having to email pics all the time.  For the first couple of years I was on it, I was on private settings.  Which meant no one really saw my pics apart from my daughter.
But last year she asked me to go public on my Instagram account (username: blissbakery) to help her with a national public media campaign about Down Syndrome.  And I never went back to private again.  The good news is that I have widened my reach of those I follow and interact with and who also see my page.  I am not a photographer or designer so my pics aren't fantabulous, but they are ME, my food, travels and family!  However, some that I do follow are out of this world schamazing and today I want to show my gratitude for their inspiration:
So go check out these wonderfully inspiring Instagram accounts. I have many more I could recommend and may do just that at some stage.  But this is a good place to start!
LOVE!  Which is always good information to know whether a Tuesday or not!
YDP
P.S. I actually have a second Instagram account @yankeedoodlepaddy which is ONLY food. I started it just a year ago when I started the blog. I figure there may be some out there that are only interested in food pics, which is what that one is all about.