It's not everyday I can get my Hubby to appear on Snapchat.  But last night he joined me for "Cuppa Critics" where we shared our take on eleven fabulous films.  I was given the "screeners", as the are called, by Screen Actors Guild to watch before I vote in the upcoming SAG awards. Though I haven't acted since switching careers to the food industry full time when we moved to Dublin in 2008, I am still a proud card carrying member.  I started acting as a child and in fact have my pension with Screen Actors Guild.  So I take my privilige of voting in this prestigious awards seriously.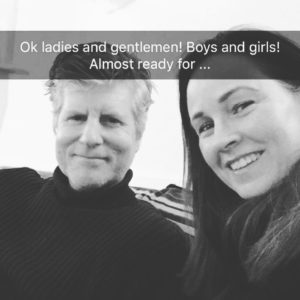 Hubby is a film buff and often gets invited to be on juries for major film festivals.  So he loves to see the films with me too.  Though I shared a post on here last year, this time I wanted to share with those on Snapchat too that might not get a chance to read the blog.  However if you want to see the fun we had head over to Snaps and sign on to my username (blissbakery).  We also enjoyed some musical accompaniment by Pharrell (songs that were in the movie Hidden Figures).  We each randomly chose a film from my fav heart shaped box. Then in one ten second snap we had to review it.  Not an easy task. Then we did our joint thumbs up/down at the same time and there were some surprises!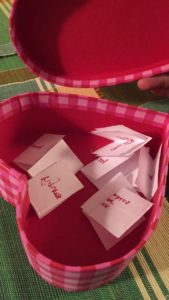 While SAG is the only awards show that is dedicated entirely to the individual actors and ensemble casts performances (with the additional stunt ensemble awards), I don't want to reveal which I have chosen so as not to spoil my vote.  However here is a quick run down of the films and a brief synopsis for each. I've also included a link to the Internet Movie Data Base page about the film if you want to learn more.
This powerful film adapted from a book that is based on a true story stars Dev Patel and Nicole Kidman. But the real star is the young actor who plays Saroo. You can't take your eyes off him. Set in India and Australia, this is the only film of all of them that made me cry (and Hubby too). It is so touching and life affirming.  It proves that LOVE and connection are powerful indeed!  We both gave this film a massive thumbs up and chose it as our number one pick for "must see" !
This is Apollo 13 meets The Help.  A truly inspiring film in more ways than one.  It is based on the true story of three African American female mathematicians that worked in NASA during the early space mission. It is a 'Girl Power' film and made me jump out of my seat with excitement.  But it also highlights the injustices of segregation in America and how a common goal to get man into space united a country.  Perfect for the whole family, there is no bad language, violence or nudity.  We both gave this film a massive thumbs up and chose it in our top three best films.
This is a modernized old school Hollywood musical film done without a Hollywood ending.  Starring the very watchable Emma Stone and uber charming Ryan Gosling, this was a fun and romantic film about life in Los Angeles, the city of angels or in this case, city of dreams. It sure makes LA look prettier than I remember it.  Though my fav line in the whole movie "I sure don't miss the LA traffic" I say every time I go back for visits.  I am happy this film is doing well as musical films had died a slow death a while ago. But Hubby and I both loved it and gave it two thumbs up. It will make you want to dance, sing, listen to jazz but avoid the 405 freeway at rush hour!
This gut wrenching film starring Casey Affleck and Michelle Williams is not easy to watch.  It is depressing from beginning to end.  But sometimes life is like this for some people and it is important to get a glimpse into others' struggles in order for us to gain empathy. The film which takes place in the Boston area is beautifully filmed and there isn't a false acting note in the entire movie.  While Hubby and I both gave it a thumbs up, be warned that it is haunting.  But art is supposed to move us and make us think. This one surely did both. It makes you realize how precious and ephemeral life is.
Amy Adams and Jeremy Renner star in this film that felt like a mashup of Close Encounters of the Third Kind, Groundhog Day and Memento.  It is about communication, love, and working together.  Amy Adams is one of the few actresses that can pretty much play anything and I will enjoy watching her in it. This performance is no different.  You have to suspend disbelief when watching, not just because of the Extra Terrestrials but because time, in this film, isn't what we normally believe it to be.  But Hubby and I both gave it a thumbs up.
This cross between Boyz n the Hood and Brokeback Mountain might have been the most difficult film to watch, yet it is also very brave. Hubby and I both gave it thumbs up, but with a warning.  The subject matter is tough, and yet it gives the viewer a glimpse into a world that the average person wouldn't know about. Themes of bullying, racism, homophobia, abuse and abandonment, of which, I can relate to much of it.  If I didn't have to watch it for the awards I might have passed because of the pure sadness.  Yet in the end I am glad I saw it because it highlights the raw human condition and its complexity.
Viggo Mortensen stars as the dad of a six children raising them in a most unconventional way.  Yet when those kids are pitted against the modern day entitled-mobile phone carrying-selfie kids, there is no match for intelligence and survival. This movie shows that the love a family can have for each other, in spite of tragedies, will see them through it all. This film is so pretty to watch, much of it filmed in the Pacific Northwest.  But fair warning, the very first scene is graphic, so any animal lovers are cautioned. Two thumbs up from Hubby and me.
Hubby loves scary, suspenseful thrillers. I don't and usually haven't a nail left on my fingers after one of these.  But I am diligent about my status as a voting SAG member.  In saying that this film was well made and the acting was solid.  Emily Blunt played the part of a sad alcoholic drunk spot on.  But it was a bit confusing, especially in the beginning, trying to sort out the characters and time frame as it jumped around a bit.   Based on a book of the same title, Hubby described it in his review as Gone Girl meets Alfred Hitchcock's Vertigo.  We both gave it a thumbs up, though it is gruesome and disturbing.  As in, I had nightmares for days due to many triggers.
Natalie Portman stars as Jackie Kennedy, and while she is stunningly beautiful and resembles the former First Lady, the accent was a bit forced and awkward.  This film covers the time period around the assassination of JFK and there were flashbacks and forwards.  It is very stylistic but I felt no emotion.  It was a bit like a made for TV movie with built in pauses for commercial advertisments.  However I gave it a thumbs up as it is well shot and because it is an important time in American history that a new crop of citizens might not have reference to unless they see it in pop culture such as a film.  Hubby gave it thumbs down for the aforementioned reasons.
This film based on the play of the same name by August Wilson was directed by Denzel Washington who also stars.  But the real star is Viola Davis.  She is tender and powerful at the same time.  She isn't afraid to cry so hard that snot runs down her face.  But it isn't an easy film to watch.  Abuse, alcoholism, infidelity to name a few of the challenges this family face.  The story takes place in Pittsburg in the 1950s and highlights the harsh realities of life as an African American garbage man who gave up a dream to provide for his family.  Hubby and I split as I gave it a thumbs up.  He gave it a thumbs down because thought it was an adaptation from a play to film, the audience was still kept in a dark theater in the sense that the camera was set back, as if the actors were nearly reciting monologues from a stage.  Whereas films tend to be closer, intimate affairs with camera angles allowing the viewer to experience the actors emotions.
We both gave this film a thumbs down.  I had to watch it twice as it didn't hold my attention and I nearly fell asleep both times.  Based on a true story of a New York socialite who thinks she is a good singer, and everyone around her is too scared to tell her otherwise, it felt cringy in more ways than just the off key notes. I know Meryl Streep is a god but that doesn't mean I have to like it, because she is better than this performance.  Hugh Grant, who plays her 2nd husband, was surprising the best thing about this film.  It is a story that could have been an interesting film if they had decided what they wanted to be, a comedy or a drama. Hubby thinks they should have gone the road of drama. That makes sense since the real Florence suffered with Syphilis which she contracted from her 1st husband on their wedding night.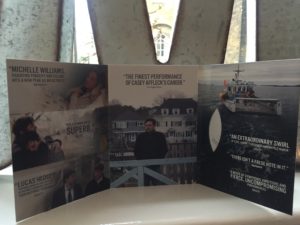 So there you have it, eleven films done and dusted!  There were actually two other films that were not released to voters: Hacksaw Ridge and Hell or High Water.  Since the others were sent either by DVD (such as this one above) or digital download, we will have to see if they are playing in a cinema here in London.  If we do see them I will do an update to this post.  Just to say that I don't ever read reviews of the films in advance so I can watch with fresh eyes in order to make the best choice for the voting.
Hubby and I don't claim to be film critics hence our tongue in cheek "Cuppa Critics".  In Ireland the most cozy and familiar thing to do with someone is have a 'cuppa' tea or coffee and chat.  And that is what we are doing here.  Because now a days people aren't running to read a highly paid newspaper film critic.  They want to hear from a friend, family or Snap Sista what they liked best.  Because let's face it, going to see a film in the theaters is very expensive, and that is before the popcorn, drink and milk duds!
Most years I've noticed there are trends in films.  This year many films were shot in very low lighting.  Was it a coincidence or a conspiracy amongst the cinematographers?  As well, if I could boil down all the films into a one word theme it would DREAMS. Whether dreams to achieve love, acceptance, freedom, family, reunion, truth, stardom, or some with regret over dreams lost or worse dreams dead with no hope of return.  That is the great treasure of the art of film, the ultimate in storytelling.  We are left to wonder at the end of the story, what dreams are we hoping to achieve or what dreams have passed us by?
I'll be back again to re-cap the awards voting (which I do live on snapchat) and the awards show itself.  One day I'd love to go in person. Red carpet arrival style lol!  But until then it is great to share the experience on here!
LOVE dreams.
YDP
P.S. A special thanks to Hubby for not only being my partner in "Cuppa Critics" but my partner in life!