As I am with family in America at the moment, posting recipes and getting foodie pics isn't as convenient.  With two grandbabies around, meal times have a different and more appropriate focus than an Instagrammable photo!  But since I am a Mexican food lover, and my daughter whipped up some yummy tacos the other night, I had to share them!
This recipe is from My Recipes and is a fav with my son and law and oldest granddaughter.   It's not only fast and easy, but very delicious!  My daughter used organic grass fed beef, but you could also substitute ground turkey if you don't eat red meat.
Ingredients:
1 pound (454 g) ground/minced beef
1 small onion, chopped
1 teaspoon olive oil
1 tablespoon chili powder
1 1/2 teaspoons ground cumin
1 teaspoon salt
1 (15-ounce) can (a 400g tin) pinto beans, rinsed and drained
1 (8-ounce) can (227g tin) tomato sauce (also called passata in Ireland/UK)
3/4 cup (177 ml) water
1/2 cup (130 g) salsa
1 1/2 cups (6 ounces/150 g) shredded Cheddar cheese
1 tablespoon chopped fresh cilantro
Taco shells or flour tortillas, warmed
Toppings: shredded lettuce, diced tomatoes, salsa, sour cream, avocado
Instructions:
Cook ground/minced beef in a large skillet over medium-high heat, stirring until beef crumbles and is no longer pink. Drain well. Remove beef; wipe skillet with a paper towel.
Sauté onion in hot oil in same skillet over medium-high heat. Add chili powder, cumin, salt, and beef. Cook 5 to 7 minutes, stirring occasionally. Stir in beans, tomato sauce,  water, and salsa. Mash pinto beans in skillet with fork, leaving some beans whole. Bring to a boil; reduce heat, and simmer, uncovered, 8 to 10 minutes or until liquid is reduced.
Top evenly with cheese and cilantro. Cover, turn off heat, and let stand 5 minutes or until cheese melts. Serve with taco shells or warmed tortillas and desired toppings.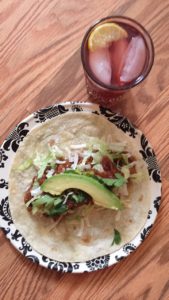 Normally I'd love to have a margarita with a taco. That's the perfect combo!  But a great second choice is an Arnold Palmer, which is half lemonade and half iced tea. I have my own version that I've shared on here before. I call it Lemon Aid. It is so thirst quenching and with the bit of caffeine it gives me the "aid" you need to keep up with the grandbabies!
So if you have a hankering for Mexican food this is your answer. If you have little ones it might be hard to go out to a Mexican restaurant. Yet if you attempt to cook a Mexican meal at home, you may not have all day to stand at the oven.  This recipe is literally finished before you're done with your Mexican hat dance!  So whip up a batch of these and you can Fiesta Forever!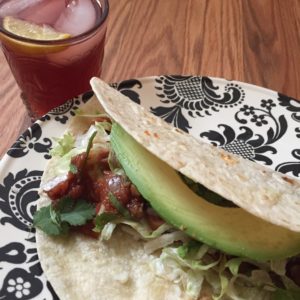 Taco LOVE,
YDP