Since it is November, and the weather in London is chilly and crisp, it seemed the perfect time for a cuppa and a cookie!  So I thought I would share an oatmeal raisin cookie recipe. I have shared several oatmeal cookie recipes, here and here. But purists will say those are not REAL oatmeal cookies. Well, they might say the same about these babies!
The recipe today was inspired by my #30daysofgratitude challenge that I am hosting this month. I did it last year as well (click here to read) and brought it back again to make this a November to Remember.  My gratitude for today is that I am thankful for having had the opportunity to work in Hollywood as an actress for 38 years. Great experiences and wonderful memories. Since I got into the food industry full time in 2008 when we moved to Dublin, those glam days memories are getting more distant.
But I recently ran across an old Sun-Maid Raisins box that I was lucky enough to be on for several decades. "The Raisin Girl" some would call me. I was so young here, but even as a grown woman with two kids, I'd see it in the supermarket and smile. My kids would say, "look there you are mom!"  But really I was smiling because in the photo I am doing what I love. Making food. Prophetic isn't it that I eventually became a chef!  So let's make some food shall we?
These oatmeal cookies are soft, chewy, and flavorful. However, I know it is a bit sacrilegious to add some of the ingredients listed (such as white chocolate chips, pecans and cranberries). But I am known for jazzing things up. So if you like your oatmeal cookies super simple, just omit those bits and there will be no hard feelings.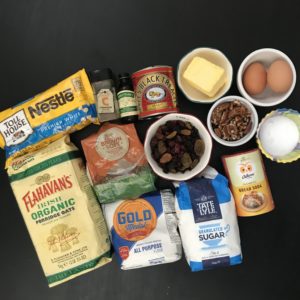 Ingredients:
1 cup (230 g) butter (room temp)
1 cup (200 g) packed light brown sugar
1/4 cup (50 g) white sugar  (caster or granulated)
1 Tbsp vanilla extract
1 Tbsp Dark Treacle (molasses)
1 1/2 cups (190 g) plain all purpose flour
1 tsp baking soda (bicarbonate of soda)
1 1/2 tsp cinnamon
1/2 tsp salt
3 cups (240 g) old fashioned whole rolled oats (not quick oatmeal)
1/2 cup (70 g) raisins (for added juiciness, let them sit in a bowl of warm water for 10 mins. Then drain and blot dry with a paper towel before adding to the recipe)
1/2 cups (70 g) dried cranberries
1/2 cups (64 g) chopped pecans
A large handful of white chocolate chips (or more if you're a fan)
Instructions:
In a stand mixer fitted with the paddle attachment, cream the butter and both sugars until smooth and fluffy. Add the eggs, one at a time, stopping to scrape down the sides of the bowl in between each addition. Add the vanilla and treacle and beat on high until combined well.
In a separate bowl mix the flour, baking soda, cinnamon and salt. Add to the wet ingredients mixing on low. Once it is incorporated, remove the bowl from the stand mixer. With a rubber spatula stir in the oats, raisins, pecans, cranberries and white chocolate chips, carefully folding through the dough. Chill the dough in the refrigerator for 30 mins.
Preheat the oven to 180c/350F. Line baking trays with parchment paper.   Roll the dough into balls and place on the tray making sure they are not too close together. Bake for 11 minutes until lightly browned. Remove from the oven and let cool on the baking tray. Then transfer to a wire rack. Makes approx 24 cookies.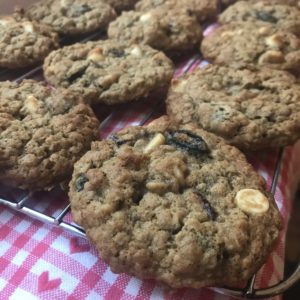 So I hope you enjoy a little trip down memory lane with me and this recipe (which is adapted from one of my Woman Crush Wednesday chefs). If Hubby is any barometer, they are pretty darn good. He has eaten about a 8 already!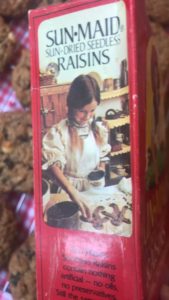 Jazzed up LOVE,
YDP