Well the Beast from the East couldn't put a damper on today's episode of Woman Crush Wednesday. What the wild winter weather did do however, is make me crave a hot cuppa and some cake!  So thanks to Yankee Doodle Paddy's 84th WCW and we have a winner!  Yes Londoner Izy Hossack is famous for her decadent treats, and I knew what I was going to make for today's tutorial once I spotted the Parsnip Cake on her famous blog Top With Cinnamon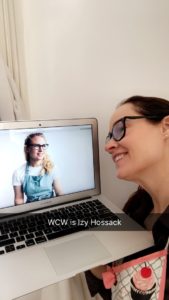 I am a firm believer in eating as many vegetables as possible, even in desserts and treats. In fact my favorite cake in the world is carrot cake. So I have a feeling this Parsnip Cake with Cream Cheese Glaze is going to be amazing. I will be doing a live cooking tutorial on Snapchat (username blissbakery) and will be drooling until the end when it is TASTING time! So I am going to get started straight away!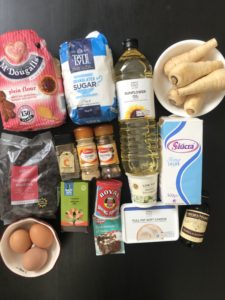 Ingredients:
150 g (3/4 cup) granulated sugar
3 eggs
160 ml (2/3 cup) vegetable oil (or any neutral oil)
80 ml (1/3 cup) plain yogurt
2 tsp  ground cinnamon
1 tsp  ground ginger
1/2 tsp  nutmeg grated
¼ tsp  ground allspice
1/2 tsp salt
300 g (3 cups) coarsely grated parsnip
80 g (1/2 cup) raisins
240 g (2 cups) wholemeal flour
2 tsp baking powder
1/2 tsp baking soda
for the glaze:
100 g (3.5oz) full-fat cream cheese
1/2 tsp vanilla extract
150-200 g (1 to 1 1/2 cups) icing sugar (powdered sugar)
water (I used a tiny bit of freshly squeezed orange juice)
*I also added the zest of one orange to the glaze
pumpkin seeds silver sprinkles are optional (I used finely chopped crystallized ginger)
Instructions:
Preheat the oven to 180oC (350oF). Prepare a large bundt pan with butter or oil (I used mini sized bundt pans).
In a large bowl whisk the eggs by hand.  Then stir in the eggs and oil . Add in the yogurt, cinnamon, ginger, nutmeg and salt.  Gently add in the grated parsnips and raisins. In a separate bowl sift the flour, baking powder, baking soda then add the flour mix to the large bowl in stages . Mix together until just combined.
Pour the batter into the prepared bundt pan then bake for 40-50 minutes until a toothpick inserted into the centre of the cake comes out clean (it was less for mine, only about 20 minutes, as the size is much smaller). Removed the cake from the oven and turn out onto a cooling rack. Make sure the cakes are completely cool before topping with the glaze.
To make the glaze:
Mix the cream cheese, sifted icing sugar ( first start with the lesser amount), vanilla extract and orange zest in a small bowl until smooth. Make sure to get out all the lumps and bumps. Add water (I used a tiny bit of orange juice) a teaspoon at a time to get a thinner consistency – you want it to be thin enough to pour but not runny.  If it's too thin, add some more icing sugar to make it thicker.
Assemble:
Pour the glaze over the cooled bundt cake. Let it drip down the sides. Once the glaze has stopped dripping but before it has completely set, sprinkle with the pumpkin seeds and silver sprinkles (or crystallized ginger).
Wow these little bundt cakes are beyond delicious.  They are super moist and satisfying. I loved the addition I used of the orange zest and the ginger, but I am sure Izy's version with pumpkin seeds would be fantastic. As someone born in American I adore all things pumpkin. I just didn't have any pumpkin seeds on hand and walking through the snow to the local shops doesn't always guarantee they will have the ingredients I need.  But I have a suspicion one of the reason Izy chose pumpkin seeds for the topping is that her mom is American. Which is cool because she posts all the recipes on her blog with both USA and UK measurements. So handy!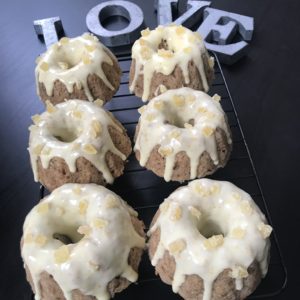 She has two successful cookery books under her belt, yet Izy is still only 21 and finishing University. She is getting a degree in Food Science in Leeds all the while maintaining one of the most popular Instagram foodie accounts in the U.K. She's even been dubbed the young Nigella.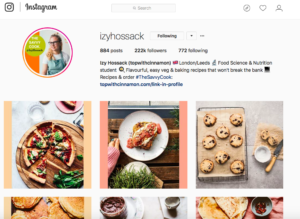 So thank you Izy for making my white Wednesday so memorable. While drinking my cuppa and eating your delicious cake, I looked outside at the gorgeous white snow falling.  I was so happy and cozy inside I had no desire to run out and build a snowman. However, I did entertain the idea of eating all the cake in one sitting!  It is that good!
Nothing Bundt LOVE,
YDP