It's hard to believe that March 1st is already here!  After 28 days and 32 Guest Bloggers sharing LOVE stories, it is time to move forward.  With full hearts of course!  It has been a most amazing experience.  I am still basking in the warmth from the touching and powerful words that were shared by these brave souls.  The reality is, LOVE is just a word until someone comes along and gives it meaning.  That is a quote from one of my fav writers, Paulo Coelho.  So thank you to the Guest Bloggers who gave so much meaning to a word that is often misunderstood.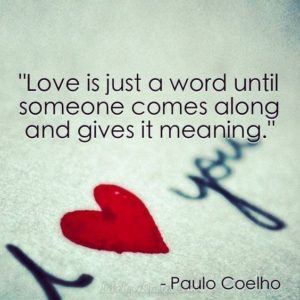 We've learned through this February journey that despite what society might think, love is more than just February 14th.  And I believe it is much more than just a month.  It is my hope these stories have inspired you like they have me.  I pray your souls have been touched and that you might want to share your own stories.  And if you already have, maybe you will want to share again.  Because as long as we are alive we can keep experiencing LOVE anew!
As I did last year, I have compiled all the guest blog posts onto one page with links for each.  I have started with the Intro post I wrote to kick off the month.  As you will see each post has the author's name (or names, as a couple posts were a mashup of LOVE stories).  As well, I  included the links to the songs I used for each Snapchat musical accompaniment reveal.  While I also daily promoted the Guest Blogger Month of LOVE series on my Instagram, Twitter and Facebook, some might not have been able to see the Snapchat video reveals.  But those who did seem to love the tone the songs set for the stories.  In fact, here is the link to last year's Guest Blogger Debrief with musical selections in case you'd like to read those LOVE stories too!  Sure, you can always have extra love in your life!
Intro for February Guest Blogger Month II
Post #1 Caterina– The Circle of LOVE for Papa & son (IZ: Somewhere Over The Rainbow)
Post #2 Ashley– Forgiveness and God's LOVE for marriage (Snow Patrol: How To Save a Life)
Post #3 Grace– LOVE in words AND deeds (Beyonce: Halo)
Post #4 Sue– LOVE of family (Bill Withers: Lean On Me)
Post #5 Kim- A furbaby's LOVE heals (Coldplay: Fix You)
Post #6 Matt– Sweet Pastry LOVE (U2: The Sweetest Thing)
Post #7 Naomi– An accidental LOVE story, literally (Dave Matthews Band: Crash Into Me)
Post #8 Nicola-LOVE for a mother gone too soon (Scala: Yellow)
Post #9 Vanessa – A 12 year old shares her LOVE for her military Grandpa (Billy Ray Cyrus: All Gave Some, Some Gave All)
Post #10 Alex Slye– LOVE's firsts, even as love ends (Glen & Marketa: Falling Slowly)
Post #11 Olivia-Overcoming MS with LOVE (George Strait: River of Love)
Post #12 Nicola– What is LOVE in poetry (Kings of Leon: Use Somebody)
Post #13 Kassandra – Autism puts a new perspective on LOVE (Laura Izabor: Mmm)
Post #14 Ava– Galentine's Day with friends has reinvented LOVE (Nat King Cole: L-O-V-E)
Post #15 April-Unconditional LOVE shows it's power (Powderfinger: My Happiness)
Post #16 Allison-LOVE in many forms, even in Grandma's message (Ben Harper: Waiting on an Angel)
Post #17 Cynthia – Baby LOVE through faith (John Hiatt:  Have a Little Faith)
Post #18 Bethany– Choose LOVE because the alternative is fear (Florence and the Machine: You Got the Love)
Post #19 Thomas– LOVE and tribute for a sister/ soul twin (One Republic: I Lived)
Post #20 Aoife – LOVE for an angel baby (Darren Hayes: I Loved You Before I Knew You)
Post #21 Nadina Iadimarco– Forever LOVE through adoption (Ben Harper: Forever)
Post #22 Janelle-LOVE of cancer to change destiny (Destiny's Child: Survivor)
Post #23 Sian Horn-No matter the pain, let LOVE win (Rachel Platten: Stand By You)
Post #24 Katie/Adrian-Two fab bloggers share an incredible perspective on LOVE (Pete Townshend: Let My Love My Open the Door)
Post #25 Cathi– Why we should speak words of LOVE (Black Eyed Peas: Where is the LOVE)
Post #26 Kerry/Paul -Two inspirational people share how LOVE has helped them overcome challenges (Celine Dion: Because You Loved Me)
Post #27 Catherine Jordan-The LOVE a mother has for her son ( Suzy Benson: I'll Be There)
Post #28 Amaris– Relationships end, LOVE sustains (Garth Brooks: If Tomorrow Never Comes)
Post #29 Eric– A dog+ a car crash+ an engagement=LOVE (Tom Cochrane: Life is a Highway)
Post #30 Eimear– Hugs and Holding Hands are LOVE's happy place (Los Lonely Boys: Heaven)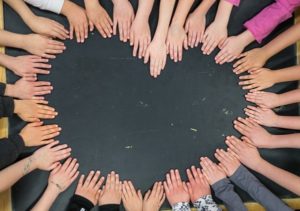 Before I close out the 2018 edition of the Guest Blogger Month of LOVE I want you to know I plan to bring this series back next year.  So if you wanted to share a story but life got in the way, no worries there will be another chance.  It is an honor for me to be trusted with these creations and I take the job seriously.  It is a lot of work, I won't lie.  But as I have said before it is a labor of LOVE!  And since my purpose in life is to spread love, by nurturing and curating this *T.E.A.M effort, my life has been enhanced.  All I ever try to do is leave footprints of LOVE.  And I hope you feel and see some of the effects of that even if small.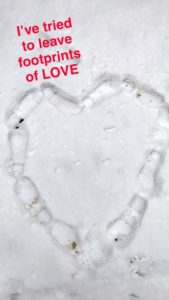 Thanks to all of you who have not only read these LOVE stories, but who have taken time to send kind comments.  It means so much to me and especially to those pouring out their souls.  You're participation is so important to this process, knowing there is an audience of folks who are interested and care.  And of course another massive thank you to each and every one of you 32 beautiful souls who shared your LOVE stories. You have made my life richer just by knowing you. Your courage to reveal the love in your hearts has surely unconsciously given others permission to do the same.  And isn't that what we desire? A more kind world where we can all speak the universal language of LOVE!  I wish every one of you, readers and writers, all the best!  And of course I send you my deepest LOVE.
YDP
**** T.E.A.M. means Together Everyone Achieves More