I feel super blessed that Yankee Doodle Paddy Guest Blogger Month of LOVE series received more submissions than days in February.  Hence this is Post #29 and it is a fun one too.  The engaging Eric, the fourth man to bravely share his story this month, has a heart pumping tail for you.  And no, that wasn't a typo.  I said tail, though it is very much like a fairy tale.  However, once you start reading you'll see there is a tail in the tale!
A Christmas Engagement
This is a crazy story about how I proposed to my wife.  To give a little back story my wife and I been together for almost 10 years and everyone including me thought it was about time we got married.  My mother gave me one of my grandmother's diamonds and I had it custom-made into a ring from this jeweler in California.  My plan was to take her to the beach in New Jersey where we used to live and propose. Then we were to go to her family's Christmas Eve party to celebrate.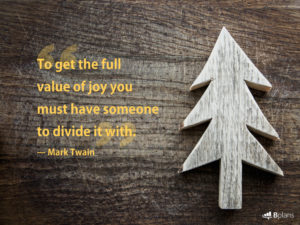 Besides my mother I only told her mother and father after asking his permission to marry his daughter over the phone.  I hatched a plan with my mother in law that she was going to come up and bring Carrie down to New Jersey.  I said I had to teach class that I couldn't get out of.  Even though in reality I was anxiously waiting for the ring to be delivered on December 23. The plan was to drive her car and our newly rescued dog down to New Jersey on Christmas Eve.
Our dog's name is Shades. We had just gotten him from my step mom's three weeks before. He had spent most of his life upstairs from my step mom stuck in a cage from an owner who never wanted him in first place and didn't take care of him properly.  We met him, we fell in love and rescued him from the awful situation that he was in.  Because he was part pit bull we found this program where he was eligible to get a rabies shot, neutered, and a micro chip inserted for a discounted price.  We wanted to make sure he was all taken care of and able to get tags so that was one of the things we did for him.  So by Christmas Eve morning everything was going according to plan. I left midmorning in Carrie's car with our newly rescued dog and the diamond engagement ring with visions of joy and love to fill my day.
Unfortunately the universe had other plans. As I was driving in New York state I saw a car accident on the other side and there was a line of cars behind it.  In an instant the traffic on my side of the road went from 60 mph to 10.  I slammed on my brakes and tried to turn the wheel to prevent hitting the car in front me.  I was not successful.  My hand actually got caught in the wheel but I was okay except for the fact I was freaking out!  I already had all sorts of nerves swirling around the day which I am sure contributed to my response.  My response was not rational because I jumped out of the car to assess the damage and to check on the people that I hit.
Since I was not fully accustomed to having a dog I wasn't paying attention to him.  Seeing I was upset I am sure he was freaking out too.  He decided that he was out of there.  I had left the door open and he jumped out and ran across the other side of the highway into the woods.  Out of the corner of my eye I saw him running across the highway.  I started running after him yelling his name.  We were both fortunate traffic was basically stopped on both sides of the highway.  People came out of their cars trying to help me find him.  Some people said they saw him go in a certain direction so I ran up there but he was gone!
Not able to find him and realizing that I had just fled the scene of an accident that technically I caused I walked back to where the accident happened.  By that time there were police, ambulance, and firemen and they were tending to the people that I hit.  The people seemed to be okay.  They ask me what happened and if I needed medical attention.  I refused medical attention because all I could think about was that I lost my dog, I just crashed my Carrie's car, and I ruined Christmas!  The police assured me that they were looking for my dog.  I wanted to go find him but they wouldn't let me.  I had to go with the tow truck back to their station.  And at this point I had to call my wife and tell her what happened.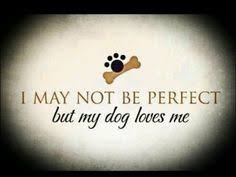 I also spoke to my stepmom and some other family and friends. I was so distraught not knowing what to do.  I could handle the accident and ruining of my day, but losing my dog was devastating.  As I am crying in the waiting room one of the workers says "what is wrong?".  I told him what happened and he had no idea that I lost my dog after the accident.  He told me he knew right where he ran to and that he could take me there while I waited for my family to come pick me up.  So we went to the neighborhood next to the highway.  We drove around as I was calling his name.  But we couldn't find him.  He had to get back to work but I said leave me there. "I'm going to make sure I find him before my family comes for me" I said. He was like "Are you sure, how are they going to find you?".  I told him my cellphone was fully charged and I just had to find my dog.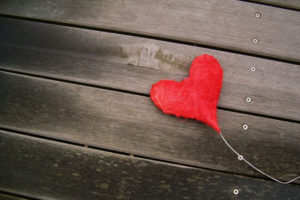 So I proceeded to walk up and down the streets knocking on people's doors asking them if they had seen my dog.  And there were people that said yes they saw a dog running.  I went up to a horse farm and the guy said "Oh yeah I saw something that looked like a deer and it was running that way".  Since my dog is rust colored and could look like a small deer running fast, I knew he was around there somewhere.  I kept calling his name and walking everywhere I could but couldn't find him.  At one point I saw woman walking a dog that looked like mine.  I got all excited as I came close but realized it wasn't my dog.  I probably looked pretty distraught to her.  I told her briefly what happened and simply said if you see a dog that looks like your dog call me.  Even though I forgot to give her my number and in my agitated state I just walked away to continue my frantic search.
I eventually met up with my family.  My wife and mother in law came from New Jersey and my stepmom and family came from Connecticut.  My step mom brought Shade's sister hoping that she could maybe find his scent.  We trounced all over the woods together till sunset still not able to find our dog. We reluctantly had to leave to go home.  Some of us going to New Jersey and some back to Connecticut.  I grabbed all the important stuff out of the damaged car including the engagement ring (without her knowing) and we made the trip.  What was supposed to be the best Christmas Eve ever became the worst.  We didn't sleep much that night, constantly checking the phone and trying to figure out what we were going to do.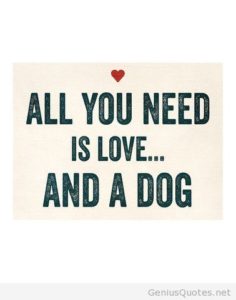 In the morning we got a phone call from the state police of New York. They told us that they found our dog but he was not alive.  I literally lost it in that moment!  The police woman was so rude.  Because after that statement she said "Your dog's name is Joe right? He's white with black spots?" We all were like are you kidding me?  You probably should of led with that information. So basically they made our day worse.  After getting off the phone we all said a prayer for Joe and his family because they did lose their dog that day. Fortunately for us we did not have the same fate.
About an hour later we got a call from the microchip company saying we found your dog!!!  He just so happened to find the women who had a dog that looked like him that I told her to call me if she found him!  I am sure he had a horrible night.  While we like to say he was helping Santa deliver presents, in reality he was was trying to find shelter, stay warm, and find something to eat.  She found him in her backyard in the morning with his paws all cut up and shivering.  Somehow she got him to come inside. At that moment he was fed, warm and comfortable and we were so grateful!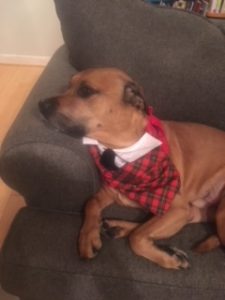 I called my stepmom and she decided to pack up the family and go pick up our dog Shade in New York and bring him down to New Jersey.  It was a Christmas miracle!  We were so lucky to be reunited with our dog.  Our bond with him was officially formed on that day and he has lived a healthy and happy life since then.  We collapsed the rest of the day on Christmas.  The morning after I decided you never know what's going to happen in life and maybe after all this it's worth a shot to see if she will still marry me!  So I surprised her by getting down on one knee and her first words were "you have got to be kidding me!"
She did eventually say yes AND I do. Fortunately for me even after all of that I was able to marry the love of my life and we still have the best dog by our side!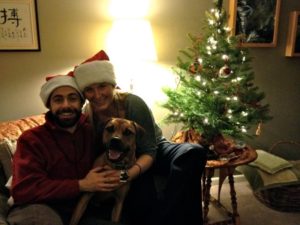 OMG Eric, that is some LOVE story! I literally visualized every aspect of this adventure as you told it. Thank you for sharing and I'm so glad it is a happily ever after for all three of you.  Also I want to thank Kimberly, a fellow Guest Blogger, for being a connector so you could honor the pages of Yankee Doodle Paddy.  This month wouldn't have been complete without your awesome story.  And my pittie Stella sends Shades some doggie LOVE too!
Adventurous LOVE,
YDP
PS. Speaking of adventures, Eric has just joined Snapchat. His username is @earthwalker11   (and the snapcode is below) if you'd like to sign on and take the adventure with him!