It is May 2nd, which means we are getting closer to the halfway point of 2018.  What is even more exciting is that today is Woman Crush Wednesday episode number 92!  Inching nearer to 100 each week.  It means so much to me that you have all been so supportive of this special day to honor these fabulous female foodies!  And today's WCW chef is Londoner Natasha Corrett
New mommy Natasha is one of the leading vegetarian chefs in the U.K. She has numerous successful cookbooks and a popular blog called Honestly Healthy . Tash, as she is called, is credited with bringing vegetarian eating into the mainstream here in England. Setting up a food business making and delivering healthy meals to eager customers around London each day might have been a daunting task for some but not Natasha!  She grew up around fine dining so it is no surprise cooking as a profession became her path.  However it was only after some health struggles that she found a new approach to using food as a way to improve her quality of life. She has now been catapulted into super star status as a certifiable brand in and of herself, with a plethora of celebs looking to her for guidance on "clean eating."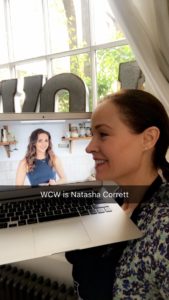 One of the biggest aspects of her regime is to cook and bake without refined sugar. So for today's cooking tutorial I am going to re-create Natasha's Lemon and Poppy Seed Almond Cake.  If you know me, you know I like my sweets.  I've never tried this recipe before but I am eager to give it a go. I"ll be sharing the process on my Snapchat account (username blissbakery) if you'd like to follow along!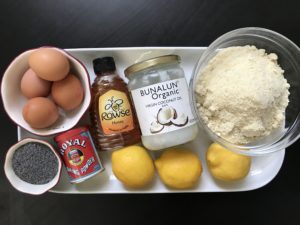 Ingredients:
4 eggs
60 g (2 and 1/2 oz/ scant 1/4 cup) honey
200 g (7 oz/generous 3/4 cup) vegan butter, plus extra for greasing
250 g (8 oz/2 cups) ground almonds
1 tsp baking powder
Finely grated zest and juice of 3 small or 2 large lemons
2 Tbsp poppy seeds
Instructions:
Preheat the oven to 160c/325F/gas mark 3.
Whisk the eggs and honey together in a bowl.
Mix the butter and ground almonds thoroughly in a separate bowl, then gradually stir in the egg mixture until smooth.
Add the baking powder and the lemon zest and juice and mix thoroughly.  Then stir in the poppy seeds.
Pour the mixture into a greased 20-25 cm (8-10in) springform cake tin and bake for 30 minutes, until golden.  Cover the top with foil if it starts to brown to quickly.  The cake is cooked when the top feels springy when you press it gently or the tip of a sharp knife or skewer inserted into the center of the cake comes out clean.
Cool on a wire rack.
I decided to make mine into cupcake sized treats. I also topped each of them with some whipped coconut cream flecked with lemon zest, and a raspberry! Also, I couldn't find vegan butter anywhere near my home. So I just used coconut oil. However, I only discovered that it is possible to make homemade vegan butter. The only reason I didn't do it for the tutorial is that I didn't have enough time.  But I will definitely try it next time I make this absolutely gorgeous mouthful of goodness!  I am really impressed with the taste, texture and simplicity of this recipe.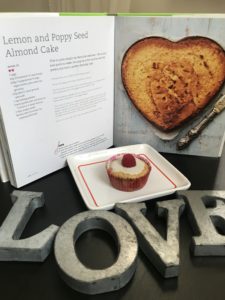 I have a tremendous amount of respect for Natasha and all she has accomplished in her young life. She is passionate about good food and about teaching others how to incorporate fresh fruits and vegetables into their daily meals. Her big emphasis is on cooking from scratch and not letting food go to waste. She teaches people how to use each part of their vegetables and not leave any behind in the fridge to spoil. "Not enough time to cook" is an excuse Natasha would surely like to squash if she had her way!  And for good reason. Her enthusiasm for a healthy life style is infectious and if anyone can continue to make a positive difference in the lives of others it is her!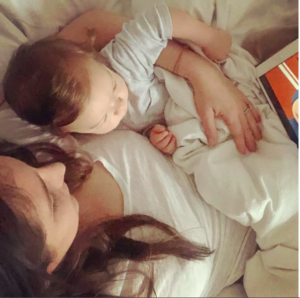 But the most important life making a difference in her midst is that of her little son Rudy. And while I admire Natasha for her culinary queen status, it is her devotion to her son that really makes me warm inside. I know how important these early years are and I don't have any regrets about the time I devoted to my own children. So well done to you Tash, a true yummy mummy! I hope you and your hubby enjoy these precious moments. Trust me, they go so quickly!
Lemony seed LOVE,
YDP