WCW oh how I've missed you!  It is great to be back after a bit of a break, to honor Woman Crush Wednesday recipient #94!  Today's fabulous female chef is the amazing Amanda Cohen of the famous Dirt Candy in New York City. This groundbreaking restaurant has set the bar for innovative and delicious veggie food! With scorching temperatures in London this week, I am looking forward to a quick, healthy recipe that doesn't require turning on my oven! HELP Amanda!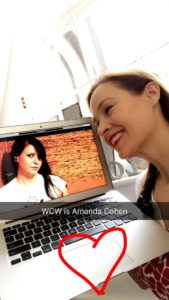 While I was recently in New York, I had to forget about getting a reservation at the popular Dirt Candy any time soon. Though it is on my bucket list for sure. I am known for craving vegetables at all times, while still eating animal protein. Amanda, who is originally from Toronto, became a vegetarian in her teens. And her quest to find decent and flavorful veggie dishes on offer in restaurants compelled her to create her own. After formal training and stints at some well known NY eateries helped hone her craft, she opened Dirty Candy back in 2008. It's on every magazine and food critic's "best lists" and deservedly so.  I really admire Amanda's ethos of not allowing tipping for her wait staff. She pays them a fair wage and the diner just pays a little extra for the food as gratuity is built into the price. Talk about a Gorgeous Girl Boss!

Since I am super hungry just thinking about this dish of Amanda's that I will recreate live on Snapchat (username blissbakery) I'd better get cracking on it! The star of the recipe is the often forgotten zucchini (or courgette as it is called over here on the other side of the pond). And with the help of my spiralizer I am looking forward to the Zucchini Noodles with Garlicky Sauce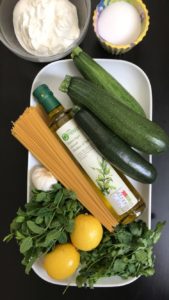 Ingredients:
4 large zucchini, divided
5 Tbsp (74 ml) extra-virgin olive oil, divided
1 1/2 Cups (368 g) labneh (ultra-strained yogurt)
may substitute plain Greek yogurt
1/4 Cup (5 g) cilantro (aka coriander), minced
1/4 Cup (5 g) mint, minced plus an extra sprig or two for garnish
8 oz (226 g) angel hair pasta
2 Tbsp (15 ml) lemon juice, preferably fresh, and some lemon zest
Instructions:
1. 
 Cut 1 zucchini into ¼-inch rounds, place in a bowl, and toss with 1 tablespoon olive oil and a pinch of salt. Heat a grill pan to medium-high; cook zucchini until there's a slight char on either side. Set aside.
2. 
 Trim the ends off the remaining zucchinis, cut them in half vertically, and use a spiralizer to make long ribbons, yielding 8 cups of zucchini "noodles." Set aside.
3. Make the 
Sauce: In a skillet over medium heat, add remaining 4 tablespoons of olive oil and the garlic. Once the garlic is fragrant (about 1 minute), turn the heat to low. Add the labneh (or Greek Yogurt if using) and water; stir slowly, incorporating everything thoroughly. Season with a few pinches of salt, and allow mixture to slowly cook. Chop herbs and set aside.
Meanwhile, cook the pasta in salted, boiling water to al dente (should take less than 3 minutes). Drain and add to the sauce, along with the zucchini noodles and chopped herbs; salt to taste. Mix well so the zucchini noodles and pasta are evenly sauced.
4. 
Assemble the dish: Add the zucchini and pasta noodles to a serving dish; arrange the grilled zucchini slices around the edge. Finish with lemon juice, a bit of salt, and a mint sprig or two. Serve immediately.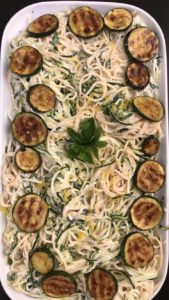 Wow this is so delicious and very simple. I love how Amanda pairs flavors that just WORK! The tangy yogurt with the brightness of the lemon and herbs really give the zucchini a lift as it can be a veg that is very neutral. And I really love using the grilled zucchini discs to add a whole other dimension to it yet complimenting it perfectly. I really needed this meal today! Now, I didn't eat the whole thing by myself! Hubby is on his way home to have some too. I'm hoping there are leftovers for tomorrow too!
Besides being an amazing chef and restauranteur, Amanda is an outspoken advocate for
equality for females
in the culinary world. My kinda gal!  She serves on the board of the
WCR
(Women Chefs & Restauranteurs) and has a totally awesome
cookbook/comic book
.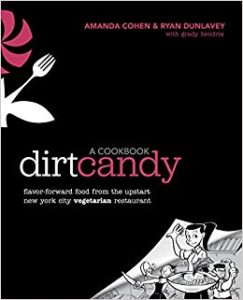 Thank you Amanda for all you do in the culinary world and for all the foodie inspiration!
Veggie LOVE,
YDP