Today is Labor Day in the U.S.A.  Though I have lived away from America since 2008 I am still keenly aware of all the holidays and traditions that go with it. I miss my family full stop! Thank goodness for FaceTime and especially trips home. But my visits back don't always coincide with certain holidays and I actually pine for the many activities associated with them.  Okay let's face it I mainly miss the food associated with the holidays. And to me Labor Day means the end of summer and eating things such as BBQ, pulled pork sandwiches, salads galore, and some gooey, naughty treat!  While I won't be able to do that today, I did get to recreate an early Labor Day meal recently at the incredible Outsider Tart here in London.
I took my Snapchat friends with me on a Foodie Fieldtrip Friday and snapped loads of photos and video of the darling bakery/cafe  Outsider Tart located in Chiswick, just west of London. I had been to the picturesque town once before for the Chinese Lantern Festival in Chiswick Gardens and I wrote about it on here. I didn't see much of the village then as it was pouring rain on the night. But I am so glad I went back for this foodie adventure! I took the train out there and was greeted by a gorgeous flower stand at train station.  It was only a few minutes walk through the tree lined village to the Outsider Tart.
The first thing I noticed and fell in love with was the decor of The Outsider Tart.  Inside and out, it was funky, eclectic and very Americana! There were colorful tables and chairs for dining al fresco and I really loved the signage. The hand whisk for one of the letters was 3-D!
It was quiet, not too many customers, as it was after the lunch rush. But I can only imagine the "queue" on the weekends for their amazing brunch.  I was drooling looking at the menu.  I was in the mood for something that would remind me of home. Since the owners are from America, and the decor and menu are an ode to all things red, white and blue, I came to the right spot.
I ordered their pulled pork sandwich and loved every moist and flavorful morsel. Cooked low and slow for hours it even has its own homemade barbecue sauce.   It came with a side of macaroni salad (imagine me saying this with my Chicago twang).  I am not embarrassed to say I ate everything on my plate, bar a couple bits of the bun. Don't get me wrong it was the most delicious white brioche bun ever, but I was so full. And to be honest I had my eye on a sweet treat, so had to save some room!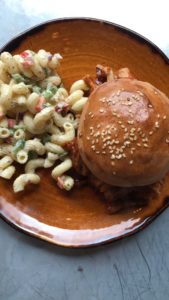 Outsider Tart is famous for their baked goods… cookies, cakes and  "tray bakes" in particular. Every inventive combo sounded as good as the next.
But once I heard the words "peanut butter" I was sold! The bonanza sized fudge brownie slice was baked with a layer of peanut butter cookie and dotted with peanut M&Ms!  It was all I could do to save a bit for Hubby! I wanted to inhale the whole thing!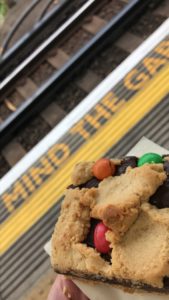 It was so delicious and homemade. This bakery has a reputation for the best homestyle baking for a reason. I only wished I hadn't waited so long to go! I've been wanting to visit for ages but it is quite far from where I live. But I am so glad I finally went and can't wait to go again soon. Now that I know they also carry hard to find "American style" products such as pumpkin puree in a can, I will be a frequent flyer to Chiswick! I might even catch them at the several markets around London such as Kings Cross.
I had the pleasure of meeting one of the owners, David  Muniz. It was like a reunion even though I didn't actually know him. I guess "ex-pats" have that draw to one another when they are away from home. And it turns out we both know Rachel Allen. She was not only one of my Woman Crush Wednesday honorees, she was also my teacher at Ballymaloe Cookery School! And she wrote the forward to the Outsider Tart cookbook Baked in America!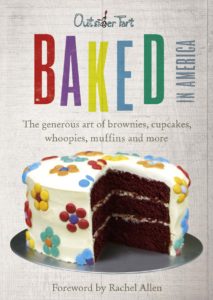 David totally endeared himself to me when I saw that Outsider Tart had contributed a recipe to the Bake for Syria book. This charitable book was curated by another of my Woman Crush Wednesday recipients the amazing Lily Vanilli.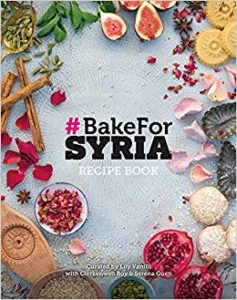 I thoroughly enjoyed my visit and hope that next time Hubby can join me. And I'd love to meet the other owner, also named David (Lesniak). They are both a true inspiration. Two guys from America who were working in the corporate world and left to follow their passion, and their sweet tooth. Lucky for all of us! They really are the epitome of their brand slogan, "Authentic American Soul Food".  Keep up the fab work guys!   I'll be watching on Instagram and Twitter until we see each other again.
Stars, Stripes and LOVE,
YDP