Did you ever hear of that popular band from the 90's called Smashing Pumpkins?  I actually saw them in concert.  I took my then ten year old son to see them.  In fact as I have mentioned on here before, I have taken my kids to many a music concert. Great memories!  What is not a great memory is the time I once smashed a pumpkin. Maybe I learned about food fights from my parents.  But it was during a time my ex husband and I were estranged.  I had already found out about his numerous infidelities and though he wasn't living in the house with us at the time, he and I had an argument outside the back door. The kids were asleep and I was holding back emotion so as not to waken them.  As well it was the night before Halloween and I wanted to make sure they were well rested.  When the ex finally left, I went over to a pumpkin that I had carved (luckily not anywhere near the ones the kids had carved) and picked it up and totally smashed it to smithereens.  If you read yesterday's post you know how much I love my pumpkins.  And I am all about peace and harmony.  I avoid conflict at every turn. But I have to say, I felt such a sense of release and relief by letting that thing fly and come crashing down to obliteration! It was therapeutic I guess you could say.
Though I cleaned it all up, also a therapeutic part of the process, the next morning my son noticed a few remnants strewn about the driveway. I had to be honest and admitted to him what I had done, but not the details of the fight.  But he laughed which put me more at ease. Then I laughed too thinking about how it was quite literally a smashing pumpkin affair.
Well, enough about that, now on to why you are really here.  For a recipe!  And this one is quite possible the best tasting surprise you will eat.  It is perfect before a night out trick or treating, and it super easy to make.  If you can't find the pumpkin puree in the tin/can then you can make it yourself while you are still able to find pumpkins in the shops.  Here is a link on how to roast them.  Otherwise, butternut squash is usually available all year and you can substitute that as well. This is a super recipe to make up for a festive buffet as the colors are on point for Autumn…so BOO-tiful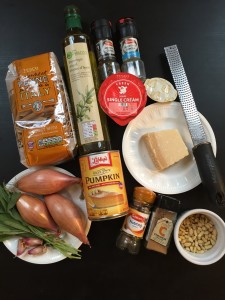 Pumpkin Pasta
Serves 6
1 lb whole wheat penne pasta (or gluten free if you desire)
1 tin (15 OZ) pumpkin puree
3 shallots, peeled and finely chopped
3-4 cloves of fresh garlic, peeled and grated
2 Tbsp Extra virgin olive oil
½ cup cream (can use a non dairy substitute if you prefer)
2 cups (16 oz) chicken stock (can use veg stock if you want it to be a veggie dish)
1 tsp hot sauce, to taste if you like a bit of heat
Freshly grated nutmeg, to taste
2 pinches ground cinnamon
Freshly grated Parmigiano-Reggiano to taste
7-8 leaves of fresh sage, thinly sliced, plus more for garnish
1/2 cup toasted pine nuts (if desired)
1/2 cup cooked and crumbled parma ham (if desired) for garnish
Sea Salt/Freshly Ground Pepper to taste
Instructions:
On the stove top bring a large pot of salted water to the boil and cook pasta according to package instructions, until al dente, then drain out the water, reserving some of the liquid. You may or may not need it to thin out your sauce if it is too thick.
For the sauce, in a large skillet, heat olive oil over medium heat. Cook shallots and garlic until soft, about 3 mins. Add the chicken stock along with the pumpkin. Stir and then add the cream. Season the sauce to taste with the hot sauce, nutmeg, cinnamon and salt/pepper. Reduce heat to medium low and simmer for 5-6 mins or until the sauce thickens a bit.
To serve, toss the pasta with the sauce. Add the sliced sage and grated cheese. Top with a pine nuts and parma ham (if using) and a sage leaf for garnish!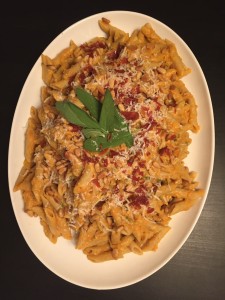 Keep in mind that pumpkin is super healthy and can and should be eaten all year long.  Not just around Halloween!  It is loaded with fiber (great for digestion) and packed with vitamins such as vitamin A, which super charges your vision.  Helpful when you are out trick-or-treating on that spooky 31st night!
Love all you little pumpkins!
YDP
P.S. So what are you waiting for? Make it TONIGHT!