Back again for another installment of Woman Crush Wednesday and I couldn't be more excited.  It is scorching here in London and while cooking may be the last thing on people's minds, it's the first thing on mine.  That and spreading the LOVE for another culinary queen!  In keeping with my ABC of YDP mantra, I will balance things out with a healthy, light and nutritious recipe today. Because sometimes I admit I do tutorials for things a bit naughtier and decadent.  In fact, today I'm going to do two awesome recipes!  I will demo them live on Snapchat (my username is blissbakery) and of course share the photos on here as well.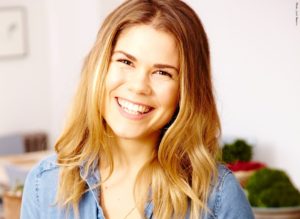 Since one of these recipes is called "life changing" by the incredible chef Madeleine Shaw, this week's Woman Crush Wednesday, I am eager to get cracking on it. And I will share all sorts of amazing information about this gorgeous gourmet gal who quite literally glows!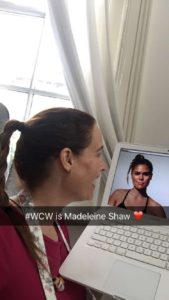 Life Changing Spicy Tomato Soup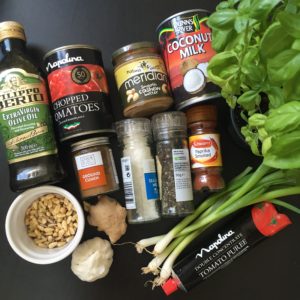 Ingredients:
1 Tbsp olive oil
4 spring onions, finely chopped
2 garlic cloves, crushed
1 Tbsp freshly grated ginger
1 tsp smoked paprika
1 tsp ground cumin
2 Tbsp almond butter
400 g (15 oz) can chopped tomatoes
400 ml (15 oz) can coconut milk (or veg stock)
3 Tbsp tomato puree (called tomato paste in the U.S.)
Fresh herbs and seeds, to serve
Salt and freshly ground pepper to taste
Instructions:
Place all the ingredients in the blender and blend for a minute until smooth. Add a big pinch of salt and pepper, blend again then tasted and add more seasoning if needed.
Serve cold in bowls topped with fresh herbs and seeds. Here, I have used freshly torn basil, a few extra chopped spring onion and pumpkin seeds, but freshly chopped coriander works well.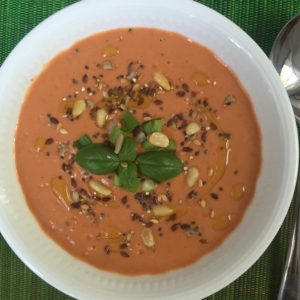 This soup is so delicious and light. Yet it is also very filling and satisfying. I am amazed at how easy it is to make. In her book Madeleine says the soup keeps for several days in the fridge, but around here it wouldn't last that long. I love the thickness of it and while I am not normally a fan of cold soups, this one has totally changed my mind. It is delectable! But what does one have with their soup? Bread of course. Which is why I just had to give this next recipe a go, even if it was hot as blazes in the house. My poor doggie was thinking I was nuts to turn on the oven!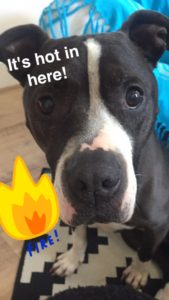 Spinach Bread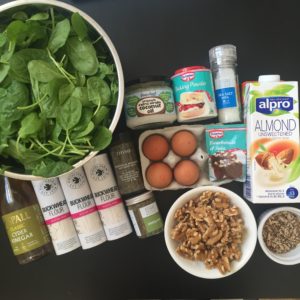 Ingredients:
600 g spinach
375 g (13.2 oz) buckwheat flour
1 tsp salt
2 tsp dried oregano
2 tsp dried thyme
2 tsp baking powder
1/4 tsp bicarbonate of soda (also called bread soda in Ireland or baking soda in the U.S.)
4 eggs
4 Tbps almond or rice milk
1 ½ Tbsp apple cider vinegar
100 g (3.5 oz)  coconut oil
150 g walnuts, roughly chopped
Sesame seeds and pumpkin seeds for sprinkling
Freshly ground black pepper, to taste
Instructions:
Preheat the oven to 160c/325 f/gas mark 3
Line a 450 g loaf tin with baking paper
Boil the kettle, place the spinach in a colander and pour over the boiling water until the spinach starts to wilt. Leave to drain and cool.
In a large bowl, mix the flour, salt, oregano, thyme, baking powder, bicarbonate of soda together with a good grind of pepper.
In a food processor, blitz the wilted spinach with the eggs, milk, vinegar and coconut oil until smooth but not foamy. Throw in the walnuts and blitz again so they get slightly broken down.
Pour the wet mixture into the dry, stirring well until fully combined. Transfer the mixture to the loaf tin, top it with seeds and bake for 1 hour until cooked through. Leave to cool in the tin, then turn out onto a wire rack to cool completely.
This keeps in the fridge for a week, or you can freeze it for 1 month.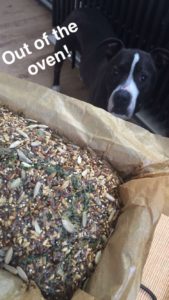 I am so glad I suffered a little heat stroke to make this bread. Just kidding no heat stroke! This is the nicest bread I have ever made! Not only did it compliment the soup perfectly, but I know I will enjoy it for breakfast with my poached eggs. And because it is made with buckwheat flour it doesn't feel stodgy like some breads. Most people don't realize buckwheat isn't related to wheat at all. It is totally gluten free and has a lovely nutty almost sweet flavor.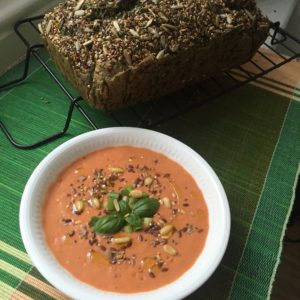 Madeleine is a massive star in the foodie world with two successful cookery books and a well known blog.  She is a social media darling with nearly a quarter of a million followers on Instagram, over fifty thousand on Twitter, and over twenty four thousand likes on Facebook.  Her youtube Vlogs are fantastic as well and I love her accent (though she would say I am the one with the accent).  Her popularity isn't just because of her pretty face, she is an inspiration for healthy living.  In fact her aim is to "enliven the hottest, happiest and healthiest you". Besides being a chef, she is a health coach who is a yoga devote. And currently completing a degree in Naturopathic Nutrition is a massive accomplishment.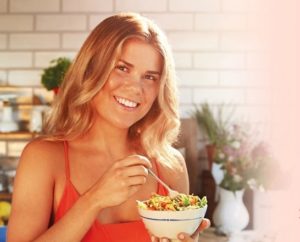 This Londoner spent time in Australia which is when her rebirth to cleaner living transpired. Her new philosophy on all aspects of life helped her overcome some physical ailments such as IBS (Irritable Bowl Syndrome). Lucky for us, her quest for the glow isn't something she has kept to herself. She shares recipes, advice, tips on everything from mindfulness to fashion. She really is a beauty inside and out! As I said earlier, a gourmet glowing gal!
Thanks Madeleine for all you do to help promote wellness! You're making a positive difference in the lives of others by generously revealing your knowledge and personal experience with eating wholesome unprocessed foods.  Not to mention the fact that your recipes are stunning too! You're a star!
Glowing LOVE,
YDP