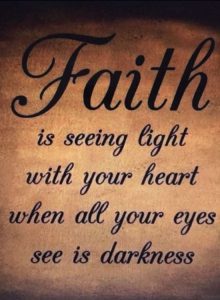 Welcome back to day two of my Africa "tripidation" reflection.  It was the trip which gave me much trepidation.  However, with an open heart I entered, and boy did it get filled!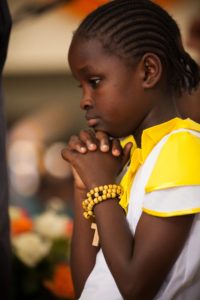 Faith is a word that conjures up so many heated emotions, because let's face it, there is an undercurrent of religion inherent in it.  However, from my experience in Dandora, one of the largest slums in Nairobi, Kenya, there is amazingly a great amount of tolerance.  When our group of 28 broke up into smaller groups for  home visits with the local people, I saw first hand that tolerance in action.  We were hosted by a lovely woman and several of her family and friends. It was a small two room home (which to some would be referred to as a shack) but it was filled with LOVE and she was so honored to have us as guests and her table was filled with snacks and drinks for us. One of the first things I noticed was that her walls were decorated with religious imagery.  The Blessed Virgin Mary, The Holy Family and the Sacred Heart of Jesus all present and accounted for. Clearly a Catholic home.  It reminded me of so many homes belonging to the older generation I've seen throughout Ireland.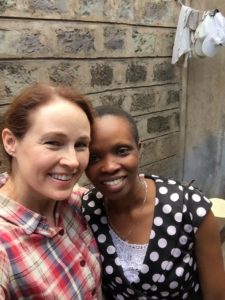 Though her home was tucked in off a crowded dirt road nestled amongst other similar homes, you could still hear the dull buzzing of the outside world in which they lived.  At one stage I was able to recognize the sound of the Muslim call to prayer. It overpowered everything else and our conversation halted.  I point blank asked if this bothered her. And she looked me straight in the eye and smiled gently and said, "No why would it? It is just like our own church bells".
Some may think that with little resources to go around some may be unwelcoming to "strangers" from other nations and religions.  But the people I met in Dandora are not, as they have faith. This faith is what drives them to wake each day and walk sometimes 2 hours to work.  It moves them to help one another, including those of different religions and races.  It fuels them to journey to church each Sunday and spend their entire day worshipping and celebrating.  But interestingly enough, even on the day of the dedication of the new church, where the mass service lasted over 5 hours, the place was packed!  The people poured out into the courtyard.  I must admit it was such a wonderful service that those 5  hours actually flew by!
These wonderful people of Dandora have faith that is steadfast, passionate and tolerant. The faith I experienced being with them was vibrant!  They worship from the tops of their heads to the bottoms of their feet. Their faith is also very reverent and respectful.  It is such an inspiration to me, still, to have a continued commitment to one's faith.  Even when we can't see it.
There is a great chant that Father Andrew, the pastor of the Holy Cross church there says at each service. It is a call and response and goes like this:
Fr. Andrew: God is good all the time
Congregation: All the time God is good
Together: And that is His nature, WOW!
In fact this chant is very personal to my Hubby and me.  We've been saying it for nearly ten years now since he taught it to us.  Father Andrew was in Los Angeles for our wedding in 2007. And ten days later just before my Hubby had brain surgery for a tumor, Father Andrew gave him the anointing of the sick. While some, including those in our family, had doubts about the outcome of the surgery, we had faith. When after a nine hour surgery I first saw Hubby in the ICU recovery he was resting.  I held his hand and whispered, "God is good all the time." And my Hubby whispered back, "All the time God is good" and we said together, "And that is His nature, WOW"
It is amazing what we can do through faith, what we can endure through faith, and what awaits those with faith.  I'll end now with some photos my Hubby took during our amazing and totally unforgettable time in Africa!
Faithfully LOVING you,
YDP