Okay,  so you're probably thinking, what is this for a blog post title?  First off, I won't be in the kitchen today so there is no "recipe" in front of the title.  Second,  I chose this funny title for the post because I just wanted to show how far I have come in the "tech" world.  I now know all about hashtags (#)!  And this one has to be one of my all time favs!  It is an acronym for Random Act of Kindness.  And if you have been under a rock for the past few years I'll break it down for you.
Random:  made, or occurring without definite aim, reason, or pattern
Act: thing to do or be done; deed; performance
Kindness:  to be considerate, helpful, benevolent
By themselves, the definitions don't really say much.  However joined together they are words that become a phrase that become a life changing event.  In essence this ground swell societal movement has been one of the most wonderful things I have witnessed in my time on earth.  And with the 'plague like' permeation of social media, even to the far reaches of the globe,  the movement has been supercharged!  Though I'm  a late joiner to snapchatown, twitterlands, and instgramville this is my kind of social media phenomenon.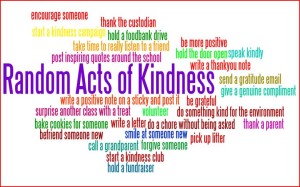 I have been practicing this philosophy of giving to others since I was a child.  It is one of my purposes in life, to do for others.  And the more spontaneous the better.  It can be as simple as putting money in someone's parking meter before it expires.  Though parking wardens (police) are figuring out ways to stop that by installing new high falutin parking meters.  But still, you can help someone in other ways like opening a shop door if their hands are full, giving a homeless person a hot cup of coffee and a scone, visiting a senior center and spending time just having a chat, or simply smiling and looking in the eyes at the person at the supermarket check out . Ultimately, it is about heartfelt human interaction.
While I have done all of those things, there are a couple of memories I have of helping others, strangers, without any strings attached, that have left my heart full long after the act was done.  The first time was when I was  in college.  On day one of an early American history course the professor announced he needed a volunteer to take notes for one of the students. She was hearing impaired, but had a sign language interpreter there to relay the professor's lecture.   She couldn't take notes because she had to stay focused on the interpreter.  I wanted to raise my hand but I was nervous to volunteer because of my limited computer skills.  It meant I would not only have to type up the notes, which wouldn't have been too bad, but I had to send them as an attachment through email. Yikes!   Thank God my son, who was in high school at the time, had just taught me how to email an attachment!  In spite of my reluctance I decided to do it because it wasn't about me and my lame lack of computer savvy, she was the one who really needed help.  So I did this every lecture, twice a week for an entire sixteen week semester.  Then the following year, I happen to have her brother in another class and as he was also hearing impaired I offered to do the same for him. Though I never saw them again, I still have their sweet email responses from all the times I sent the notes.  And I didn't get extra credit from the teacher, mind you.  But I sure knew the class material super well!  And that helped with my grades!
Another time was when I went to church one day for some quiet prayer.  It wasn't my normal parish church, but when I passed it I was compelled to go in.  Once inside I noticed only one other person there.  A woman was up near the sanctuary praying very fervently and though her back was to me I could actually hear her tears.  When she finally came down to sit in the pew, just the two of us alone in this church, I asked her if she was okay.  We began a lovely and tender conversation.  She was a widowed mom of six children and all of them were back in her home country of Tahiti.  She couldn't support them on her wages as a hotel housekeeper there, so she moved to America to help care for an elderly woman.  Her kids were being looked after by her own mother and sisters, and through sending money, they were able to attend schools and were doing fine.  But she missed them so much.  Talking to them once a week and a text here and there just didn't provide the physical needs a mother has for her children.  She hadn't been home since she left eight years earlier and prayed that her eldest daughter, old enough now to travel, could come visit her.
I was crying listening to her story.  As a mom myself, I could relate to that feeling of desperately wanting to touch your kids and hug them.  I was overwhelmed with emotion and offered to help by giving her airline miles to fly her daughter over to LA.  If you can only imagine her response!  I think the folks driving by on the street with their windows up could have heard her!  I went home and started to book things, and then realized I didn't have enough miles to cover the flight.  But I didn't want to let her down, and so I actually paid for the ticket myself.  I knew in my heart from experience that money comes and money goes, but the joy that she would experience by being with her daughter would last in her heart forever!
She insisted  I meet her daughter when she visited.  A lovely girl who brought me little souvenirs.  We went to mass a couple of times and had a meal or two together.  Not long after we moved to Ireland.  I have never seen her again.  But every so often I get a text from her thanking me.  Or an email from her daughter thanking me.  And I thank God that, though it was a stretch for me financially,  I was able to help her.
I suppose an aspect of this challenge is that, it is a challenge. It could be monetary, or physical, or maybe going outside your comfort zone by talking with a stranger and sharing a smile is enough.  But when you do these things, the goodness comes back.  Not that you do them for any gain at all, but it is inevitable.
Even science confirms that being kind is good for your health!  The Irish Times just today has an article about the research findings.   And though kindness is contagious, it isn't lethal!  They even have a #Raktivist group if you are so inclined!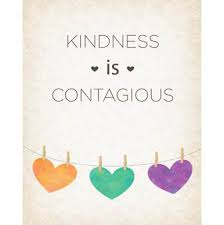 While I love to do these acts of kindness myself as I said, I absolutely adore witnessing them. Last year in response to the wave of deadly dares on Facebook, the RAK challenge became a trend.  One night while working in the shop, a lady was about to buy food for her dinner, when another customer came up to the cash register/till and said, "Here's my credit card, I'd like to pay for her."  I think the lady was in a state of shock (as you can see by the picture) and I was so excited I almost burst into tears myself.  The lady who paid for the food shared that the night before someone had paid for her petrol/gas (which was about 60 euro) and the only caveat was that she had to do a random act of kindness within 24 hours.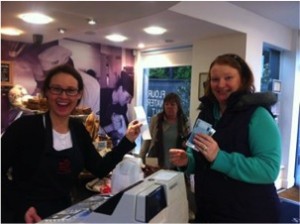 I am inspired by some of my new Snapchat friends that are going out of their comfort zones to make a positive difference.  Fashion illustrator Holly Shortall is on a ferry as I write this heading to Calais, France to lend help with the Refugee crisis.  And Katrina Kelly is incorporating her give away Freebie Friday with a contest for her followers to do a random act of kindness and then snap it.
If this Random Act of Kindness movement had a theme song it would have to be Magic Penny.  It was one of my favorite songs to sing for my kids when they were little. The lyrics are:   
"Love is something if you give it away, give it away, give it away Love is something if you give it away, you end up having more. It's just like a magic penny. Hold it tight and you won't have any. Lend it, spend it and you'll have so many They'll roll all over the floor. For Love is something if you give it away, give it away, give it away Love is something if you give it away, you end up having more"
My hope is that you will make time in your day to spread the love!  And trust me you'll end up having more!
Here's to Random Acts of Kindness and love!
YDP
ps. Though I told Katrina I was exempting myself from her competition (I won another one of her Freebie Fridays a couple of weeks ago) I still wanted to do some #RAK.  So I shared some of my baked goods with several appreciative folks.  But the best was when I brought these roses to a local daycare/creche.  The teachers there were in shock that here was I, some strange Yankee Doodle Paddy lady, who just wanted to thank them for taking care of our most precious asset in this world, the children.