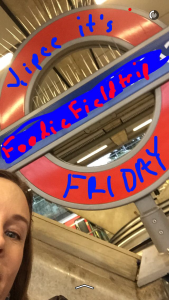 So Yankee Doodle Paddy (that's me) took the Tube to F -cubed (Foodie Fieldtrip Friday) and once again brought along her snapchat friends for the fun.  It's a pity the snapchat story disappears in 24 hours.  It would be great to continue to visually digest all the amazing places we visited along the way.  But I will recap the adventures for you and provide links to the various restaurants and famous places we explored.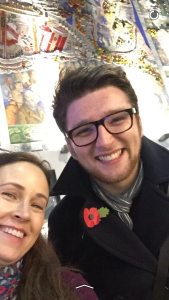 Eating London Food Tours put together a Twilight walking tour around the infamous Soho part of London.  Having been on another of their tours, around the East End during a busy Friday morning, I had no doubt that this tour on a Friday evening would be just as delicious and informative.  And I was 100% correct!  It was so incredible in fact that I want to go again as soon as possible and take along Hubby.  Although I am the foodie in the family, he would be more of the history buff.  Indeed there is so much history that we learned from our able and affable guide Joe.  He had the seven of us in the group on a tight schedule.  Joe kept us well looked after as it was not only dark but also extremely crowded around that part of town.  And we had a busy itinerary in the three hour tour stopping at six different places along the way for food and drinks.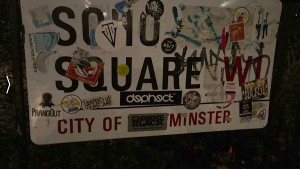 The first stop, possibly my favorite of the night, was the modern Mexican restaurant La Bodega Negra. The owner is a descendent of Winston Churchill and we even had crockery plates with the family moniker.  We were treated to a frozen Taquila Sunrise (a beautiful brain freeze) and two different kinds of tacos.  The pork tacos with pineapple were so flavorful but the highlight were the shrimp tacos.  They were on a slice of jicama instead of the usual tortilla.  This light and surprising taste was a massive winner!
Though most people associate a Gin and Tonic cocktail with the Brits, it was actually the Dutch that invented it.  But the United Kingdom is so fond of it that they even have their own fabulous London Gin Club which was our second stop.  The owner and chef shared some interesting facts about all types of gin (like, hello, it used to be 70% alcohol).  They make their own brand at the London Gin Club, though theirs is only 46% proof.  And not only is it delicious but it also makes their gin-infused beef pie so moreish!  Sadly, my pics of the gin tasting were quite dark, so you will just have to go on the tour yourself to taste and see!
At this juncture I was beginning to see why they have an over 18 year age policy on this tour!  Hiccup!  As we were treated to a beautiful Spanish red wine when we went to Enrique Tomas for our third stop.  We were presented with an amazing selection of jamon and cheese tasting at the Barcelona transplant's family run establishment.  Of the three cheeses I loved the goat's cheese and the Manchego cheese best.  Of the three jamons the Rolls Royce of Iberico was a unanimous winner in our group.  These black hoofed pigs are raised in the countryside of Spain and mainly eat acorns.  Therefore the jamon is buttery with an oaky flavor without being fatty.
I really love seeing other foodie people passionate about what they are doing and how they are doing it.  They take pride in their craft and have patience to make sure that the hams are cured the perfect length of time (which can be up to 3 years).  And these delicacies are not cheap!  Though I didn't take the placemat with me, I have a pic to peruse a bit more to appreciate the specificity of this gourmet product!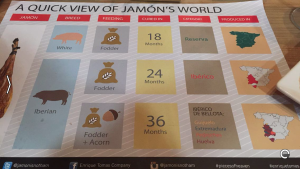 While we were still technically in London, we traveled to another part of Spain (food-wise) into the Basque region.  We visited Pix Bar and delighted on pintxos (their versions of tapas). We had some white sparkling Basque wine (of course) and a choice of two items from the buffet.  I chose the seared tuna on a slice of baguette with red onion marmalade fitted with a wooden skewer (a pintxos) and a churros and chocolate shot. OMG!  The churros were so fabulously fantastic!  I don't have enough adjectives to describe my excitement!  It too was dark inside so this was the best pic I could get.  But if you like chocolate, cinnamon, sugar and donuts, this is like the perfect combo!  The tour could have ended here and I would have been a happy camper.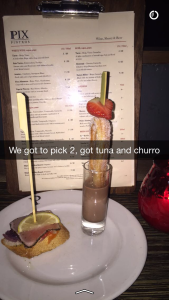 But no, we had to soldier on to more decadent destinations.  And I was like a little girl on Christmas morning when I saw where we were headed next, CHINATOWN!  London's Chinatown is the biggest in all of Europe.  It is home to over 80 Chinese eateries in a very small area.  So deciding where to go could be quite confusing.  But not with Joe and Eating London Food Tours!  We tucked into an unmarked door (complete with a body guard out front) and climbed several flights of stairs before we arrived at our (dark) Dim Sum Shangri-la.  Joe told us that the translation for Dim Sum is "touch the heart"  which is so precious. Take my word for it, they will do just that, as these were the best dumplings I have ever tasted in my life!
We were served two kinds, crab with samphire and mushroom with truffle.  Our liquid accompaniments were two pots of tea served traditional style.  The eclectic decor and cool jazz music lent a unique feel to the experience.  It made me wonder if real opium dens were in fact like this.
Before our last stop, we took in some interesting local historical facts.  We learned that Karl Marx lived in Soho from 1851-1856 and that Dr. John Snow discovered the source of the cholera outbreak in Soho in 1854.  We passed several musical legacies, such as the Trident Recording Studio (used by bands such as The Beatles), the Marquee Club (where The Rolling Stones made their London debut back on July 12, 1962) and the renowned Ronnie Scott's Jazz Club. And we saw where my fav Wolfgang Amadeus Mozart resided for the year he was in London. Though Soho has a reputation for houses of ill-repute, the first brothel later became a pickle factory.  You see, there is a foodie culture everywhere!  Love the sense of humor some people have, like the sign on the door of one of the homes: "This is not a brothel. There are no prostitutes at this address."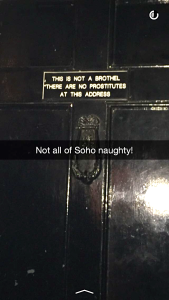 Likely, most foodies around the world would agree that chocolate is the best way to end the night.  And this night was no different.  Our tour was treated to Said Chocolate for the most exquisite spiced hot chocolate I have ever tasted.  We had a choice of three; milk, dark or hazelnut (which I had).  We were encouraged to try different spices to the liquid molten goodness, and I opted for cardamon in mine.  Then Joe brought out a tray of little glass jars filled with this tempting tiramisu.  I was nearly filled to the brim but couldn't say no.  And I'm glad I didn't, it was divine!  The cafe had the most amazing aroma of chocolate and coffee, and the decorations of chocolate moulds on the wall and milking cans for stools made it so authentic.  This Italian establishment is doing it all right.  Lines out the door!  Their original shop boasts that it is the oldest chocolatier in Rome
Finally, we gathered in front of a famous wall mural The Spirit of Soho that shows an infographic of the history of the area.  From what was once a wooded area used for hunting, to today, where we went and hunted the best food and historical nibbles.  Of course all with the help of a fabulous team.  Well done Joe and Eating London Tours.   Much thought, planning and effort went into putting together every detail of this enjoyable tour!  I hope to see you all again soon, if not here, then at one of the other tours you organize in Italy, Amsterdam and Prague.  Keep up the good work!  I think it is the best way to see a city as a tourist.  It is also a great way to get to know a city as a new resident like myself.  I feel I know London that much better thanks to you!  Though I still miss Dublin, I am relishing in the fact that London is a world class foodie destination with a rich cultural history.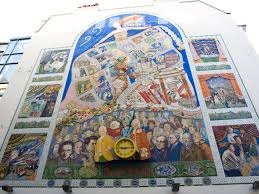 There's a bonus here folks!  Any one of my readers will be treated to a 10% off discount on any of their food tours in any city!  Just use the code, "Eating Europe" when booking (here is the link to their website) and you too will have not only a full belly, but a full soul.  Their tours are delicious, informative and entertaining.  You will truly savor the experience long after you have digested the tasty treats!
Happy+Grateful,
YDP