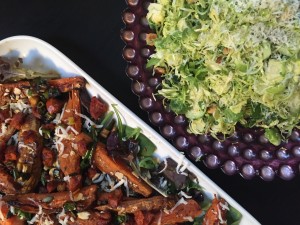 Okay, wow that was some trip I'll say!  I even received loads of messages from my snapchat followers commenting on how amazing it all looked!  It is going to take some time to digest it all (literally and figuratively). There is no way I can flesh it all out in one post.  So I have decide to break it up into two.  Haha! Two!  Which, come to think of it was the theme for the whole trip.  I'll explain that part later.  But first up, as you can see from the pic, there are two salads.  Yep, that is how I'm gonna cope with Copenhagen.  Because I don't believe in deprivation on holidays, Hubby and I went all out.  Mind you, without an ounce of regret.  However, as I have said on this blog before, it's okay to splurge, so long as you try to "right the ship" again.  So we are going to do just that and be super healthy for dinner tonight!
The last I posted was on Friday, just before the secret destination Foodie Fieldtrip.  I included a recipe for Brussels Sprout Salad but no pics.  I've now made the salad as you can see, and you can find the recipe here.  But I also decided to throw together another salad based on what I had on hand in the house.  I love cooking that way actually.  Gets the creative juices flowing.  And after the mega foodie adventure I had, there is loads of inspo to work from on this one.  With the weather being so cold now, and the days so short, a warm salad is apropos.  So I put together a Roasted Sweet Potato and Chorizo Salad that I know Hubby will like even though he isn't the biggest salad person.  But when it is all "jazzed up" like this he can't resist.  Plus we need all the nutrients we can get these days as so many people around us on the plane were hacking away!  The best way to protect your immunity is to eat healthy!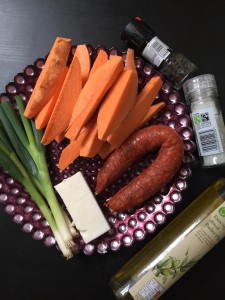 Sweet Potato and Chorizo Salad
Serves 4
Ingredients:
3 Sweet Potatoes, washed and cut into wedges (leave the skin on)
2 Tbsp Olive Oil
salt and pepper to taste
½ tsp cinnamon
2-3 scallions (green onions) sliced
100 g chopped chorizo
2 Tbsp Hard Goat Cheese (sometimes called Gouda Goats Cheese), grated
2 Tbsp toasted mixed seeds or nuts (I used flaked almonds, pumpkin seeds, flax seeds, sunflower seeds)
A few mixed organic baby leaves
Put the sweet potato wedges in a large roasting tray. Toss with olive oil, cinnamon and salt and pepper. Roast in a preheated oven (200C/400F) for 50 mins-one hour until flesh is soft and the skin is crispy.
When the sweet potatoes are nearly done, sauté the spring onions in a frying pan with a little olive oil for two minutes then add the chopped chorizo and cook for another few minutes until the onions are done and the chorizo is cooked through.
Put the leaves on a platter, using tongs, put the sweet potato wedges on top then pour the chorizo/onion mixture all over. Sprinkle with the toasted seeds and grated cheese.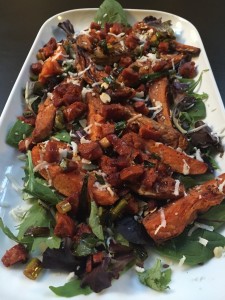 Now for the story of things coming in pairs.  Maybe I should have titled this post "The Tale of Two Sit Tease" because just when we thought one thing might happen, a second one was around the corner saying, HELLO, #2 it is!  Starting with our arrival into Copenhagen.  We thought we'd take the metro train into city center (Hubby loves to take trains in every city we visit) but the line for the tickets was a mile long and it was pretty late at that juncture.  So we settled for another option, a taxi, which was grand.  We stayed at the lovely Hotel Alexandra (on Hans Christian Andersen Blvd) just walking distance to Tivoli Gardens.  It is a boutique mid-priced hotel that prides itself on its Danish Design.  And the slogan is "feels like you are staying with a friend."  Indeed on the first night when we were in the lobby enjoying complimentary glasses of wine, I saw an old vinyl L.P. record player and what was there but a record by my dear friend, Quincy Jones!
Continuing on with the double pairs story, on Saturday we had two options for our foodie heaven mega meal.  I will share all about that in the next post.  But suffice it to say, our #2 option dining experience was likely the best we've ever had.  The bucket list was seriously ticked off with gold stars!  Nordic cuisine is sublime!  We were so full from the four hour lunch we had that we went back to the hotel and fell into a food coma.  By the time we awakened, we were too tired to go anywhere else and just stayed in and enjoyed each other's company.  We weren't that hungry, so instead of going out for dinner, we literally only ate peanuts and drank some wine while watching the Frank Sinatra 100th birthday celebration on television.  We are both major fans of "Old Blue Eyes" so it was a nice treat.  And who was on the show, but Quincy Jones! Yep he popped up twice!
Sunday we had breakfast in the hotel again.  It was included in the price which was great since Copenhagen is uber expensive!  Hubby did extensive research as to where we could find a Sunday Mass, and we were led to a church not far from the hotel for an 11:30 mass. Only there wasn't one there after all!  Just a tease!  As I said, "Tale of Two Sit Tease"!  So we ended up walking the city from top to bottom exploring the amazing Christmas Markets and enjoying the beautiful architecture.
We had some hot Gluhwein (spiced mulled wine) of course since it was so cold we needed to warm up.  And we discovered a fab cafe called "The Living Room" with a roaring fire and an amazing hot elderflower cider with minced fresh ginger.  I didn't get a pic of the elderflower cider but I did get one of the fire (and of Hubby's iPhone, which was always on our pretty pit Stella's doggie cam).
We eventually did find a Mass at 5pm and had just enough time afterwards to make it to the airport for our flight.
We had boarded our flight and Hubby and I were chatting on about the wonderful weekend when the pilot announced that our plane was not allowed to fly due to some switch not working.  After waiting over an hour and failing to fix the switch,  all the passengers had to get off plane #1 and wait for a second plane!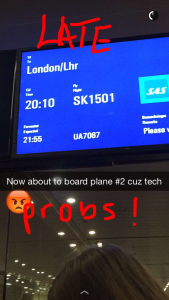 All the delays meant we got back to London extremely late.  So our normal means of getting home, public transport, was closed.  Option #2 was a lovely Uber driver and a cruise through London.  Even though it was dark, it was cool to drive through the city as there was literally no traffic. With taking so many tubes underground you can lose your sense of direction.  It is helpful every now and again to see things above ground and enjoy the beauty of the city.  So it was actually a nice way to end our trip with a final second best (which in our case they all ended up being first best!).
Tomorrow, I will go into detail about our amazing four hour gastronomic experience we had at one of the best restaurants in the world.  But all and all, the trip to Copenhagen was a treat for each of the senses.  The Danish people are gorgeous inside and out, so kind and very relaxed.  I see now why they are always ranked so high on the World Happiness Report. The country itself is very clean, and they seem to be a family oriented culture and from what I saw, it is very dog friendly as well.  I hope to go again, as Hubby and I were saying that two nights goes by so fast.  But I am feeling so grateful to have been able to go at all.  I am also happy I was able to share it with snapchat and this blog.  Two ways to keep the memory alive!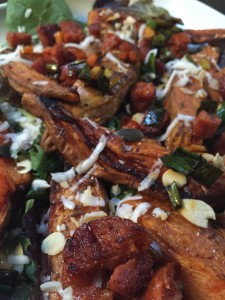 And here is one last close up of the delicious Sweet Potato Chorizo Salad to keep your memory alive until you make it yourself!  You'll see if you read this link here that sweet potatoes are so packed with nutrients you too will be able to cope with a little over indulgence, even if it isn't in Copenhagen!
Med kærlighed,
YDP