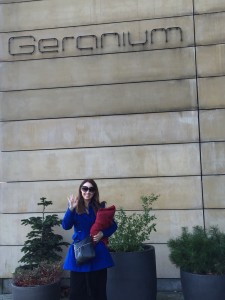 Before I even begin to recount our amazing 2 Michelin Star, four hour lunch at Geranium, I must remind you of the ABCs of YDP.  I do so to put all minds at ease, that I am not a writer, photographer nor a food stylist. And you can add food critic to the list as well.  I am a trained chef, yes, and lover of food, for sure.  I have some basis with which to comment on food, but actually, anyone who eats is entitled to that.  Because I have been paid as a professional cook I know the pressure it takes to create something out of various edible raw materials that is worthy for paying patrons.  However, I have never done it in the Michelin realm.  Therefore, anything you read beyond this is only a reflection of my opinion.  Well ours, since Hubby was the one who treated me to this dining extravaganza.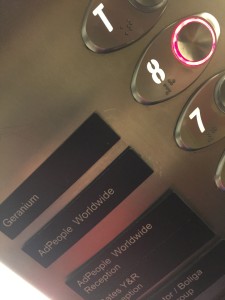 The choice of a lunch reservation over dinner was actually a prudent one for many reasons. The menu and cost are the same.  But because Geranium is in a high-rise building with glass windows, experiencing the daylight transitions as a backdrop to the amazing food was incredible.  Remember, this is winter and in Copenhagen it gets dark at 3:30 pm.  On top of that, with 20 courses of food, we were able to have a leisurely dining experience and have the rest of the evening to digest our food.  As well, the restaurant allowed us to split a flight of wine pairings with the courses, so we were coherent for all aspects of the meal!
The ambiance was quiet, serene, and calm. The dining room wasn't too full, several tables of couples, several men dining alone, and a table of four.  The furniture was a very clean line Danish design.  It was mostly white and pale grey colors, with natural wood touches.  Nothing to distract from the beauty of the food. There was a cool fireplace just to the left of the reception desk as you get off the elevator and is also visible from the dining room.  It is a raised fireplace with glass around it and the flickering lights of the flames seemed to dance.
The staff were all young, attractive, international, professional, knowledgable, and friendly.  And interestingly enough my Hubby noticed (as he waited tables himself while in university) they were all quite thin.  He thought it was interesting given that they work in one the top restaurants in the world, and likely get to taste a thing or two.  But that is the key to the whole ethos.  The food is so clean and healthy, it never felt heavy, refined, stuffy or filling.  All of the portions are small and since the food is mostly vegetables or fish (we had two courses with duck) it is actually quite light.
When I say we had 20 courses, you'd think that we would be rolling out of there and we didn't feel that way at all.  Because there was a synchronicity to the courses, and a balance of flavors and textures along with how the delivery was timed, we never felt that we had to turn away a course, or force ourselves to eat it.  Each course was described in detail, the ingredients and preparation, as if we were on a food archeological expedition and the servers were our guides.  Sometimes a course would be served by one waiter, other times two or three.  And often the chef that prepared and plated a particular dish would bring it to the table wearing their toque (tall white hat).
Between the savory and sweet courses, we were taken on a tour of the wine cellar and then to an annex dining room (in the process of being built) which will house an open plan kitchen allowing for easier interaction between chefs and diners.  The sous chef, Paul, came out to meet us personally and we chatted and had a picture taken with him.  It was very generous of him to talk to us as they had a quick turn around for the dinner service.  But at no time did we feel rushed. As much pressure as the restaurant is under to maintain its standards, you don't feel the tension at all.  It appears effortless and seamless.  Even in the way your napkin has been refolded and neatly placed for your return visit from the ladies room.
While the food isn't your normal, everyday fare, it is creative, experimental, earthy, seasonal. exquisite and yet still tasted like real food.  Though I did a snapchat story (username:blissbakery) it has since expired.  It was just over 10 minutes in length, LONG, yet felt like it went by in a flash as there was so many astonishing visuals of the food.  But I took screen shots and will share them here with captioned commentary of the taste, since that was part of the video aspect on snapchat.  Bottom line, any food write up's most important aspect is to describe the taste!  Remember, this was the menu that was specific to our dining experience. The choices differ depending on the season, and also the patron's preferred selections.   Each customer is presented a personal menu when they leave which shows each and every course, beverage selection (they also offer a flight of fresh juices for those not wanting to indulge in wine) and they stamp the date on the inside.  The quote on their website "Thoughtfulness can be tasted" is indeed true!
While our main server Damien poured us each a glass of Veuve Clicquot Champagne we nibbled on the most delightful, thin, crisp and savory edible leaves and thus began the playful mirage of flavors, textures and visuals of the feast!  The leaves were made from Jerusalem artichokes and were accompanied by a walnut oil and rye vinegar dipping delight.
Velvety and fragrant flowers swirled into Tomato Water that has been infused with pork fat was our second course. The most delightful taste and textures!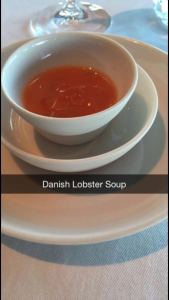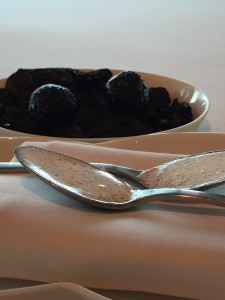 The final two "Appetizers" were both fish derived and both displayed in most unusual and also quite stunning ways. The "Dillstone" looked like a giant green pearl, but was filled with Mackerel and the "Razor Clam" was filled with a tartare.  All completely edible and totally delicious!
You can't judge a book by its cover, or a sea urchin by its needles. Though sea urchins don't look the most appetizing, when I tasted this sublime under the sea symphony I had a new opinion of the crustacean family!
While this left pic looks like a piece of Italian marble, it is actually Hake and was served naked, then dressed at the table with the most fragrant and multi textured sauce. The parsley stems fresh and bright along with the rich Finnish Caviar in a buttermilk sauce which had crunchy fish scales sprinkled on top. I think this was my favorite dish of the meal! I only wish my pics were better!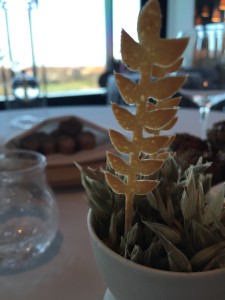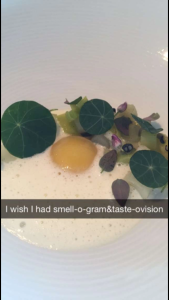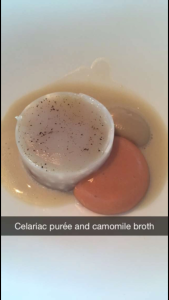 We were served two wild meat dishes, both duck from different parts of the bird. The leg was smoked and dolloped with truffle shavings and dripping with an elderberry sauce. The breast was served with beautiful grilled pear and wood sorrel which looks like a shamrock.
So it made me a bit homesick!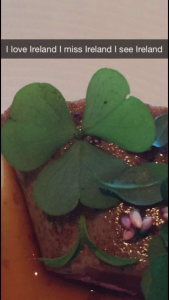 Dessert is always pretty much my favorite meal of the day….wait it isn't a meal on its own? Well these three were hearty enough, yet not heavy, to be a meal!  Beeswax Icecream with the pollen (which was also served on a bed of pollen) was very whimsical and the dried apples with sheeps yogurt was so cool, and I'm not just talking about temperature.  Really it was awesome how they put that all together!  But their signature "Naked Tree" is quite astonishing really. A very interesting combo of tastes. But since it is the land of Carlsberg, I guess everyone is into beer. And the frozen beer disc in the middle of the Smoked Beachwood Cream made it all look pretty too.
Since we were there to celebrate my birthday they also brought out a mini birthday cake. Love the toned down, peeled back version. Not the typical sugar laden buttercream type.  It was three layers inside and totally delish!  Along with that they brought out some mini sweets too!  A caramel candy was as vibrant as the colorful Rose Hip sauce it was bathing in. While we were being served dessert wine we nibbled on the  pumpkin seed cake, a chocolate cake ball with oats and sea buckthorn and a chocolate green egg.
One of the highlights of the whole journey was being served a tea that had been steeped in fresh herbs. It was heaven!
Though this lunch is out of most people's budgets (including ours) it is a possibility.  Everyone  needs a dream to add some sparkle to their lives.  Hubby and I don't go out much and we never spend money on ourselves.  But when we save and save, and then treat ourselves to a bucket list destination, it makes it that much more special.  It really was the best birthday ever as we got to incorporate a foodie fieldtrip and enjoy Copenhagen together.  Damien our waiter explained that some customers have come every year but during a different time of year to experience the changing menu.  We had the "The Geranium Winter Universe" as they call it, but each season brings its own colors, ingredients and dynamic preparation and presentation.  For me, this was such an incredible experience I will be digesting it for years to come.
Thanks to my Hubby with lots of love to him and all the great chefs at Geranium who made my birthday so special.
Foodie Love,
YDP
ps. Keep your own bucket list alive by adding to it and ticking something off the list every now and again. This visit to Geranium was a perfect example of that!