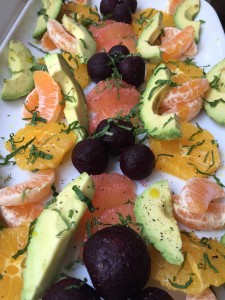 Just because today was the last day of the Salad Scentral Week didn't mean that I had to forget about Foodie Fieldtrip Friday!  It just ended up being a jam packed day is all!  And even if the weather didn't help with the grey and rainy skies, it was a sunny day indoors with a bright and colorful salad!
This salad was actually the first all week that had no dairy, no nuts or seeds, no meat and no onions or garlic (it is amazing all the various allergies people can have).  I was being especially cognizant of that because normally I would have some cheese (like goats cheese) and some toasted nuts and seeds on this salad.  And in lieu of a dressing (the one I usually do for this is a coriander and lime but it has garlic)  I just drizzled the salad with Avocado Oil. Though olive oil works well too, it is just that if it is available to purchase easily and not too pricey, it is worth the extra health benefits.
 Avocado, Beet and Citrus Salad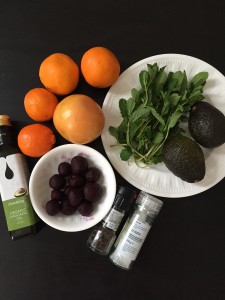 Serves 4
2 Ripe Avocados, peeled, cored and sliced
2 regular size Beetroots sliced (if using raw, then wrap in foil and roast in an oven for 1 hour at 200c/400F until soft, then peel off the skin when it has cooled) or  you can use 12 baby beetroots unsliced as I have here
2 Oranges, peeled and sliced
2 Clementines, peeled and segmented
1 Grapefruit, peeled and segmented
1 Handful of fresh mint leaves (picked from the stems) and sliced thinly or you can use chopped coriander/cilantro
Avocado Oil or Olive Oil (to drizzle)
Salt and Pepper to taste
Optional: Mixed salad greens, goat's cheese and a mixture of toasted seeds and nuts
Arrange all the citrus, avocado and beets on a platter. Sprinkle with the sliced mint. Season with the salt and pepper and drizzle with the oil.
If desired you can also serve with some mixed green salad leaves and a bit of goat's cheese and a mixture of toasted nuts and seeds (which is how I prepared my own plate for the tasting).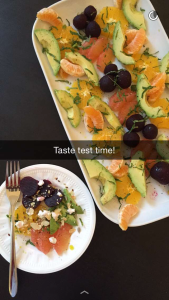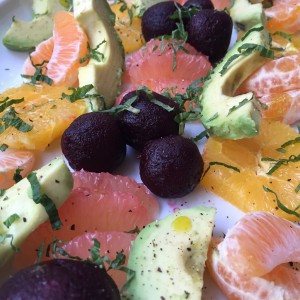 I know I call it ABC because of the avocado, beets and citrus, but seriously making this is so easy to do, like saying your ABC's!  It is super healthy, the avocado is known for its female fertility boost, beets are known for improving blood flow, and citrus not only helps prevent diabetes, it is just what we all need to ward off winter colds. Vitamin C without having to take a tablet, just the real McCoy!  I really love my healthy fruits and veg, and even find hearts in them when I prepared them for the salad. But with all that citrusy goodness aroma wafting through the house, Stella came running!
The next post I will give a full recap of the week with some more salad and salad dressing recipes.  But for now I just wanted to finish this post with a brief overview of the mini Foodie Fieldtrip Friday that I took this afternoon with my Snapchat friends after I finished my tutorial of the salad.  Since I have received an amazing and massive surge in my snapchat followers this week, I decided to bring them along for the fun to some places I have visited before. Well, not these exact locations, but these two business favs of mine. And how did I get there, well I had to take the Tube to F cubed (my nickname for Foodie Fieldtrip Friday), and do a bit of arts and crafts on my snaps along the way! Only thing is that it was pretty dark when we arrived.
First I went to the Biscuiteers in Notting Hill (yep, there is a famous movie of the same name).  I did a master class in Icing Biscuits at the Biscuiteers branch in Northcote, but wanted to check out this location. If you want to read about and see photos of my first Biscuiteers outing, which was on a Tues (hence Tuesday Treat) you can click here.  They were nearly closing, so I had to be quick. But it is a great concept of handmade and decorated biscuits that can be shipped anywhere in the world. They also have decorating classes and host children's, hen's, and corporate parties. So fun!
But since we are doing a salad scentral week, I next headed out to the mecca of salads.  If you have been following me for any time at all you know I have a ton of love for Ottolenghi. It has not only featured in one of my Foodie Fieldtrip Friday outings but I take everyone who comes to visit me to one of their four deli locations (they have five food establishments including their sit-down restaurant NOPI). One look at their plentiful salad bowls and platters overflowing with inventive and tasty salads and you will understand.
However, since we are winding down on salad scentral week (though I hope it has become a good habit in your household) I thought a little pop into one of their smaller and cozier locations would be fun.  It was a bit quiet compared to all the other Ottolenghi's I have been to before, but that was probably better for me as I had the snapchat in full effect (my username: blissbakery). They were busting with large platters of gorgeously colorful salads! I was being very good and didn't even give the dessert display a second glance. Which was the first time I have left there without some decadent gooey treat!  That is tough to do considering they have one of the best reputations for sweets and pastries!  It is important to me to show the snapchatters as well how tempting and beautiful the salads looked, so that I could resist the sugar temptation. Inspiration is the name of the game to keep our momentum going!
I hope you all had a super Friday! So many folks were dreading this week and look see we made it!
Citrusy love!
YDP