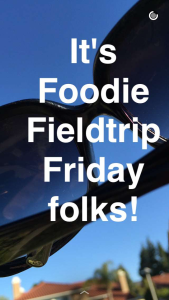 When I lived in Los Angeles, we had a tradition of attending at least one L.A. Dodgers baseball game each season.  I often heard of the phrase "Double Header" but never actually went to one. Well, for today's Foodie Fieldtrip Friday, I got the chance to do so.  Even if there wasn't a baseball in sight, I got to experience double the foodie fun while taking my snapchat buddies along with me (my username is blissbakery if you want to check it out for yourself).
On this typical hot and sunny day, I braved the per usual traffic and unearthed two cool places that weren't yet opened when I lived here. The first stop on the tour was Fo-nuts a donut shop with a twist.  It opened five years ago and carries only baked donuts, nothing fried.  And bonus they also have gluten free and vegan donuts as well, hello healthy friends!  Not only that, but they are known to have some of the best coffee in all of L.A.!  Though it was so warm I opted for iced coffee to accompany my two tasty treats.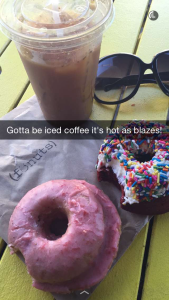 I have never seen savory donuts and they make them as well. On offer today was a rosemary fonut and also a chorizo one as well.  The selection of fresh fonuts was so massive I had a hard time choosing which one to get.  There was even a sweet/savory combo fount of Maple Bacon with actual pieces of bacon on top! Yum!  But you know me I like the sweet stuff, so in the end, I opted for one of my all time favorite flavors, red velvet.  And I took the recommendation of another customer who said the Strawberry Buttermilk was to die for, and indeed it was!  So moist!.  You don't miss that frying oil at all with these healthy baked goodies.  Apparently, though this location is their only store front, Fo-nuts sells to many other food establishments.  Hence their name, product and brand have seen much success, especially with Hollywood types that want a treat without the guilt!  The lovely staff member that served me was super friendly and helpful and they offer free wifi. Very handy when you are trying to snap along the way!
It may seem a bit random to say, but I love the whimsical nature of the shop. Not only the name, but also the fact that they have decor pieces (like a large white old fashioned oven just when you walk in the door) and fun wording on signage that brings a smile to your face.  It is nice in an often stressful world, that we can find a slice of sweetness (literally and figuratively) in a bakery as fab as Fo-nuts!
The next stop was literally across the road on 3rd Street in West Hollywood. The Sweetgreen salad shop is a fast food joint turned upside down. Yes, it is fast, yes it is a well oiled machine.  But it is absolutely clean, real food, put together by hand in clever and creative ways.  If you remember from Salad Scentral Week (where I made a different salad recipe every day) I shared with you how much I love salads.  But Sweetgreen, had it been opened when I still lived in L.A. eight years ago, would have been my uber fav place.  And like          Fo-nuts the selection was massive.  The menu at Sweetgreen is seasonal, and even in hot and sunny L.A. where you think you can get anything anytime of year, they are mindful of airline miles on their ingredients.  I had considered ordering a "Hollywood Bowl" Salad with organic chicken and kale.  Instead,  I got a Grapefruit, Avocado and Shrimp salad to go (as I wanted to continue the sightseeing) but it made for a fun picnic in the rental car later in the day.
It was an outstandingly fresh and vibrant salad and I loved the creamy chunks of avocado (perfectly ripened) and the zingy grapefruit expertly segmented with no trace at all of the white pithy bit. It was served on a bed of arugula (called rocket over in Ireland and the U.K.) and the server asked if I wanted my dressing applied light, medium or heavy before she whisked the salad up in a big bowl.  Wow, my kind of service.   And PS they even had tasters.  As I mentioned in the Foodie Fieldtrip Friday two weeks ago when I visited Costco, tasters are proven to be an effective way to get people to purchase the products!  Not that I needed any help mind you!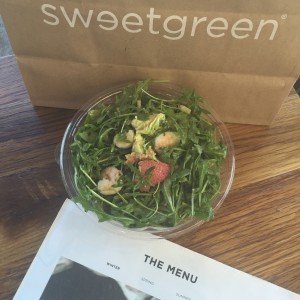 A while back I did a post on YDP's best of short list of Los Angeles.  It is interesting to go back over it again, myself, now that I am here in L.A. I am kind of getting to be a tourist in what was once my home.  And though I am pretty darn happy with all the recommendations on this list, I think I might have to add Fo-nuts and Sweetgreen to the list now too!  Nice satisfying food for the belly, without the guilt!  Which means more energy to bop around Hollywood for some sightseeing!
Healthy Happy Love,
YDP