Though I have loved living abroad the past eight years, there are indeed some things I miss about the U.S. One of them is Trader Joe's. It is a foodie's dream and I just had to go on a fieldtrip there while I was visiting family (the number one thing I miss about living abroad). And I even brought my darling 5 year old granddaughter Harper along for the fun and snapchatted the whole way (username: blissbakery) though the story has since expired.
Harper says her favorite thing about Trader Joe's are the tasters! I can relate! When we went to Costco a few weeks back for Foodie Fieldtrip Friday we were in taster heaven. But the difference is that Trader Joe's own employees work the tasting station and they often have some of their new products to sample. And then you gotta love a place that offers kids' size shopping carts!
So what is Trader Joe's?  For those of you who don't know and who didn't see the snapchat tour I am delighted to share!  Technically it is a grocery story, but not just any old place to shop for your dinner. With over 450 locations in the 48 contiguous states, they pride themselves on being the leader in organic and fresh foods.  And 80% of the products on the shelves are their own brand.
Trader Joe's was started by Joe Coulombe back in the 60's in Pasadena, California. Remember the song "Little Old Lady From Pasadena"? Well the song, written by Jan and Dean was made popular by the 60's band The Beach Boys. They made wearing a Hawaiian shirt mainstream at the time. So, it's understandable that the classic Hawaiian shirt became Trader Joe's uniform from then on.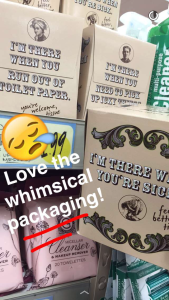 Though Trader Joe's is now owned by the German supermarket chain Aldi, they have retained their South Seas Beach-y motif. The casual atmosphere is even evident in some of their packaging and branding such as the whimsical tissue paper boxes. Yet their professionalism is prevalent  through and through from the management (on duty the day we went was the friendly Chris) to the shop floor staff to the cashiers. And to keep the lines of communication going they have the infamous brass bell (which is rung by hand when customers services is needed) and the informative newsletter.
While I surely have my fav TJ's products, I wanted to make sure I showed as much of the store as possible for the snapchat tour. It is pretty awesome to take in all the goodness available. From reasonably priced fresh flowers and produce, to ready made meals. A massive selection of frozen foods are a big draw, as are the incredible cheese and bakery selection. And my personal go to are the vitamins, healthy snacks and the wines. Yes the do have a decent cellar. And the most famous wine sold there is the "Two Buck Chuck" as it is called. I gave in to my curiosity as I had never tasted it before. Not bad, and actually better the day after it was opened.
There are many websites that tout they have the definitive list of most popular TJ's products. I'll let you follow this link here if you'd like. Or you can take my own word for it with this top 5 list below:
Wine- as I just mentioned. I usually go for an organic California red wine called Bonterra. In saying that, all of their wines are priced very reasonable and there is a great selection.
Nut Butters- We Americans love our peanut butter and TJ's has everything from peanut, almond, cashew and yes cookie butter!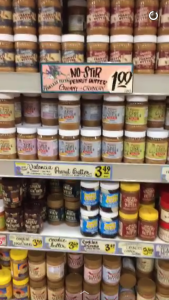 Frozen foods- Pretty much all of the items are amazing, but I love the chicken pot stickers, frozen waffles, Churros and Mochi ice cream!
Vitamins- There is a great selection and all very affordable. Hubby and I usually stock up when we are in the U.S. Now if I can only remember to take them once I have them at home!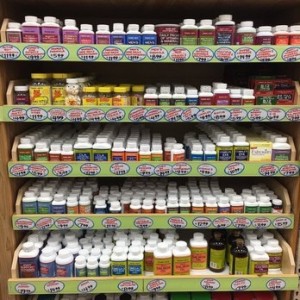 Trail Mix- Hubby is a granola/protein bar person and could (and maybe did as a bachelor) live off them. But we both love the trail mixes. Any variety would suffice. But the particular tasty treat we love is the "Cashew, Almond and Dried Cranberry" Mix.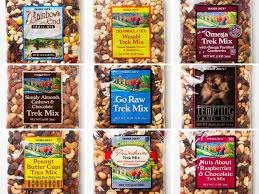 This Foodie Fieldtrip Friday reminded me of why I love Trader Joe's so much. Great food, great quality, great selection and all at a great price. That is part of their ethos, to provide fair pricing. They can offer food at a lower price than some of their competitors because they work directly with the supplier, no middle man.  But we end up benefitting from the lower price! All in all it was fun, informative and as you can see, a YUMMY Foodie Fieldtrip Friday too!
TJ Love,
YDP