It goes without saying that St. Patrick's Day is one of my fav days of the whole year. Anyone who knows me knows that I am like a little girl on the day.  I make sure I'm wearing my bit of green so no one pinches me (which in America is likely to happen if you aren't wearing green). And though I am super patriotic about being American, I am deeply in love with my Irish ancestry as well. Duh, I'm a Yankee Doodle Paddy!  The YDP motto reads "My heart beats red, white and blue but my blood runs green!" America + Ireland = LOVE
It is a natural love affair.  So many Irish have migrated to America for starters. And Americans have always felt welcome on the Emerald Isle.  Even when the rest of the world detested anything related to the U.S.  (cuz they didn't like our politicians or our super power status) the Irish were always nice to the Yanks.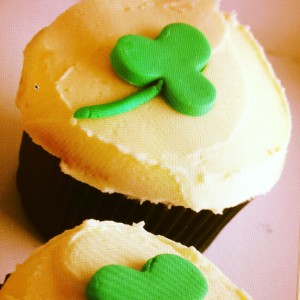 St. Patrick's Day celebrations occur all over the world. Partly because of the vast Irish diaspora. The Irish immigrants cultivated and nurtured the "Paddy's Day" traditions in their newly adopted lands as a way to stay connected to their homeland. In my birthplace of Chicago, we even dye the river green for the St. Patrick's Day festival to go along with all the parades and parties!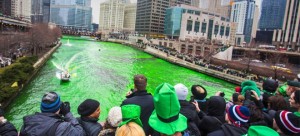 Now that Hubby and I are indeed Irish immigrants over here in London I understand the emotion now more than ever.  I wrote a post about being an "Emigrant", which you can read by clicking here.  So this year, while I will still don my gorgeous green gear, I will also be wearing a burning lump in my throat.  I'm missing my beautiful soul land.  But I am focusing on the fact that I am Irish!  I am lucky to have my citizenship and connection to a small island whose national holiday is celebrated in nearly every country in the world.  March 17th is the Greening of the Globe! Just one look at this National Geographic photo gallery and you'll see what I mean. #proudtobeirish as the rest of the world goes green in honor of St. Patrick, patron Saint of Ireland!
Lá Fhéile Pádraig Sona Duit,
YDP
ps. There is a funny hashtag going around social media at the moment that is:
#paddynotpatty since so many people (mostly Americans) use "patty" as a shortened version of Patrick. For the love of God don't do that! Use "paddy" or else the man himself, St. Patrick, just might roll over in his grave!