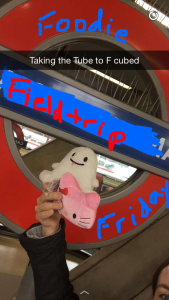 If my grown kids read this post they will think it is utterly ironic that I took a Foodie Fieldtrip Friday to the Cereal Killer Cafe. You see, when they were young I didn't buy sugary cereals. I wanted to give them the most healthy foods possible. And when I did give them a treat, it was usually a home baked, unprocessed dessert with very little sugar. As they got older, I  might have let them have a bowl of Honey Nut Cheerios for a weekend splurge.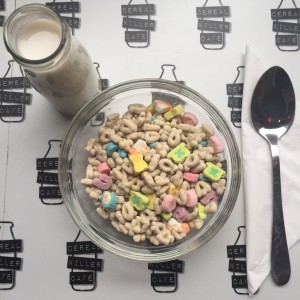 As a child my family situation was quite different.  We were so poor that though we did eat sugary cereal, it was never the name brand kind. So when I had the chance to choose a cereal from over 100 varieties at the Cereal Killer Cafe, I was overwhelmed!  Therefore, I went with my YDP compass (short for Yankee Doodle PADDY) and opted for Lucky Charms!  It was quite sweet with the colorful marshmallows of "pink hearts, yellow stars, blue moons and green clovers" as the voice over actor on the television commercial used to say in a pretend Irish accent. Pretty cool at 51 years old to finally be eating some!  Funny side note, there is a selection of different milks you can order to go with your cereal.  I ordered mine with Unsweetened Almond Milk.  I guess that is similar to when people get a cheeseburger and then order a Diet Coke. However you get yours, the mini milk bottle is a sweet touch.
I've been wanting to check out the CKC for quite a while actually. When I did the London Food Tour of the East End back in October (click here to read) I got to see how hip and cool the famous Brick Lane area was. The whole vibe with the street art and all is quite unique. And so a cereal only cafe couldn't be situated in a more perfect spot!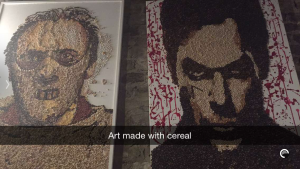 Started by twin brothers Alan and Gary Keery from Belfast, this place is an 80s/90s pop paradise. The entire place is decorated in memorabilia from that era featuring old fashioned television sets and VHS cassettes playing cartoons from back in the day. Even the music on the speakers is picked to perfection only adding to the complete touch while you mow down a bowl or two of your favorite brand of cereal.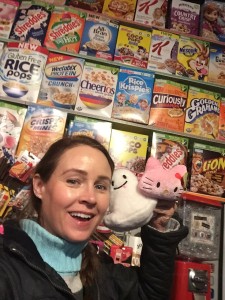 However, what makes this place so awesome, is that their menu is more diverse than just bowls of cereal. It offers "Cereal Cocktails" with clever names. I almost ordered the "S'more Than Words" (Golden Grahams cereal served with chocolate milk and topped with marshmallows). Another choice would have been "Unicorn Poop" that is a combination of  colorful cereal, marshmallows and rainbow sprinkles, that, well, looks like it sounds!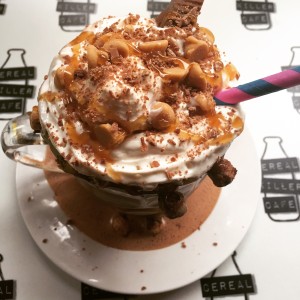 They have a range of Barista coffees and teas and "Stacked Hot Chocolates" as well. This is where I got into the naughty territory. I indulged in a "Stacked Reeses Puff" hot chocolate that was literally to die for, no joke!  However, the chocolate milk was made with rice milk, and the whipped cream on top was made with soya cream.  But it was topped with Reeses peanut butter chips, Reeces Puffs cereal and a giant chunk of a Reeses Peanut Butter Cup on the side of the mug!  HELLO! NEED HELP DOT COM!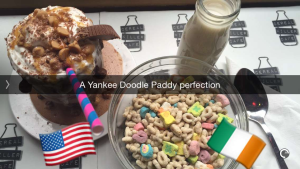 But I defo want to go back again because there were so many types of cereal I'd like to try. They carry American, British and Global varieties.  And yes they even have healthier cereals as well.  They also have POP Tarts!  If you need a gift or souvenir, they sell loads of tchotchkes such as magnets, cereal flavored lip balms and the famous Cereal Killers Cafe cookbook. They also have party packages for young and old, and the list of party suggestions is hysterical. Obviously they list the usual birthday party, but they offer brand/product launches, bar mitzvahs and divorce parties! OMG!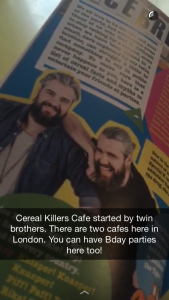 This place is a must stop for anyone visiting London that wants to add a bit of fun and novelty to their experience. They have two locations, the first at 139 Brick Lane that I visited opened in December, 2014. Another is located in the North London area called Camden.  And if you aren't planning a trip to the Big Smoke, why not open a cafe in your hometown? From what I can tell, the brothers are mighty business men as well. They are selling international franchises, so if you are mad about the idea, go for it and start your own CKC!  Then you can have your cereal and eat it too no matter where you are!
Love you like a big bowl of sugary crunch!
YDP
P.S. I just want to add that the service was really lovely! All the staff were friendly and I had a nice chat with one in particular, Orla, who hails from Dublin (where Hubby and I still have our home).  It really is a small world!