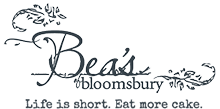 This week's Foodie Fieldtrip Friday became a tea for two when the lovely Leah (from New York) joined me since she was in London for work. While we had intended to extend the trip to another location after our visit to Bea's of Bloomsbury , we ended up staying there for four hours!  But the good news is that we got in some great "chats, bants and LOLz" and finished our entire tea stand of delectable hand made treats!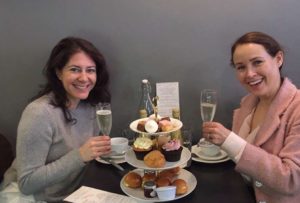 Bea Vo started Bea's of Bloomsbury back in 2008 and it has grown to include cafes near St. Paul's Cathedral and Farringdon as well. Though she isn't involved day to day anymore as she has gone on to other foodie projects, this brand has remained strong. It continues to top various lists (like this one) of best bakeries in London. And while the bespoke wedding cakes along with the famous Duffin and Townie are worthy draws, it is the tea time treats that bring in the crowds. In fact, we were lucky to have gotten a table without a reservation. And the line was out the door.
There are three options for tea, the standard, gold and champagne. We ordered the gold which included two glasses of Proseco and a macaroon each .  We started with our savory bites of three types of sandwiches all served on lovely soft sweet brioche buns:  Ham and Cheese, Philly Cheese with walnuts and rosemary, and caramelized onions with mozzarella and lettuce. My fav was the later. The onions were so delish and moreish!
Then we slowly worked our way through the handmade raspberry marshmallows, three types of brownies (one of which was made with white chocolate and Leah especially loved it), coconut meringue kisses, two kinds of cupcakes which were quite fresh and sponge-y. One was a chocolate sponge with a raspberry buttercream and the other was a vanilla sponge with a passionfruit buttercream. I liked that they weren't overly sweet as some American cupcakes can often be.
There was also a traditional scone for each of us (served with clotted cream and raspberry jam) and the ultimate highlight, two kinds of macaroons. One was red velvet and the other was peanut butter and jelly. By far the height of my happiness out of everything I tasted! I want to go back just for that! Our choice of tea was a Vanilla Bourbon, which wasn't boozy but had a mellow aged taste to it. When we asked for milk to go with it our server seemed perplexed. Strange since we both thought milk was standard when having tea over in the U.K. (unless you are drinking mint tea). We both thought it tasted better with a spot of milk in it!
The cafe itself is smallish and cozy.  It isn't a fussy decor, and it's the baked goods that lend the color and flavor to the vibe of the room.  I loved some of the signage and quotes too, very cute!  I happened to read a review online this morning that wasn't very nice.  I don't know why people have to be so mean.  But I did agree with one comment that mentioned certain things looked in disrepair.  Maybe because it is the oldest of all the cafes in the group.  Since I used to manage a gourmet food store in Dublin, I know how important it is to maintain the physical aspects of a food establishment.  It is little things like chipped paint that consciously or even subconsciously catch the eye of the patrons.  But I realize how much work goes into running a business and perfection is impossible to maintain at all times.
While we consumed a lot of carbs and sugar in those four hours, not a crumb was wasted and not a calorie counted.  It was so worth it as it was tasty and also so enjoyable to spend it with Leah.  I have been wanting to visit here ever since we moved to London and so glad it finally came to fruition!  I love the line under Bea's logo which says, "Life is short, eat more cake" and it reminds me of this Erma Bombeck quote:  Remember all those women on the Titanic who waved off the dessert cart?  Hence, why I thoroughly enjoy these foodie adventures.  And why I like to take along my snapchat friends (my username is: blissbakery).  Many who watch my snap stories aren't able to travel for health, financial or family reasons.  So they feel a part of what I am doing by my sharing through the videos I post.  So here's to many more!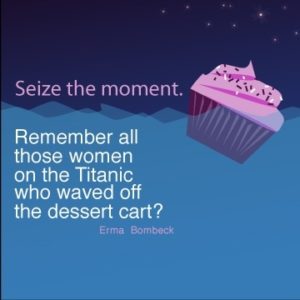 Love and Cheers!
YDP